Shaping Saskatoon's Financial Future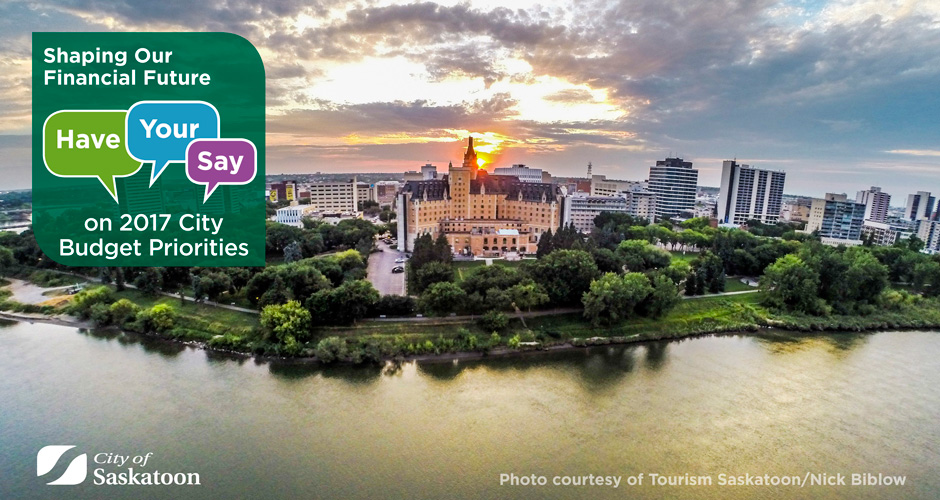 ***The public participation results and comments gathered through the 2017 Online Citizen Budget, along with the results of the 2016 Civic Services Survey can be found below under July 2016***
The 2017 Online Citizen Budget is closed. Thank you to everyone who participated in 2016 and had their say.
Watch for the launch of the 2018 Online Citizen Budget, and for new opportunities throughout the year to have your say!
 2017 Budget 
To learn more about the 2017 Budget planning process, we encourage you to view our  

Shaping our Financial Future video series:
  How Municipal Tax Differs from Federal & Provincial Tax
What Contributes to Property Tax Increases 
 Understanding Residential Property Tax Assessment
Budget Video Details:

1) How the City of Saskatoon collects money from five revenue sources, and how that money is distributed to pay for services;

2) The City of Saskatoon provides over 70 services that residents rely on every day;

3) The differences between the two main building blocks of the City's annual budget, the Operating Budget and the Capital Budget; and

4) City Council and Administration, guided by Provincial Legislation, and with input from the public, decide how best to balance the City budget.
This year our approach to planning the 2017 Business Plan and Budget continued to be balanced and accountable.
We've continued to make strides toward measuring our successes,  and by encouraging residents to be part of our annual budget planning process. Inviting citizens to have their say about spending priorities and the City's future investment plans demonstrates our ongoing commitment to community engagement.
Citizen Budget - Taking it On The Road!
We took Citizen Budget on The Road! over a six week period to gather public feedback on Budget 2017.  In-person participation opportunities were held at various locations in Saskatoon from May 28 - June 18. The results of the public participation can be found under July 2016 below.
The 2017 Business Plan and Budget Process: Find All Related Administrative Reports and Attachments Here by Month
Here are last year's FINAL validated 2016 Citizen Budget results October 19 to November 13.
Archived  2016 Participation Results
Archives: 2016 Business Plan and  Budget: Balanced & Accountable 

This past summer we opened the doors of City Hall and asked  you for your views on City projects and spending plans. City Council and Administration will then consider the priorities and preferences, and what matters most to residents.   To do this, we are taking a five-phase approach from March until December. We will include new elements such as Performance Measures and we'll create new public engagement opportunities – so you can get involved.  

City Council and Administration consider several factors when building the City's annual budget including our growing population, inflation, capital investments, Council four-priorities and ten-year priorities, performance measures, and public input. 

One method used to gather public input is the City of Saskatoon's Annual Civic Services Survey. View the latest copy of the 2015 Annual Civic Services Survey.

In June, the City offered a number of opportunities to encourage citizens to provide input on the 2016 Budget through interactive displays at the City Hall Open House, Farmer's Market, Frances Morrison Library, and Saskatoon Field House. The June Public Engagement Results are now available. 

There are a number of Administrative Reports that will be presented to Executive Committee related to the 2016 Business Plan & Budget Process. There are also additional  documents related to the 2016 Budget Planning Process found below:

December 2015

December 1 & 3  - City Council Budget Meeting 

Shaping our Financial Future: 2016 Corporate Business Plan & Budget Timeline

October 19, 2015: 2016 Preliminary Corporate Business Plan & Budget – Tabling and Presentation to Executive Committee

November 30, December 1 & 3, 2015: 2016 Preliminary Corporate Business Plan & Budget – City Council Deliberations

 

Five-Phase Approach - Throughout 2015

Phase 1  

Prepare /Educate    

March -May

Phase 2  

 Engage 

May- July

Phase 3  

Evaluate / Construct   

July - September

Phase 4  

Consolidate  

September - October

Phase 5  

Inform / Engage  

Debate / Approve 

 

October - December