Leading the Way in Collaboration and Employee Learning
March 14, 2017 - 8:33am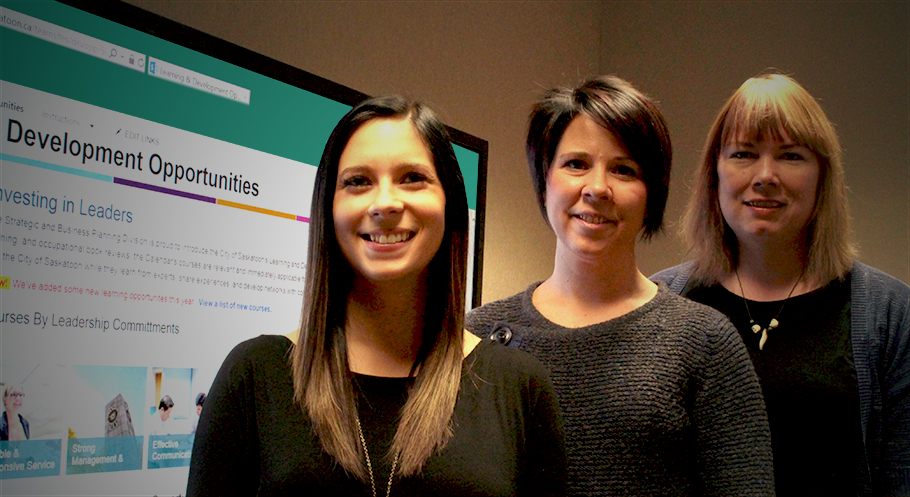 Leading the Way in Collaboration and Improvement for Employee Learning: From left to right: Taralyn Horsfall, Heather Newell, Sarah Mathiason.
The City of Saskatoon's (City) Learning and Development Program (LDP) offers employees access to training opportunities to ensure they excel in their current positions and continue to develop new skills throughout their careers.
Heather Newell, Employee Development Consultant, with the Strategic and Business Planning (SBP) Division at the City is responsible for the Learning and Development Program.
"The Learning and Development Program emphasizes working with departments and divisions to ensure training needs are met and employees have access to the tools and resources that empower them to do their job to the best of their ability," says Newell.
In a corporation of more than 3,500 employees this is a tall order. Especially when before 2015 the majority of the LDP was previously administered through paper-based registration and approval processes using an archaic tracking systems.
Newell and her teammate Taralyn Horsfall, Administrative Assistant with SBP, took on the challenge of streamlining the LDP and converting it into a digital format, in the spirit of the City's Strategic Goal of Continuous Improvement.
The City's new intranet MyCity, hosted on the web-based collaboration tool SharePoint, was the perfect platform to host the new LDP. Being new to the SharePoint world Newell and Horsfall reached out to Sarah Mathiason, Programmer Analyst and in-house SharePoint expert with the Information Technology Division, to complete the team.
First, the team looked at reducing paper-based processes related to course advertising. The established practice of printing paper copies of the course calendar, listing all course offerings, dates and times, and course description meant the document became out-of-date shortly after it was printed and delivered to workgroups.
Changes due to instructor availability or an unforeseen training priority often caused shifts in the schedule.
Horsfall adds, "Sometimes this would happen very last minute. I'd go into my tracking files to find out who was registered in a class and get an email out to them to communicate the location or date change. Doing this in a timely manner was often difficult and if staff didn't see the email or get the message from their supervisor in time, they often missed some instruction or wasted time on travel that wasn't necessary."
MyCity allows for edits like these to be completed instantly, easy email access to course registrants, and limits the number of printed course calendars that need to be, reprinted redistributed and recycled each year.
Second, the team looked at improving the sign-up process for courses. Originally, employees were asked to send an email to or speak with their supervisor to get approval to register and attend a course of interest.
After getting approval, employees would have to follow up by sending a paper registration form via internal mail to SBP to get on the course attendee list. Using MyCity's automated workflow function reduced the number of emails and internal mail transfers between employees, their supervisors, and the SBP team. This improvement also avoids crowded email inboxes and lost paperwork from preventing employees from attending courses.
Since these major improvements, the team has:
Incorporated training courses offered by other work groups into the MyCity LDP - to move toward a one-stop shop for corporate training, and
Started to monitor training course fill rates enabling more responsivity to corporate training offerings – adding more sessions for courses as waiting lists grow.
Corporate training courses are attended by more than 700 employees a year. The availability of a centrally located up-to-date information platform complete with an automated registration process has reduced the time required to sign up for a course significantly from about an hour to ten minutes. As a result, savings from this initiative are estimated at approximately $2,500 annually in staff time and material costs.
The biggest benefit was the ease of tracking and reporting of corporate training activities using the MyCity site allowing the team to continue to improve offerings and opportunities for employees and throughout the corporation.
When asked about advice for others embarking on continuous improvement initiatives with using the MyCity site Mathiason says, "It's really the 'share' in SharePoint. MyCity is really a collaboration tool that can do so many things, and much more than just store documents, I encourage employees to talk to users about their experiences, talk to my colleagues in IT about what it can do, and check out the corporate training offered through the LDP. It is aimed at introducing employees to SharePoint, so they can get a better understanding of how the tool might help their teams."
Since the LDP was launched on MyCity, many other corporate knowledge bases, team sites, forms, and processes have been digitized and hosted for improved collaboration using this platform including:
The Quarterly Updates process,
The engagement event scheduling process through the Shaping Saskatoon Corporate Engagement team site,
Project Services – Customer Service Request process, and
The Integrated Planning site for Storm Water and Natural Areas.
Plans to improve and expand the LDP are already in motion with the addition of a section dedicated to training for supervisors and aspiring supervisors.
Looking to the future, Newell reflects, "We're constantly updating course offerings through evaluating course attendance to make sure employees have the necessary knowledge and skills involved needed to provide high quality service to our citizens."