Safety First at the City Landfill
December 13, 2017 - 11:43am
As told by Todd Christianson, Landfill Operations Superintendent
The Saskatoon Regional Waste Management Centre, or Landfill, is a busy place with heavy equipment, commercial traffic, City staff, and citizens moving to recycling and disposal areas. To make sure our site is safe at all times and that people can get in and out quickly, easily and safely, we've needed to get creative and continually look for new ways to improve safety and efficiency.
This approach begins with our staff. Every month the team identifies, documents and reviews 'lessons learned' to ensure that improvement opportunities are put into action through "Project Innovate" – an inter-departmental program that empowers staff at all levels to submit continuous improvement ideas for everyday work processes. Many innovative ideas have been implemented by our team through this process including:
Traffic flow improvements at the waste drop-off/transfer bins, reducing the potential for collisions with painted barriers and signage.
Procedures to minimize waste piles and windrows at the Landfill tipping face, which reduces tripping hazards.
Use of mid-sole boot ice grippers, to reduce slip hazards for staff when working in winter conditions.
To continue to build on our ideas we invited an industry expert to tour our site and highlight opportunities to make improvements based on best practices earlier this year.  While at the site, the team received high commendations. He told me, "I haven't seen a team anywhere else so focused on working together and working safely." It felt really good to be able to bring that news back to our group, I told them, "It shows, your hard work is paying off."
Since the visit our team has eagerly made the suggested updates to waste compaction and placement procedures. This will result in more effective control of safety hazards, increased equipment lifespans, and reduced fuel and maintenance costs.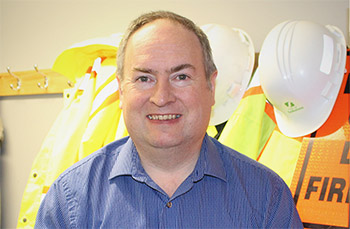 New, detailed employee orientation programs, daily toolbox meetings, team stretch breaks and monthly safety meetings are all part of the team's safety routine. We keep the Landfill clean and organized, with signage to direct traffic and attendants on hand to assist citizens. Year-to-date, we've seen a fifty per cent reduction in health and safety incidents, compared to 2016.
To learn more about what Tracy Eggen, Landfill Supervisor, attributes recent success to check out the video below. To learn more about the City's Landfill and how our team will continue to find better ways to drive efficiencies and improve service to citizens check out our webpage City Landfill.
Tracey Eggen