The City of Saskatoon (City) is taking action on Climate Change by working to reduce greenhouse gas (GHG) emissions and proactively adapting infrastructure, services and programs. Supported by the Environmental Leadership goal of the 2018-2021 Strategic Plan, the City has implemented a number of initiatives and is developing a plan to continue to improve Saskatoon's environmental performance.
Interested in how the City of Saskatoon is making progress on changing climate action?
Saskatoon's Climate Action Strategies 
The City is currently creating plans that will focus on the local causes and effects of climate change, as well as solutions and opportunities that reflect what's possible in our community. The plans will guide action and investment by the City, as well as outline ways we can support community initiatives. The strategies being developed to address climate change include Low Emissions: Saskatoon's Mitigation Strategy and Local Actions: Saskatoon's Adaptation Strategy.
Mitigation Strategy focuses on reducing greenhouse gas emissions in order to slow future climate change activity.
Adaptation Strategy focuses on reducing the risks damages and impacts of climate change through infrastructure improvement projects, natural infrastructure and emergency response programs.
Adaptation and mitigation are connected but distinct activities that each play a key role in municipal climate action at the City. The graphic below highlights the connections, distinctions, and areas of overlap between adaptation and mitigation.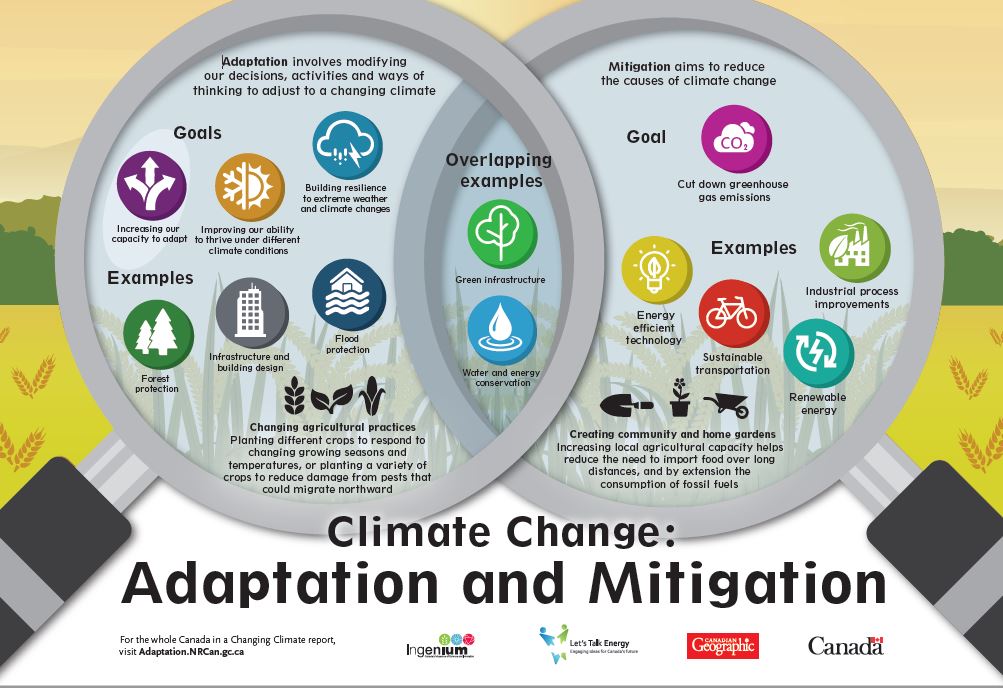 Our Commitments 

In November 2015, the City became a signatory of the Compact of Mayors (now Global Covenant of Mayors for Climate & Energy), which is an international alliance of cities and local governments with a shared long-term vision of promoting and supporting action to combat climate change. As part of this commitment, the City is required to develop and submit an action plan supporting climate change mitigation and adaptation activities within three years of becoming a signatory. 

In June 2017 City Council set GHG Emissions Targets for Saskatoon based on the 2014 inventory as follows:

1.         40% reduction in GHG emissions for the City as a corporation by 2023 and a reduction of 80% by 2050.

2.         15% reduction in broader community emissions by 2023 and a reduction of 80% by 2050.
Prairie Climate Outlook

The Prairie Climate Centre is a collaboration of the University of Winnipeg and the International Institute for Sustainable Development, and is poised to play a central role advancing practical climate change solutions for the Canadian Prairies. Learn more at: Climate Atlas of Canada

Mayor Charlie Clark speaks about the changing nature of cities, living in an era of global warming, and how the next generation of young people are demanding action. Despite being a "cold prairie city",  Saskatoon's sense of community will allow the city to move quickly to "show leadership on environmental change".