Local Actions: The City of Saskatoon's Adaptation Strategy
The City of Saskatoon (City) is proactively preparing itself to face impacts and mitigate risks to key infrastructure, programs and services posed by a warming climate and more frequent and intense storms. In other municipalities' actions and initiatives proposed through adaptation planning range from relatively small administrative projects such as adding cooling stations in urban centres during heat waves to large scale infrastructure projects such as building naturalized storm water retention ponds. 
Local Actions: The City of Saskatoon's Adaptation Strategy is a vital component of the City's overarching Climate Action Plan, and has strong links to other strategic initiatives such as risk management, asset management planning, the Green Strategy, and the forthcoming Urban Forestry Management Plan. Initiatives recommended from this work will cover a wide range of topics and support the Strategic Goals of Environmental Leadership, Quality of Life, Sustainable Growth, and Asset and Financial Sustainability in order to build resiliency in all aspects of city life.

Timelines

November 2018 - Complete
Strategy Development Kick-Off

Winter 2018-Spring 2019 - Complete
Hazard, Risk, Vulnerability Assessment and Best Practice Research

Spring-Summer 2019 - Complete
Resiliency Options and Business Case Development 

December 2019 - Next Steps
Local Actions Report Presented to City Council
Over the next 80 years, global climate models project that Saskatoon can expect: warmer overall temperatures; more hot days; increased precipitation; changes in precipitation timing; increasingly variable seasons and more intense storms. To learn about projected climate changes for Saskatoon and their possible impacts, see the report here.
Strategy development timeline follows the ICELI Local Governments for Sustainability "5 Milestone Approach".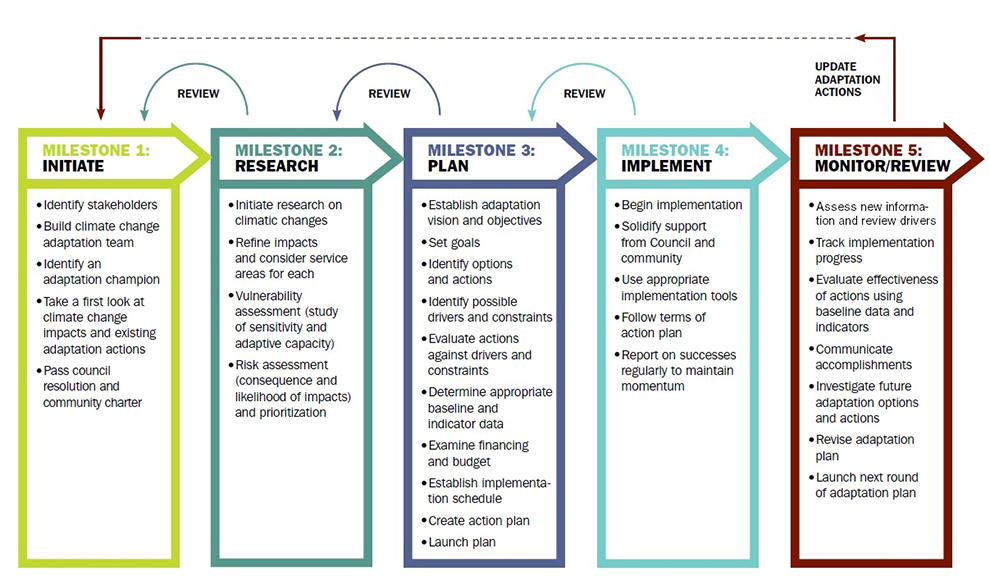 Adaptation Methodology, The Milestones, is licensed under ICLEI Canada.
Localized Adaptation

The impacts of climate change are largely experienced at the community level and include public health implications, water supply and storm water issues, transportation system disruptions, power disruptions, impacts to public and private properties and landscapes, and increased and/or urgent demand for social and emergency services.

The goal of preparing for climate change is to achieve greater resilience such that people, neighbourhoods, businesses and organizations are able to cope with current climate variability as well as adapt to future climate change, preserving the quality of life achieved through current development and minimizing damages.