Bird Population Count
  Status: Stable
The animals and plants that live within our city are impacted by the decisions we make on how we develop and manage natural and urban areas of our city. Birds play an important role in our urban ecosystem and monitoring their numbers over time can help us to understand the impact we are having on our environment.
Where are we now?
Three bird species have been identified to monitor for changes over time: Western Meadowlark, Merlin and Peregrine Falcon. Merlin is arguably the best indicator with respect to biological diversity, as it is a bird of prey that feeds mainly within the city (i.e., healthy population of Merlin indicates healthy populations of species it preys on).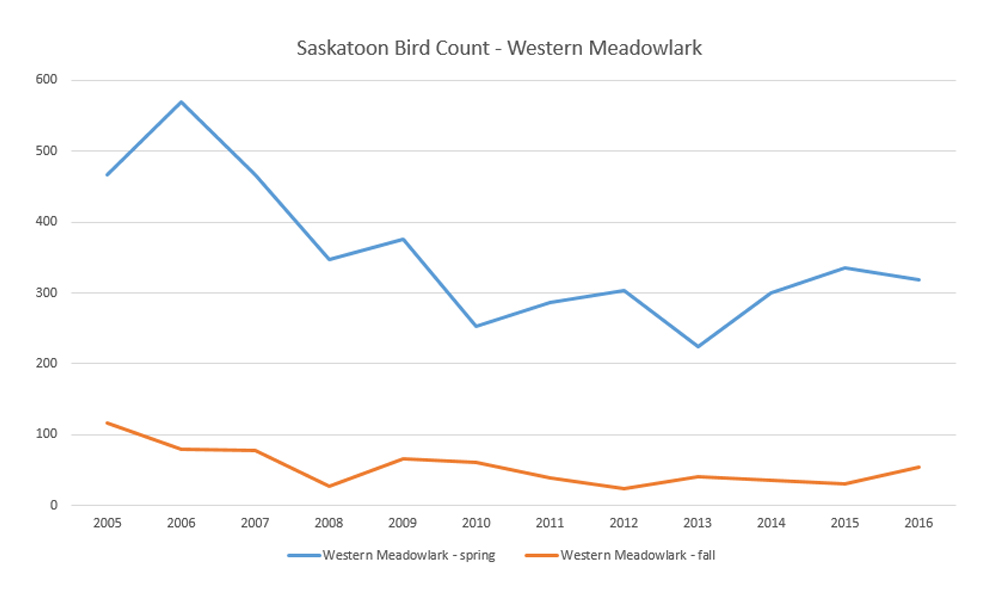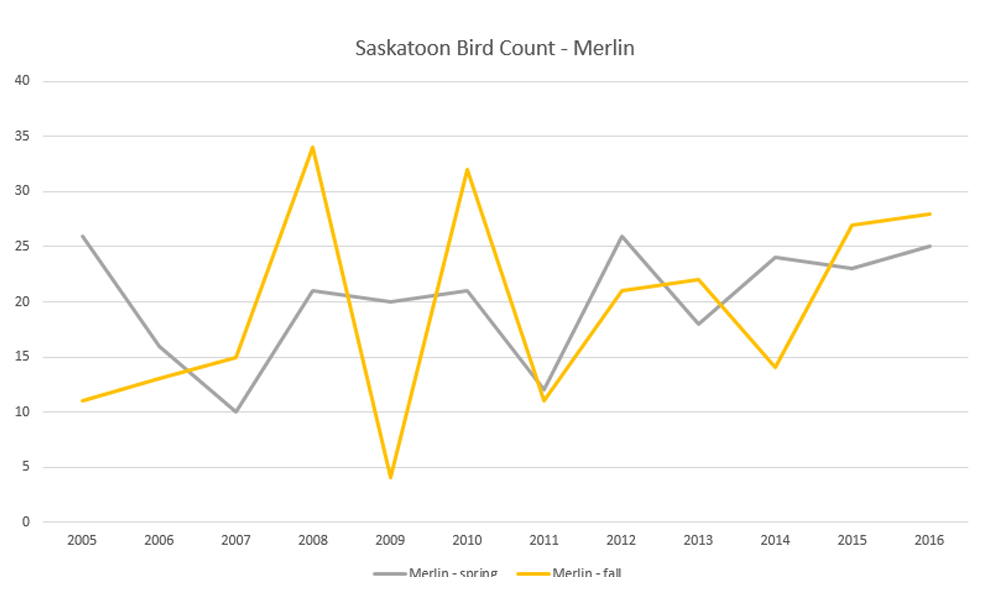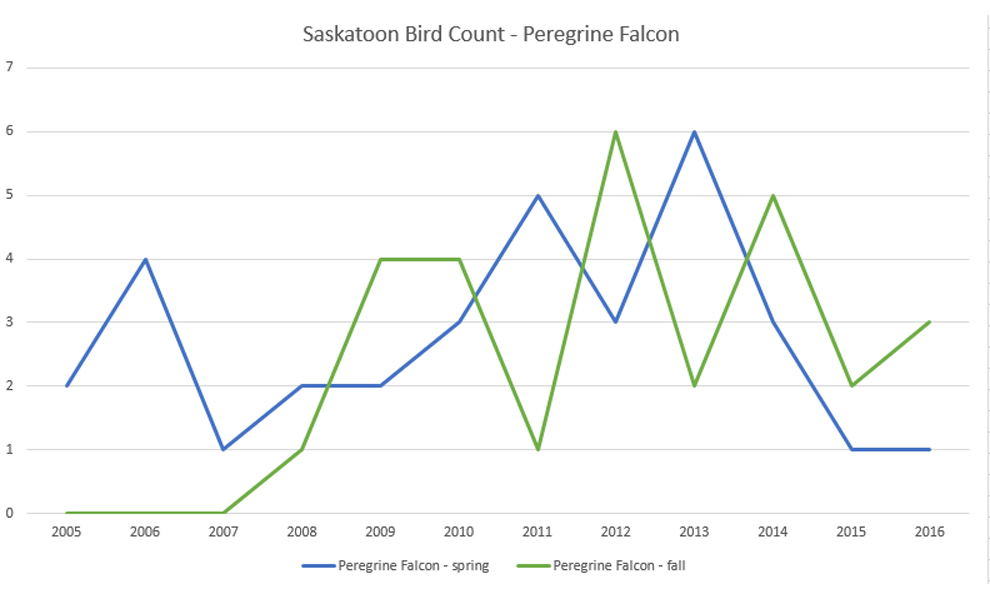 Source: Saskatoon Nature Society, September 2015 Bird Count Report and May 2016 Bird Count Report.
What are we doing?

Wildlife Habitat

The City of Saskatoon maintains an urban forest with over 105,000 trees located on boulevards, centre medians and parks, providing habitat for wildlife including birds. Grasslands and wetlands also provide important areas of habitat for wildlife within the city.

The Meewasin Valley Authority manages over 2,500 hectares of native grasslands and green spaces within Saskatoon city limits, providing critical habitat for grassland birds.

There are also over 1,000 wetlands within the city, providing critical habitat for birds and various other wildlife. The Wetland Policy guides land use and development decisions related to wetland and riparian areas in a manner that is sensitive to the ecological integrity of these areas.

The City of Saskatoon offers wildlife services primarily to trapped, injured and diseased animals as well as contact information for other organizations that can provide assistance.

Natural Area Screening

As part of developing Sector Plans for Suburban Development Areas and Industrial Growth Areas, Natural Area Screening Studies are completed and include an assessment of wildlife and habitat to be considered during future development.
What can you do?

Home owners in new or established neighbourhoods and business owners located in industrial neighbourhoods can request a tree for the City-owned portion of their front and/or side yard.

Volunteer with local groups that are monitoring species and protecting habitat, such as the Saskatoon Nature Society and Meewasin Valley Authority.

Make your property more bird friendly by planting native plants and eliminating the use of pesticides.

Install dark sky compliant light fixtures on your property. Studies have shown that artificial light at night has numerous negative effects on wildlife such as birds, amphibians, insects and mammals.