Ecological Footprint
  Status: Needs improvement
The Ecological Footprint is a sustainability accounting tool that measures the environmental impact of human consumption. More specifically, the ecological footprint accounts for our population's consumption of food, transportation, housing, goods and services, and government services and expresses the findings in terms of the land area needed to support that level of consumption.
The Ecological Footprint is a success indicator in the City's Strategic Plan, and part of a larger indicator framework to track and measure progress towards sustainability and quality of life objectives.
Where are we now?
In 2014, Saskatoon's Ecological Footprint was 78 times larger than the city's total land area. The average ecological footprint per resident was 7.38 global hectares, which is 5% higher than Canada's 2010 national average of 7.01 global hectares per capita.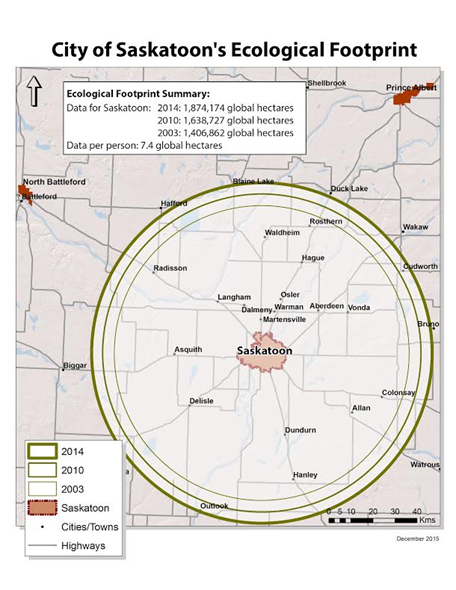 Source: City of Saskatoon Ecological Footprint Report 2014, prepared for the City of Saskatoon by Anielski Management Inc., December 2015.
What can you do?

Get involved in your city's future by joining a board or committee, sharing your ideas on Shaping Saskatoon, or participating in your neighbourhood Community Association.

Choose products and services that are local, eco-certified or fair trade to reduce your own ecological footprint.

Help green your school or workplace by starting a green team that finds ways to improve environmental performance and save money.
Did You Know?
One-half of Saskatoon's Ecological Footprint is from the consumption of good and services (27%) and government services (23%).