Curbside Residential Organics

Reporting & Decision Updates
On Monday, August 30, City Council approved the recommendation to in-source collections for the citywide organics program beginning in 2023.
The following motions were carried with regards to program funding:
"That the November 19, 2018, Council resolution 'That the curbside organics program be funded by property tax' be rescinded."

"That the Administration proceed with the implementation of a waste utility funding model for curbside organics and black bin garbage programs, and that further direction about timing, phase-in options, and affordability options be provided at such time that the related reports are provided to the Governance and Priorities Committee."

​
​​The Administration will report back to the Governance and Priorities Committee on Monday, October 15.
City-wide Curbside Organics Program (Spring 2023)
The new program will be an increase in service from the current subscription-based program; accepting more organic material and introducing year-round bi-weekly collections. The additional organic material to be accepted includes, but is not limited to, the following:
Baked goods
Bread, cereal and pasta
Dairy products
Salad dressings, and other condiments
Meats
Food soiled napkins
Waxed paper
Fats and cooking oils
Why is this important?
Approximately 32% of total regional waste is organic. Keeping organic waste out of the landfill reduces the strain on garbage collection systems and increases the lifespan of landfills. It avoids the creation of harmful greenhouse gases and leachate that occurs when organic matter breaks down in landfills.
Mandatory, co-mingled green cart for year-round collection of food and yard waste provides the highest waste diversion potential (estimated at 26,000 tonnes). It is anticipated that resident participation will be high as it will have less of a learning curve than recycling and residents will not be required to separate food and yard waste. The cart will also prodive adequate capacity for all property types. 
For information on Organics, please see the Fact Sheet.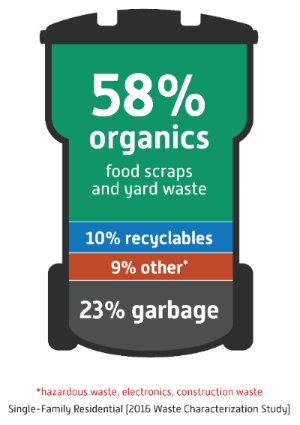 Decision History

In September 2020, the City announced a long-term contract with Green Prairie Environmental LTD for processing curbside organic materials from the single-family residential sector starting in 2023. 

In 2020, $10,000,000 was allocated to the Curbside Organics Program from the Federal Gas Tax Fund for the purchase of green carts.

At its meeting on March 25, 2019, City Council directed the Administration to phase in the costs of waste and curbside organics with property tax increases. During the 2020/2021 budget deliberations in November 2019, City Council approved a 0.87% dedicated property tax increase each year over four years (2020-2023).