Building Better Roads
Since 2014, $224 million has been invested into Building Better Roads - the most aggressive road repair and rehabilitation program Saskatoon has ever seen. The program began following the 2013 Civic Services survey that identified roads as the most important issue facing residents. Significant progress has been made and the program will continue to dramatically improve the condition, safety and longevity of Saskatoon's road network for years to come. Review the Projected 2018-2020 Asset Preservation Plan for Roadways, Sidewalks, Water & Sewer, Bridges and Structures (PDF).
News Releases
May 3, 2018  -  206 lane km of roadway improvements & 20 km of sidewalk replacements in 2018
June 18, 2018 - ​Major project starts on section of Idylwyld Drive  
June 21, 2018 - Circle Drive over 33rd Street to be rehabilitated this summer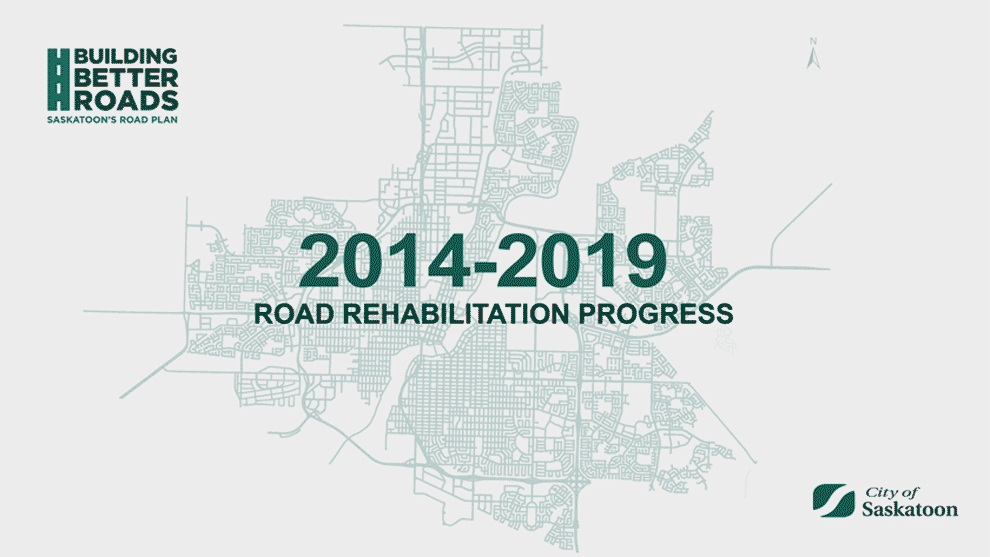 Preston Ave Closure

Effective Monday, June 25, there will be a full closure of Preston Avenue between College Drive and 14th Street to accommodate underground work related to the construction of the University of Saskatchewan Merlis Belsher Ice Facility beside the Saskatoon Field House. The purpose of this work is to connect the new arena to the sanitary/storm sewer under the roadway.

Construction is expected to take approximately 15 days, weather permitting and barring unforeseen issues. The roadway and adjacent pathways/sidewalks will be closed to all modes of traffic during construction. Road signs will be placed at key junctures to provide advance notice of the closure.

The Saskatoon Field House will remain open throughout construction and continue to offer its regular programming. Residents will need to access the facility by Stadium Crescent off College Drive.
Road Resurfacing

During summer 2018, the following sections of Idylwyld Drive will be resurfaced:

Idylwyld southbound from 33rd to 39th
Idylwyld northbound from 33rd to 36th

This work will be carried out in conjunction with water & sewer preservation work. The combined construction will take approximately 3 weeks to complete and will necessitate traffic restrictions, detours and delays.

Idylwyld Drive is a key thoroughway in Saskatoon and this resurfacing work will help protect an important asset.
Road Reconstruction

Montgomery Place

Construction & Design will be overseeing road reconstruction at the following locations:

This work involves the removal of the old/deteriorated asphalt and base material, followed by the installation of new base material and hot mix asphalt. Work will be scheduled for between July 1 and August 31 when school is out.

The road reconstruction work will necessitate some of the following: temporary driveway access restrictions, minor traffic detours around the work sites, restrictions on lawn watering for properties adjacent to work. The work will be broken into phases to lessen the traffic/restriction impacts and other inconveniences to residents.

This treatment will result in a smooth like new surface and extend the lifespan of the road.

The City's Road Restrictions & Construction Projects Map has great information about current and upcoming construction projects.
Water & Sewer Preservation

Over the course of the 2018 construction season (approximately May-October), there will be significant water & sewer improvement work happening around the city. This work includes the preservation/rehabilitation of the water main (underground lines that carry water to individual properties).

These infrastructure upgrades bring numerous benefits:

Protection of a clean, clear water supply
Reduction in risk of contaminants
Decreased susceptibility to breakage or failures
Increased capacity to accommodate future neighbourhood development
Decreased risk of water service disruptions

The large scope of this improvement work necessitates a longer construction schedule. As a result, there will be active construction in the identified areas over an extended period of time.

City Park

The City Park Project will extend over the course of two construction seasons (2018 and 2019) in order to minimize the impact on neighbourhood residents. Conducting the work over two years will ensure not every street is under construction at the same time, thereby protecting some on-street parking as well as general accessibility. 
For more information call 306-975-2476 

or email 

CSC@saskatoon.ca.

Idylwyld Drive

The Idylwyld Drive Project includes some significant water & sewer and road condition improvements on Idylwyld

Drive, between 33

rd

and 39

th

streets. 

The work is expected to get underway on Monday, June 18th and to approximately 3 weeks to complete. 
For more information call 306-975-2476 

or

email 

CSC@saskatoon.ca.

Forest Grove & College Park

Beginning in July 2018, the City will undertake watermain rehabilitation work in the following sections of Forest Grove and College Park:

FOREST GROVE

115th Street from Boyd Street to Forest Drive
Forest Drive from 115th Street to 1511 Forest Drive

COLLEGE PARK

Acadia Drive from Harrington Street to Leddy Crescent
Cronkite Street from Britnell Crescent (east leg) to Spinks Drive.

Residents of these neighbourhoods were invited to an information session about this work in March 2018. Closer to the start of work, detailed construction notices will be issued. For more information any time, call 306-975-2476 or email CSC@saskatoon.ca. 

 
 
Line Painting
Back Lane Maintenance
Major Construction Projects
Pothole & Utility Cut Repair