Water Meter AMI Online Booking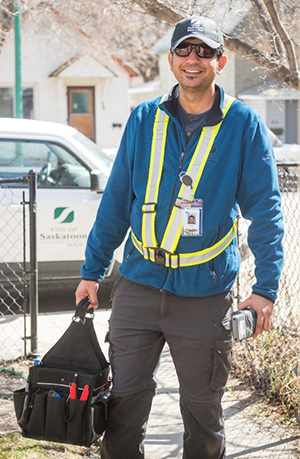 Pick one of the available time slots and complete the information before sending. The installers will arrive sometime during your time slot. If they are late they will attempt to contact you. The module bookings are between 8 a.m. and 7 p.m. from Monday to Thursday, 8 a.m. to 6 p.m. Friday and 8 a.m. to 5 p.m. Saturday. A confirmation email will be sent to you once you submit your information. If you don't receive a confirmation email the booking was not made. If you have problems, please contact us and arrangements will be made. Contact information is found on the previous page.
If your water meter is older than 1994, it will need replacing to be AMI compatible. This same booking system will set up an appointment for the water meter shop technicians to replace your water meter and add the communication module. Meter replacements are typically done between 8:00 AM and 5:00 PM Monday through Friday.
Multi-unit dwellings should use the format 12-320 105th Street East and duplexes and suites will be either A-1140 Ave J S or 1-1140 Ave J S. Addresses with abbreviations, such as Ave, shouldn't be spelled out.
In multi-unit dwellings, only the units with a water meter in the basement need to book an appointment
 
Using the Booking Tool
Slowly type the first few characters of your house number (211 Ave O S).  As you type, the available addresses should appear.  If you see the little spinner icon, the system is busy retrieving your address from the database. The calendar will only provide the days available according to whether a module or new water meter is needed. 
If the computer system doesn't allow a booking, your water meter could already be prepared for AMI. Saskatoon Water will contact you as needed to ensure all necessary work is completed.