Revenue Neutral Property Tax Estimator
With the 2017 Reassessment, all property types will have their assessment values updated to reflect the market value assessment as of January 1, 2015. These updated values will be used to determine property taxes.
 What the Tax Estimator Shows You
Use the Revenue Neutral Property Tax Estimator to show you an estimate of the effect of the 2017 Reassessment on your property.
The amount you'll see is an estimate of how your property tax may change – it is based on the reassessment change alone.
To note, the estimated amount shown is a preview of your revenue neutral* taxes.
*Revenue neutral is a tax calculation; it means, whether property assessments increase or decrease due to changes in values, the City's tax revenue does not automatically change - the City still receives the same amount of tax revenue. Revenue neutral assumes that the City, school and libraries require the exact amount of tax dollars from each class of property. Any yearly tax changes brought forward by the City are communicated through the budgetary process, not by the reassessment process.
It is common for properties to experience property assessment increases or decreases at different rates due to changes in the market place or economy.  There are some properties whose Assessed Values will have increased or decreased more than the average within their property tax class; these properties will see tax changes as a result of the 2017 Reassessment. 
View the informative short video  Understanding Residential Property Assessment. 
The information you need to use the Revenue Neutral Property Tax Estimator is found on your 2017 Assessment Notice, sample below: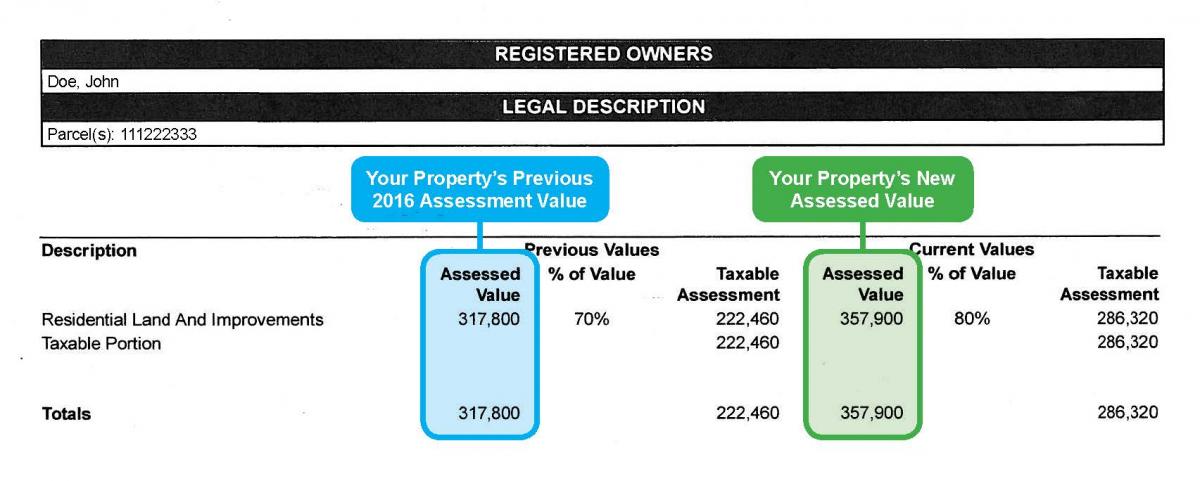 Getting Started
Follow these easy steps to see a preview of how your property tax may change as a result of the 2017 Reassessment:
Select your property sub-class from the dropdown choices, for example – Residential, Commercial
For the Multi-Residential sub-class, choose Residential/Condominium from the sub-class dropdown 
Enter the 2016 Assessed Value
Now enter your new 2017 Assessed Value
View your 2017 Property Tax estimate 

If using Internet Explorer please ensure that there are no commas in the values you enter.
Property Tax Estimator