Evergreen is named after a heritage stand of 50-year-old Scots pine trees in the southeast corner of the neighbourhood. This exceptional community brings together a variety of housing choices and commercial opportunities in a beautiful setting surrounded by parks and open fields.
Forever Green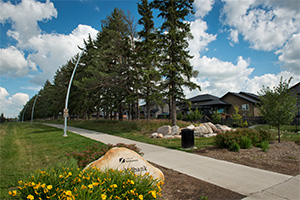 Unique in its location, Evergreen is surrounded by nature. To the west is the Saskatoon Forestry Farm Park & Zoo. Land located to the east and south is dedicated to agricultural research. Further north along McCormond Drive is the Northeast Swale, an ancient river bed preserved as a native prairie remnant and natural wildlife corridor to the South Saskatchewan River valley. Parks, pathways and green space offer diversions for each season. With nature all around, it's easy to take the scenic route.
The Sunny Side of the Street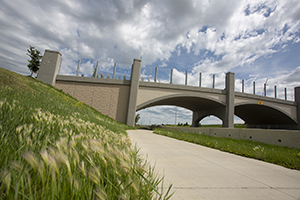 The urban village design also promotes less vehicle dependence by providing opportunities for residents to engage in commercial, social and entertainment activities within the neighbourhood—without having to use the car. Even the pedestrian bridge linking east to west is designed as a "Green Bridge", with the gentle rise over McOrmond Drive providing an open, safe route over traffic.
Where All Trails Meet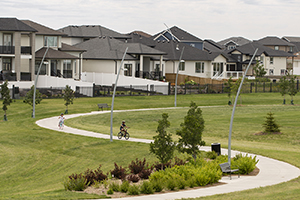 Evergreen is connected by an extensive park and trail system. Stroll, jog, run or pedal the entire community at your leisure. Trails meet at two locations. The first is the centrally located neighbourhood park, located next to two new elementary schools and community centre. The second is the village square, a central meeting place for the neighbourhood with small shops and services conveniently located close to home.
With the District Village commercial area located in the northeast section of Evergreen, you won't have to venture far to find larger establishments, such as restaurants, grocery stores, gas bars and medical clinics.
Entertainment in the Outdoors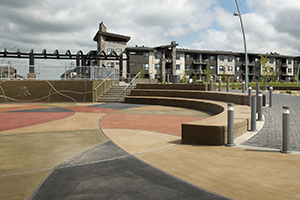 Located at the center of Evergreen, a spacious Amphitheatre stands as the cornerstone of the neighbourhood's Village Square. The outdoor venue offers a unique setting for performances, fitness and community gatherings where residents can indulge in entertainment and leisure. Flanked by lush prairie gardens, the outdoor venue is a hub of activity day and night.
The amphitheatre can be booked by the public. To make a reservation, call the City of Saskatoon Allocations at 306-975-3366.
Environmental Incentive Program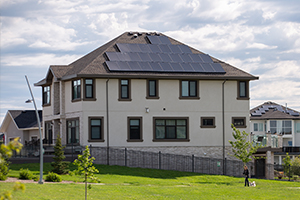 Modelled as a sustainable urban village, Evergreen harmoniously incorporates a combination of housing choices, open spaces and commercial opportunities. Building a home in Evergreen offers a variety of green options. For example, streets are aligned so the majority of homes receive the full benefit of sunlight, maximizing the opportunity to incorporate solar energy into homes.
Saskatoon Land is committed to building environmentally sustainable neighbourhoods and encourages environmentally friendly household practices by offering incentives to home builders and buyers purchasing lots from Saskatoon Land in Evergreen.
A $500 administrative cost rebate is offered to promote more energy efficient homes that are certified through the ENERGY STAR Qualified program, the Energuide for New Homes 80 (EGHN 80) program or the LEED Canada for Homes program.
To qualify for the rebate, energy-efficient homes must be:
ENERGY STAR Qualified, R-2000 Certified, or achieve one of the following minimum ratings under the EnerGuide Rating System (ERS);
81 or higher (ERS 0-100 scale); or
at least 15% lower than the "typical new house" (ERS gigajoule scale).
Each new home owner will receive details about community incentives once settled into the neighbourhood.
Nearby
In Evergreen, there's something for everyone. Discover shops, schools, parks and all the various amenities minutes from your doorstep.