Kensington is a vibrant, environmentally sustainable community designed to put quality of life first. The new community offers a lifestyle that is made easier by the proximity of everything. The unique blend of accessibility and urban conveniences will be the reason people choose to live in Kensington - and the reason they never want to leave.
Conveniences At Your Doorstep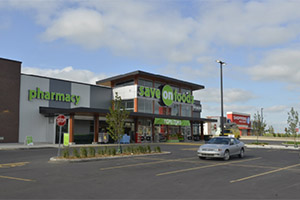 All of life's essentials are conveniently located minutes from your door which means you can get more done in less time. Grab a fresh coffee on your way to work, meet your friends for dinner or stop at an ATM on your drive home. Kensington's vast range of amenities continues to expand and give you more options for dining, shopping and entertainment for all ages. With endless opportunities to live and play, you're never far from the conveniences you want and need.
Connections In Minutes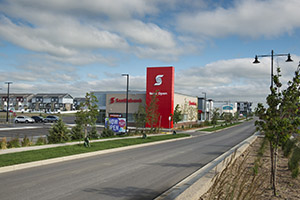 Connectivity is an integral part of Kensington's design. Kensington Boulevard, a major roadway, connects the north and south ends of the community and supports safe and efficient travel for all modes of transportation whether you want to walk, bike, drive or use public transit. Residents also have convenient access to the city's North Industrial district via 33rd Street where a hub of industrial and retail development resides. To the south, 22nd Street leads to Saskatoon's lively downtown core in only minutes where shopping, business and entertainment intermingle.
Diverse And Inclusive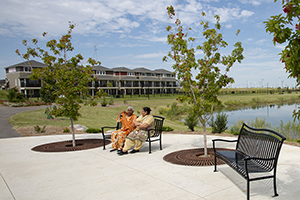 The neighbourhood boasts an adorning collection of homes including condominiums, quaint townhouses, single family homes on cul-de-sacs, traditional single-family lots and contemporary apartments. Whether you are a young couple just starting out, a growing family with children, or young at heart downsizers, Kensington provides comfortable living in a variety of affordable, beautifully designed homes.
Enjoy The Outdoors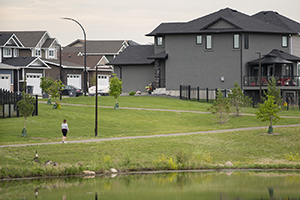 A vast network of greenways, sports fields and pathways stretch across the entire length of the community so you have the space to run, stroll or cycle to your heart's content. Two charming ponds situated in the center of the community facilitate recreational bird watching and are home to a number of native plants and wildlife. Enjoy the view from a park bench or explore nature as you take a walk with your family. In Kensington, you can enjoy the perfect symmetry between nature and the urban environment.
Gather At The Village Square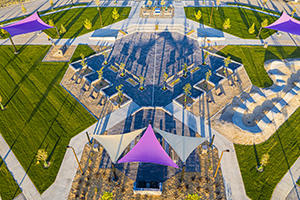 Saskatoon Land designed Kensington's Village Square to reflect the diverse interests and lifestyles of residents within the community.
Summer finds the Village Square a hub of activity. A smaller raised plaza provides an inviting space for community events or family gatherings with oversized bbq pits, harvest picnic tables and shade. The larger plaza, set into the surrounding landscape, forms an amphitheater and market space, where the residents can connect through the arts, theater, musical events and other festivals. For more of a quiet contemplation, residents can relax, soak up the sun or read on comfortable single and double wide loungers or enjoy a picnic under the colorful shade sails. The Village Square also proudly features the first all wheel pump track in Saskatoon. The pump track with its small undulations serves as a challenging ride for all ages and abilities.
With the onset of winter, power outlets throughout the park allow the community to show off their festive spirit and lights in the park. Winter festivals, markets and the ability to flood the plaza space with the first RinkWater box in Saskatchewan for an informal skating rink, allows the park and Village Square to be utilized throughout the year.
Sustainable Development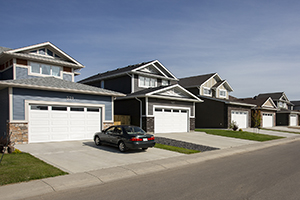 Kensington is an environmentally conscious community designed to maximize the full benefit of the sun. More than half of the single-family homes in Kensington are oriented to take advantage of solar energy use. This is a beneficial opportunity for Kensington residents to contribute to the community's environmental sustainability, improve their family's economic health, achieve a smaller carbon footprint, and preserve resources for future generations.
Environmental Incentive Program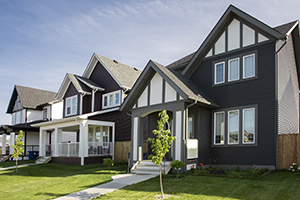 Saskatoon Land is committed to building environmentally sustainable communities and encourages environmentally friendly household practices by offering incentives to home builders and buyers purchasing lots from Saskatoon Land in Kensington.
A $500 administrative cost rebate is offered to promote more energy efficient homes that are certified through the ENERGY STAR Qualified program, the EnerGuide for New Homes 80 (EGHN 80) program or the LEED Canada for Homes program.
To qualify for the rebate, energy-efficient homes must be:
ENERGY STAR Qualified, R-2000 Certified, or achieve one of the following minimum ratings under the EnerGuide Rating System (ERS);
81 or higher (ERS 0-100 scale); or
at least 15% lower than the "typical new house" (ERS gigajoule scale).
Each new home owner will receive details about the incentives once settled into the community.
Nearby
In Kensington, there's something for everyone. Discover shops, schools, parks and all the various amenities minutes from your doorstep.