Information for Cyclists
From Saskatoon's residential neighbourhoods, to the downtown and the scenic Meewasin Valley Trail, Saskatoon is full of spaces and places to ride! 
Cycling Guide
The Cycling Guide rates every road in Saskatoon, from novice to intermediate and expert, and provides suggested routes and facilities that have been identified by experienced local cyclists and City staff. You can get your free copy of the guide at Civic Leisure Centres, all branches of the Saskatoon Public Library and local bicycle retailers. 
Cyclists are reminded that it is your responsibility to cycle in a safe manner and to follow the rules of the road. As a cyclist, you have the same rights and duties as other drivers.
Bicycles are considered vehicles so you must know traffic laws and signals. Most laws and regulations that govern traffic also apply to cyclists. Make sure all riders are very familiar with traffic patterns, signals and hazards. These include all traffic signs, signals and road markings. 
Bicycle Bylaw
The City of Saskatoon Bylaw 6884 was introduced to control and regulate the operation of bicycles upon and in the streets, parks, and other places in the City of Saskatoon.
Online Bicycle Registration
Recording your bicycle's serial number and other identifying information could make the difference in getting your lost or stolen bike back. Register your bike here. You'll be asked to provide your bike's make, model, type, colour, and serial number.
Transit
In an effort to make commuting easier for people who bike and ride, Saskatoon Transit has bike racks on the front of all buses. These buses can accommodate up to two bikes on the front of the bus.
Visit Saskatoon Transit - Rider Guide for a how to video on using the bus bike rack.
Cycling Rules of the Road
Whether you are cycling downtown, or anywhere in our beautiful city, stay safe by following these rules for cycling on the roadway:
Bicycles must travel in the same manner as motorists and obey the same rules of the road as motorists.
Motorists may have a hard time seeing you – pay attention to motorists traveling around you in every direction.
Use hand signals to indicate your intention to turn.
Use a horn or bell to warn pedestrians of your presence if you need to.
Be sure your bike has a headlight and rear reflector.
Wearing a helmet is recommended.
Never ride your bicycle while carrying a passenger unless it is a tandem bicycle; or a bicycle equipped with a passenger carrier.
Be aware of your surroundings – look around you and pay attention.
Hand Signals
Do you know that hand signals are designated not only for cyclists, but for every vehicle that does not have signal lights or has damaged signal lights?
Help motorists help you by using hand signals to indicate your intention to turn left, right or stop at an intersection.
Be sure to signal your turns and stops ahead of time so motorists have time to react.
Before turning left or right, always look over your shoulder for any traffic, and only proceed when safe to do so.    
Can cyclists ride on sidewalks?
Riding on sidewalks is illegal in Saskatoon, except on bridges and overpass bridges.  Sidewalks signed as "multi-use pathways" are also available for cycling.
Riding on sidewalks poses injury risks to both cyclists and pedestrians. Pay attention to pavement markings located on sidewalk corners – they are there to remind you that sidewalks are designed for pedestrians.
If you must use the sidewalk, walk your bike on it. Always walk your bicycle in crosswalks.                     
More information about the Cycling Rules of the Road can be found in the Cycling Guide.
Facility Types

Routes

The City of Saskatoon offers an extensive network of cycling routes throughout the city. These routes are signed so motorists are aware that they are expected to share the road and help cyclists reach their destination safely.

Cycling routes in Saskatoon are signed with "Share the Road" signs and bike route symbols. All cycling routes have bike route signs or wayfinding to help cyclists navigate through the city.

 

Shared Traffic Lanes

Sharrows are lane markings that guide cyclists as to where they should ride within a traffic lane. They also alert motorists that they need to share the lane with cyclists and should keep a safe distance when passing. 

Narrow Traffic Lanes

If a traffic lane is narrow, the sharrow is located directly in the centre of the traffic lane. Cyclists and motorists are to travel in a straight line or single file. 

Wide Traffic Lanes

If the roadway is greater than 4 metres, the sharrow is located on the right side of the traffic lane. Cyclists and motorists are to travel next to each other. 

Exclusive Bike Lanes

Exclusive lanes are created where there is enough room (1.5 metres) to allow for a separate lane for bicycle travel and are used by cyclists only. Motorists must not drive, stop or park in an exclusive lane.

Protected Bike Lanes

A Protected Bike Lane is a dedicated, marked lane for people on bikes that is physically separated from vehicles and pedestrian traffic by parked vehicles, a painted buffer and flexible posts.    

Pathways & Trails

Multi-use or shared pathways are for use by everyone. Always travel on the right hand side of the pathway. Watch for pedestrians, small children, pets, and other cyclists. Slow down when passing other pathway or trail users. 

The beautiful Meewasin Valley Trail follows the South Saskatchewan River through the heart of Saskatoon.

Cyclists can ride through beautifully landscaped parks and natural areas. Access points are found throughout the city with maps and interpretive signage. These trails are meant to be multi-use facilities and cyclists are reminded to be courteous to pedestrians on the trails by:

Notifying trail users of your presence with a bell or horn.
Slowing down when passing a trail user.

Visit the Meewasin Valley Authority website for maps and distances of the Meewasin Trail. 

Meewasin Valley Authority is dedicated to conserving the natural and cultural heritage resources of the South Saskatchewan River Valley. Meewasin's jurisdiction centres in Saskatoon and runs approximately 60 km along the river through Saskatoon and R.M. of Corman Park from Pike Lake in the southwest to Clarke's Crossing in the northeast. It encompasses conservation areas, parks, museums, interpretive centres, the university lands, canoe launches, community links, and over 60 km of Meewasin Trail, 26.5 km designated as multi-use pathways.

Bike Boulevard

Saskatoon's first Bike Boulevard, also referred to as the "Blairmore Bikeway," is 6.9 km of continuous pathway that provides right-of-way to cyclists, leading them west from Idylwyld Drive, along 23rd Street West and connecting to a multi-use path to Betts Avenue. The bike boulevard provides a safe place for cyclists to commute, meaning fewer cyclists on high-traffic roadways. Popular destinations that may be easily accessed from the bike boulevard are the Shaw Center, Mayfair Pool, St. Paul's Hospital, parks, schools, shopping malls and a number of attractions in the downtown area.

The bikeway consists of two portions: 

A bike boulevard along 23rd Street from Idylwyld Drive to Vancouver Avenue North, and 
A multi-use pathway along 22nd Street connecting Vancouver Avenue North to Dalmeny Road 

We encourage different ways to travel that are efficient, cost effective, and environmentally friendly. The popularity of cycling in our city has grown for a number of reasons and it is our goal to provide safe and user friendly cycling networks for all. Cyclists of all ages and all skill levels will be able to use the bike boulevard. Motor vehicles are not restricted on the bike boulevard, but are discouraged because it is a route where cyclists are given priority. This may appeal to inexperienced and younger cyclists who would not otherwise be willing to cycle with motor vehicle traffic. 

What is a bike boulevard?

 A bike boulevard is a street or series of streets that gives priority to cyclists while local access for maintaining motor vehicles. A bike boulevard improves safety for cyclists and reduces the need for cyclists to travel on high-traffic roadways. 

Bike boulevards are typically designated on routes with low motor vehicle traffic volumes, and are designed to discourage short-cutting motor vehicle traffic. A bike boulevard is intended to improve cyclist comfort and safety by allowing free-flow travel for bikes by arranging stop and yield signs to provide as much continuous travel for cyclists as possible. Traffic calming will be provided where necessary through a variety of measures. Traffic control measures are also provided to help cyclists cross major roadways.

The boulevard has a distinctive look so cyclists are aware of the bike boulevard and motorists are alerted the street is a priority route for bicyclists. Signage and pavement markings such as street signs, wayfinding signs, warning signs, and sharrows provide destination and distance information and warn users about upcoming changes in the roadway or route as needed.
Bike Parking
Parking is an important need for cyclists as bicycles need to be safely parked and locked while working, shopping, visiting, or playing. 
Several things make good bicycle parking - where it is located, how much space is provided for each bicycle, as well as access around the rack and bicycles. These racks can be easily used with a wide variety of locks and other devices. 
The City of Saskatoon provides several different bike racks throughout the city.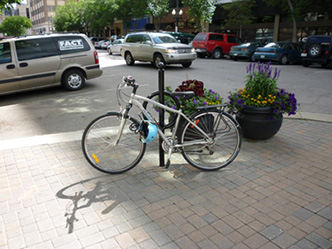 Rules & Safety
Cyclists are reminded that it is your responsibility to cycle in a safe manner and to follow the rules of the road. As a cyclist, you have the same rights and duties as other drivers.
Cycling Safety Videos
Cycling on Streets from Lanes or Bike Lanes