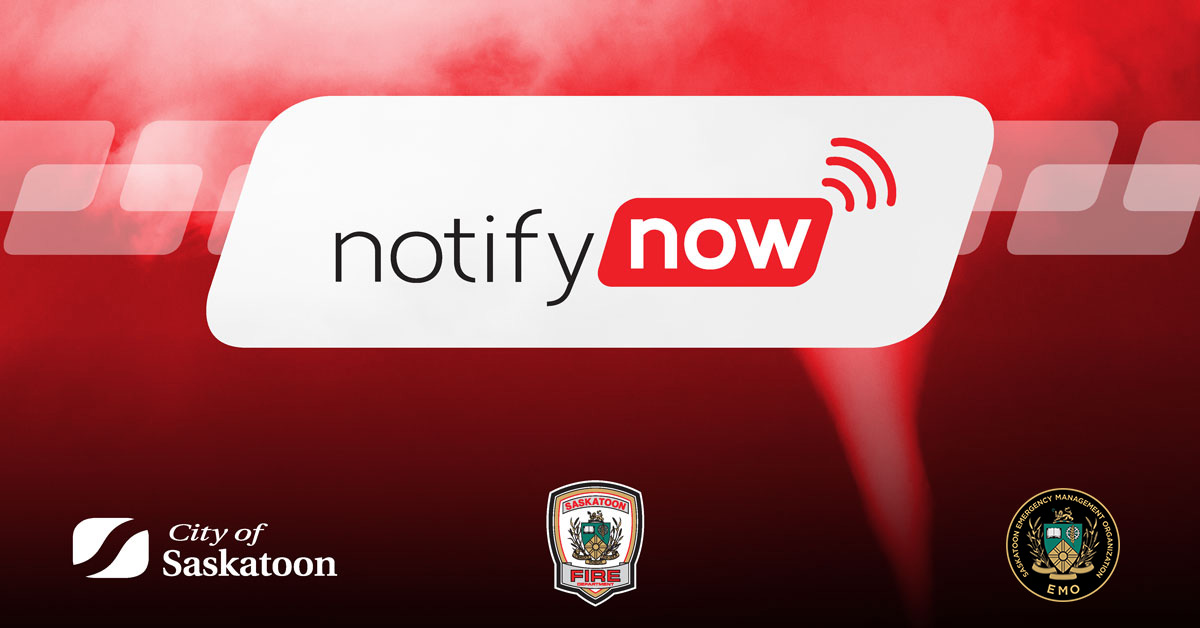 What is notifynow?
notifynow is the City of Saskatoon's public safety alert program used to notify the public in real-time of a public safety situation. When a notifynow public safety message is issued by the EMO, you would receive a voice message to your home, work, or cell phone, by email, or a text message - depending on the preferred method of communication you have indicated.
Examples of emergency situations where the City might send a notifynow message to residents include:
Extreme weather situation (tornado, major blizzard)
Hazardous materials spill
Significant City-wide service interruption
How does notifynow work?
In the event of an impending or escalating public safety concern, notifynow will send out a message to subscribers. When you sign up, you have the option of receiving messages by:
SMS text message (Note: Text message notifications will be sent from call display 89362 or 89364. Standard messaging rates may apply. Please consult your service provider. You can save this number in your cell phone contacts as notifynow)
Voice call to a landline
Voice call to a cell phone
Email
Choose one communication method or all of them; it's up to you.
notifynow is Timely.
In the event of a public safety event, notifynow will contact you with important information on what to do, where to go, and what to expect.
notifynow is Trusted.
When a public safety situation arises, Saskatoon's Emergency Management Organization (EMO) and trusted agency partners pull together to provide a coordinated response that includes sending notifynow public safety messages to the residents of Saskatoon. You can trust a message you receive from notifynow.
notifynow is Targeted.
notifynow is the City of Saskatoon's targeted mass notification system. If a public safety event happens city-wide or only affects a specific area, in seconds, notifynow can contact thousands of residents with relevant, timely and trusted emergency information.
Note: the information you provide is kept confidential and will not be used for any purpose other than to contact you in the event of an impending or escalating emergency.
Gold Partner

   

Silver Partner