Saskatoon Forestry Farm Park & Zoo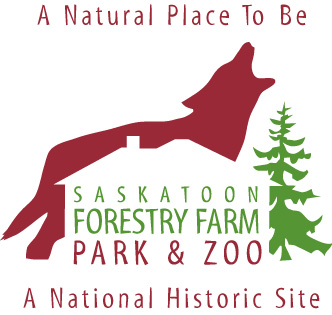 It all began with a tree nursery. Millions of saplings and a hundred years later, the Saskatoon Forestry Farm Park & Zoo remains a cornerstone of ecology, inspired learning and lasting memories in the Prairies. Today, this National Historic Site boasts carefully crafted gardens, restored heritage buildings, a great new naturally-themed playground and Saskatchewan's only CAZA-AZAC accredited zoo. Whether your visit is lively and exciting or quietly reflective, this distinctly-Saskatchewan experience is sure to be a memorable one!
PotashCorp Ark Feature Animals
A red panda and cougars have taken stage in the PotashCorp Ark. Don't miss your chance to view these spectacular animals up close!
Reminders
Adult Bears are taken off exhibit 1 hour before closing.
The last guest will be admitted 1 hour before closing.
NO pets are allowed in either the Forestry Farm Park or the Zoo.
Saskatoon Experience Pass
If you're coming to Saskatoon anytime between now and August 31, you can request the Experience Pass when booking your hotel stay and visit the Zoo for FREE!
Gift Cards
Available year-round, give the gift of fun with a Gift Card. Good for use at Saskatoon Forestry Farm Park & Zoo and also the Leisure Centres, municipal golf courses,  outdoor pools, Gordon Howe Campground, and PotashCorp Playland at Kinsmen Park!
EdZOOcational Opportunities!
Check out the exciting programs offered by the Saskatoon Zoo Society - for young and old alike! Visit the Saskatoon Zoo Society website.
Lions Event Pavilion Open for Rentals
The Lions Event Pavilion, located beside the PotashCorp Ark exhibit in the Zoo, is a 9,600 square foot sheltered rental facility with the ability to host large corporate or family functions of up to 700 people.  Open for rentals May through September during Zoo hours. The pavilion will also serve as the permanent home of the Saskatoon Zoo Foundation's annual Zoogala fundraising event.  More information on rentals.
Tourism Saskatoon
Travelling from out of town? Visit Tourism Saskatoon to plan your visit.
CAZA Accreditation
The Saskatoon Forestry Farm Park & Zoo has successfully achieved Canada's Accredited Zoos and Aquariums (CAZA) accreditation. CAZA accreditation is valid for five years. More information on CAZA accreditation.