Saskatoon Forestry Farm Park & Zoo
Toys and Enrichment Items for Zoo Animals
Our Zookeepers have carefully crafted a list of toys and enrichment items to engage and delight the animals living at the Saskatoon Forestry Farm Park & Zoo. If you would like to help by purchasing a gift for one of our animals check out the items on our Amazon Wish List. Gifts purchased will be mailed directly to the Saskatoon Forestry Farm Park & Zoo and distributed to the appropriate animals by our amazing Zookeepers.
Looking to support local? There are many local businesses that have items our team would love to provide for our animals, consider purchasing a gift card or email zoo@saskatoon.ca for more information.  
Thank you for helping us take care of the animals at the Zoo.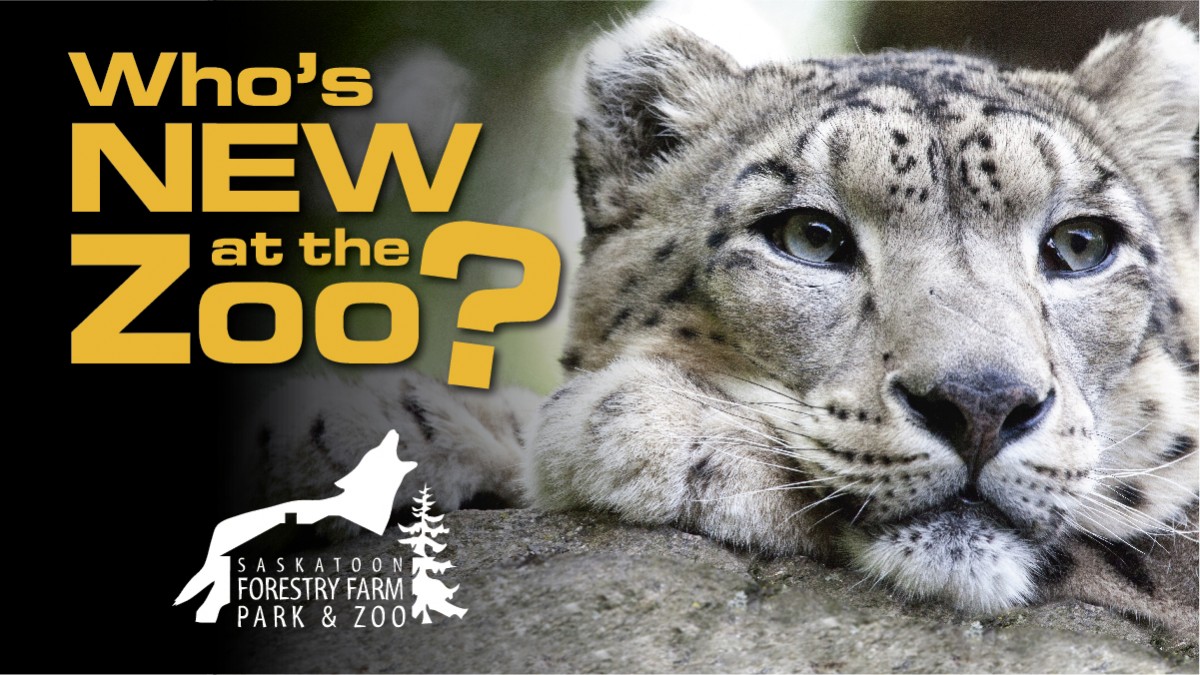 The Saskatoon Forestry Farm Park & Zoo is excited to announce the newest member of the Zoo family is Kazi the snow leopard.  
Snow leopards are well adapted for winter conditions as their fur keeps them well insulated in cold weather. They also have wide, fur-covered feet that act as natural snowshoes by helping to distribute their weight over soft snow. Snow leopards are also very agile, as their short forelimbs and long hind legs allow them to navigate steep and rugged terrain with ease. In addition, their fur also provides great camouflage making these elusive animals hard to spot in the wild.  
The new Snow Leopard Exhibit is located in the Nutrien Ark at the Zoo. Look for him up on the wooden structure in his exhibit, it's his favourite spot!
Who's New at the Zoo? Get to know Kazi the Snow Leopard

How do you say Kazi's name?
Where is Kazi from?

Most recently, Kazi was at the Edmonton Valley Zoo before moving to Saskatoon.
 

What does Kazi like to eat?

Kazi loves chicken and beef.
 

How old is Kazi?
What will Kazi do in his new home?

For the first little while, Kazi will be checking out every corner of his new home, taking in all of the smells, discovering all of the different types of terrain and scoping out all of the new hiding spots. 
 

Why is Kazi in a Zoo?
Will Kazi ever be released into the wild?

No. Kazi will enjoy his retirement at the Saskatoon Forestry Farm Park & Zoo.
 

What is the average lifespan of a snow leopard?

In a Zoo where animals can benefit from access to great nutrition and veterinary care, snow leopards have been known to live approximately 17-20 years. In the wild, the life expectancy is around 10 to 12 years.

Rekindle a sense of childhood wonder with a trip to the Saskatoon Forestry Farm Park & Zoo. Meet an impossibly cute mob of meerkats, the cheeky Goeldi's monkeys, majestic grizzly bears and many other species at Saskatchewan's only CAZA accredited zoo. Little humans love to play at the Orano Fun Zone playground — it's not just monkeys who like to swing and climb!
Hours of Operation 
| | | |
| --- | --- | --- |
| Zoo | 10:00 a.m. | 4:00 p.m. |
| Forestry Farm Park | 7:30 a.m. | 4:30 p.m. |
| Fishing Pond (Closed for Season) | 10:00 a.m. | 4:30 p.m. |
| Buckeye Cafe (Closed for Season) | 10:30 a.m. | 3:30 p.m. |
Who's at the Zoo?
Zoo Admissions (April 1 – October 31)
| | | |
| --- | --- | --- |
| 2022 | Daily Admission | Zoo Season Pass |
| Adult (19+) | $14 | $46.65 |
| Youth (6-18) | $8.40 | $28.00 |
| Preschool (0-5) | Free | Free |
| Family* | $28 | $93.30 |
*Family is defined as a group up to seven individuals with a maximum of two adults.
Group Rates available for eight or more people ($1.00 off each individual daily admission rate)
Zoo Season Pass

A Zoo Season Pass is your ticket to year-round adventures!
Free daily admission to the Zoo (private events excluded)
Free parking
Invitation to special events and exhibit previews
Free or discounted admissions* at participating CAZA zoos across Canada.
Admission by Donation – November 1 to March 31
The fun doesn't stop just because the temperature drops! Admission to the Zoo is by donation from November 1 to March 31 each year. While the grizzly bears enjoy some restful sleep during the winter months, many of our other animals thrive in the cooler weather including our arctic fox and snow leopard.
Before you go
Effective Wednesday, September 1, a non-medical mask is required when accessing indoor City-operated facilities and services including the Meerkat House, Affinity Learning Centre and washroom facilities at the Zoo. Although masks are not required in outdoor spaces, the City recommends wearing a mask throughout your visit, even while enjoying the outdoor exhibits. 
Check out our Zoo Map  
Last admission is 30 minutes before close
Parking fees are in effect May 1 to Labour Day ($4/vehicle)
Mobility scooter available on first come, first served basis. There is no cost to use the scooter - a driver's license or credit card will be held while using the scooter at the Zoo.
Washrooms are available by the Buckeye Café and in the Affinity Learning Centre
The Saskatoon Forestry Farm Park & Zoo is a pet-free park
During your visit
Please remain behind safety barriers
Please respect the animal diets by not feeding them
Outside food or beverages are not permitted in the Zoo
Water bottles and infant items are permitted
Bikes, scooters and roller blades are not permitted inside the Zoo
Attraction and exhibit updates
Kinsmen Express Train (Closed)
Kinsmen Children's Zoo (Closed)
Goeldi's Monkey Exhibit (Outside viewing only)
Contact Us
 306-975-3382
 1903 Forestry Farm Park Drive (off Attridge Drive)
 
CAZA Accreditation
The Saskatoon Forestry Farm Park & Zoo has successfully achieved Canada's Accredited Zoos and Aquariums (CAZA) accreditation. CAZA accreditation is valid for five years. 
EdZOOcational Opportunities!
Check out the exciting programs offered by the Saskatoon Zoo Society - for young and old alike!
Lions Event Pavilion Open for Rentals
The Lions Event Pavilion, located beside the Nutrien Ark exhibit in the Zoo, is a 9,600 square foot sheltered rental facility with the ability to host large corporate or family functions of up to 700 people. Open for rentals May through September during Zoo hours. The pavilion will also serve as the permanent home of the Saskatoon Zoo Foundation's annual Zoogala fundraising event. Visit our Rentals page for more information.
Plan your Visit
Travelling from out of town? Visit Tourism Saskatchewan or Tourism Saskatoon to plan your visit! Search the calendar of events to find out what is going on and check out the other amazing attractions and festivals in Saskatoon! Looking for a place to stay?  Browse available hotels in Saskatoon. 
Leisure Gift Cards
Give the gift of fun year-round with a Leisure Gift Card! Good for use at any Leisure Centre, outdoor pool, indoor rink, municipal golf course, plus the Saskatoon Forestry Farm Park & Zoo, Gordon Howe Campground and Nutrien Playland at Kinsmen Park. Available for purchase at the participating facilities.