Saskatoon Forestry Farm Park & Zoo
COVID-19 Response: Saskatoon Forestry Farm Park & Zoo
The Zoo will re-open on Wednesday, July 8 in full compliance with the guidelines and restrictions as required by the Chief Medical Health Officer and regulated under the Government of Saskatchewan's Re-Open Saskatchewan Plan. 
To keep everyone safe while allowing for as many people to enjoy the Zoo this season, Zoo admission will be limited to 300 guests per hour session, including admission and exit times, with the last admission at 3:30. Your session can be booked up to 7 days in advance by calling 306-975-2855 (starting July 7th). Online booking will be available soon, check back here for updates. There will be a limited number of walk-in spots available each session, but please keep in mind that there may be line-ups so pre-booking is encouraged.  
Forestry Farm Park – Open Daily from 8:30 a.m. – 4:30 p.m.
Zoo – Open Daily from 9:00 a.m. to 4:00 p.m.
 
Daily Admission
2020 Season Pass* 
Adults
$13.00
$35
Youth
(6-18 yrs)
$7.80
$20
Preschool
(0-5 yrs)
Free
Free
Family
$26.00
$60
Parking
$3.00
$14
*The 2020 Season Pass rate has been adjusted to account for the Zoo Closure due to COVID-19.
Refunds/credits will be available to customers who have already purchased a 2020 Zoo Season Pass. 
Zoo Season Pass sales will resume on Wednesday, July 8. 
Zoo Season Pass holders with a reserved session time will also have access to a priority admission line. Look for the Zoo Season Pass admission line when you arrive at the Zoo!  

It all began with a tree nursery. Millions of saplings and a hundred years later, the Saskatoon Forestry Farm Park & Zoo remains a cornerstone of ecology, inspired learning and lasting memories in the Prairies. Today, this National Historic Site boasts carefully crafted gardens, restored heritage buildings, a great new naturally-themed playground and Saskatchewan's only CAZA-AZAC accredited zoo. Whether your visit is lively and exciting or quietly reflective, this distinctly-Saskatchewan experience is sure to be a memorable one!
Zoo Season Pass
Experience adventure year-round with the new Zoo Season Pass. Enjoy free daily admission to the Zoo, free parking and more! If you purchased a Zoo Season Pass in 2019 hang on to your card for an easy renewal in 2020!
Nutrien Ark Feature Animals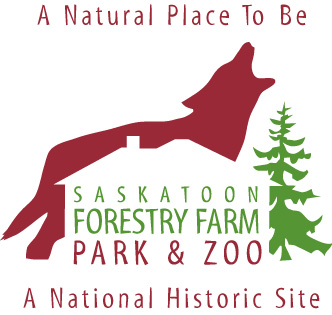 Visit the Nutrien Ark feature animals, Jethro the Cougar and Buddy the Grey Wolf. Don't miss your chance to view these spectacular animals up close!
EdZOOcational Opportunities!
Check out the exciting programs offered by the Saskatoon Zoo Society - for young and old alike! Visit the Saskatoon Zoo Society website.
Lions Event Pavilion Open for Rentals
The Lions Event Pavilion, located beside the Nutrien Ark exhibit in the Zoo, is a 9,600 square foot sheltered rental facility with the ability to host large corporate or family functions of up to 700 people.  Open for rentals May through September during Zoo hours. The pavilion will also serve as the permanent home of the Saskatoon Zoo Foundation's annual Zoogala fundraising event.  More information on rentals.
Plan your Visit
Travelling from out of town? Visit Tourism Saskatchewan or Tourism Saskatoon to plan your visit! Search the calendar of events to find out what is going on and check out the other amazing attractions and festivals in Saskatoon! Looking for a place to stay?  Browse available hotels in Saskatoon. 
CAZA Accreditation
The Saskatoon Forestry Farm Park & Zoo has successfully achieved Canada's Accredited Zoos and Aquariums (CAZA) accreditation. CAZA accreditation is valid for five years. More information on CAZA accreditation.
Park & Zoo Master Plan
Want to learn more about what is in store for the Saskatoon Forestry Farm Park & Zoo? Visit our Master Plan page for more details.
Where are the Feeders?
The public feed stations are no longer available at the Saskatoon Forestry Farm park and Zoo.  Why did the Zoo remove the feed stations? There are several reasons including animal welfare, health, pest management and safety. Thank you for respecting the animal diets by not feeding any animals at the Zoo.
Leisure Gift Cards