Saskatoon Forestry Farm Park & Zoo

Saskatoon Forestry Farm Park and Zoo Road Construction Update
Replacement of the main road through the Saskatoon Forestry Farm Park and Zoo is well underway and is expected to be complete in October.
The Zoo will maintain its normal operating hours during construction; 10:00 AM - 4:00 PM daily.
The Park will open at 7:30 AM and close at 4:00 PM daily.
We appreciate your patience as we work towards improving your overall experience at the Saskatoon Forestry Farm Park & Zoo. 
The newest members of the Saskatoon Forestry Farm Park & Zoo family have quickly settled into their new digs at the Meerkat House. The new exhibit is home to 9 meerkats and features a naturalistic habitat with desert sand dunes, termite mound replicas, nest boxes and specially made tunnel systems. 
It all began with a tree nursery. Millions of saplings and a hundred years later, the Saskatoon Forestry Farm Park & Zoo remains a cornerstone of ecology, inspired learning and lasting memories in the Prairies. Today, this National Historic Site boasts carefully crafted gardens, restored heritage buildings, a great new naturally-themed playground and Saskatchewan's only CAZA-AZAC accredited zoo. Whether your visit is lively and exciting or quietly reflective, this distinctly-Saskatchewan experience is sure to be a memorable one!
Zoo Season Pass
Experience adventure year-round with the new Zoo Season Pass. Enjoy free daily admission to the Zoo, free parking and more! If you purchased a Zoo Season Pass in 2018 hang on to your card for easy an easy renewal in 2019!
Nutrien Ark Feature Animals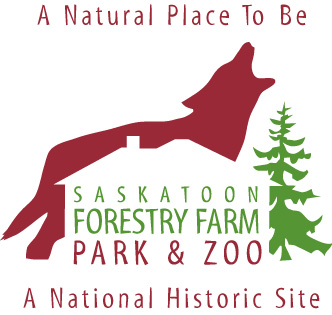 Cougars & Wolves have taken stage in the Nutrien Ark. Don't miss your chance to view these spectacular animals up close!
EdZOOcational Opportunities!
Check out the exciting programs offered by the Saskatoon Zoo Society - for young and old alike! Visit the Saskatoon Zoo Society website.
Lions Event Pavilion Open for Rentals
The Lions Event Pavilion, located beside the Nutrien Ark exhibit in the Zoo, is a 9,600 square foot sheltered rental facility with the ability to host large corporate or family functions of up to 700 people.  Open for rentals May through September during Zoo hours. The pavilion will also serve as the permanent home of the Saskatoon Zoo Foundation's annual Zoogala fundraising event.  More information on rentals.
Plan your Visit
Travelling from out of town? Visit Tourism Saskatchewan or Tourism Saskatoon to plan your visit! Search the calendar of events to find out what is going on and check out the other amazing attractions and festivals in Saskatoon! Looking for a place to stay?  Browse available hotels in Saskatoon. 
BHP Enchanted Forest Holiday Light Tour - November 17 - January 4
Experience the most spectacular drive-through holiday light display featuring over 75 custom displays throughout the Saskatoon Forestry Farm Park. Proceeds support the Saskatoon Zoo Foundation and Saskatoon City Hospital Foundation. For more information visit enchanted-forest.org.
CAZA Accreditation
The Saskatoon Forestry Farm Park & Zoo has successfully achieved Canada's Accredited Zoos and Aquariums (CAZA) accreditation. CAZA accreditation is valid for five years. More information on CAZA accreditation.
Where are the Feeders?
The public feed stations are no longer available at the Saskatoon Forestry Farm park and Zoo.  Why did the Zoo remove the feed stations? There are several reasons including animal welfare, health, pest management and safety. Thank you for respecting the animal diets by not feeding any animals at the Zoo.