Designing Reasons to Come & Connections to Get There

An event and entertainment district is a shared public space where every resident feels welcome and has a sense of belonging. 
In Saskatoon, the vision for a Downtown Event & Entertainment District is anchored around a new event centre/arena and convention centre made accessible to everyone through the future Bus Rapid Transit (BRT) system. The area will be developed sustainably and with a focus on Indigenous placemaking. By offering residents and visitors a gathering place for entertainment and events, with a variety of restaurants, venues, shopping and nightlife, Saskatoon's Downtown will become an economic driver for the city and the province. Downtown BRT stations will encourage redevelopment of adjacent areas, supporting a variety of businesses and housing opportunities.
A vibrant and busy Downtown provides an attractive place for shopping, entertainment, dining and more and will support small business and act as an incentive for corporate investment.
This public infrastructure project will create excitement and drive investment in the surrounding blocks and throughout the Downtown. New jobs will be created, economic benefits realized and opportunities for local entrepreneurs will be made available.
Evolution and trends in event centres, convention centres and event districts.
Stantec, along with partners HOK and LMN, gave a presentation on current trends on event districts around North America on February 28, 2023. The full video, including the Q&A, is available below:
Downtown Event Centre/Arena 
A new Downtown event centre/arena will create excitement and economic growth for Saskatoon, Saskatchewan and the world. Developed to replace the aging SaskTel Centre, the event centre/arena will bring a modern entertainment and sports venue to the heart of Saskatoon. With a generous seating area, the newest in staging and sports surfaces, and a variety of in-house food and beverage services and merchandising opportunities, the Downtown event centre/arena will attract top touring entertainment, sports and community events for decades to come. 
Note: The image below represents an artistic illustration of one of many possible concepts for a new event centre/arena and Downtown Event & Entertainment District. Beyond demonstrating the potential general location of the future event centre/arena, BRT Stations, a new or expanded convention centre and other development opportunities in the surrounding areas, no aspect of this illustration should be considered to be pre-determined as it is simply a conceptual possibility. The Master Plan for the Downtown Event & Entertainment District, as well as conceptual designs for the new event centre/arena and new or expanded convention centre, will begin now that the site selection has been completed. Public and key stakeholder engagement will be undertaken during these future stages of work to help define the ultimate vision of the District
Potential Orientation A: Midtown Shopping Centre North Parking Lot - future site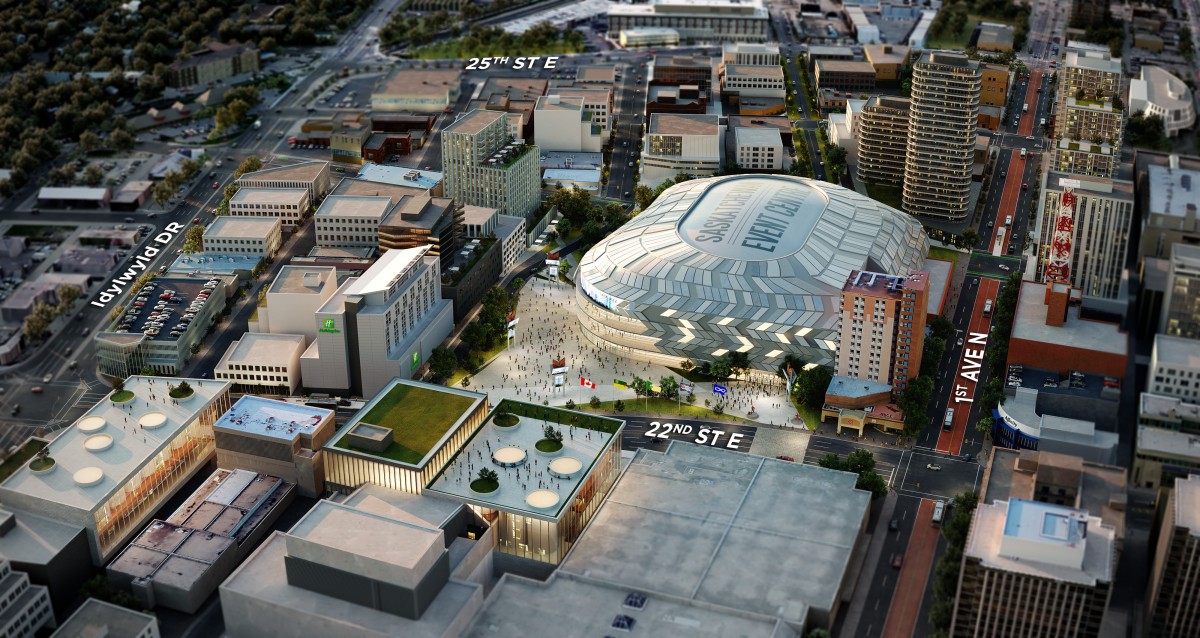 Potential Orientation B: Midtown Shopping Centre North Parking Lot - future site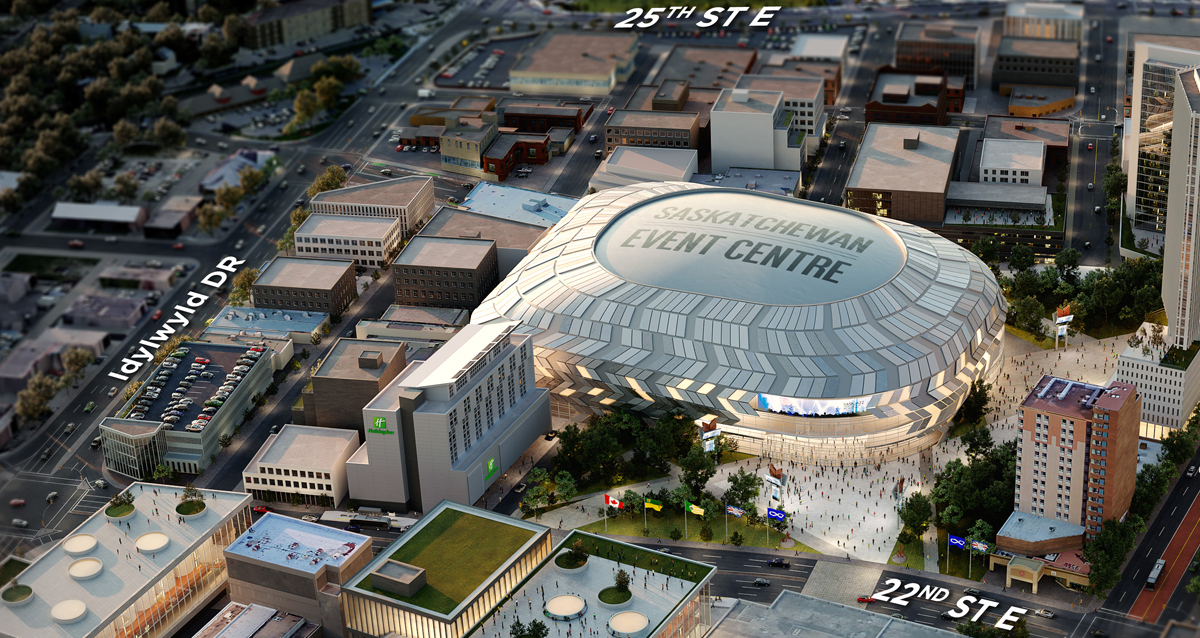 Convention Centre  
A new or expanded convention centre will complement the Downtown event centre/arena by providing a modern facility for business and community to meet, problem-solve and develop local solutions for international opportunities. It will bring daytime convention facilities into the modern era and provide a home for the arts and special events. 
Bus Rapid Transit  
The future Bus Rapid Transit (BRT) system is a key component of the Downtown Event & Entertainment District — enabling high capacity, high frequency access to the Downtown from across the city and reducing the reliance on vehicle use and area parking spaces. The BRT system's Downtown stations, centrally located on 1st Avenue, will feature modern and comfortable amenities and public art that reflects the diversity of the city.
The future BRT system will connect the District to the entire city, adding to infrastructure which will support the entire community, including transit signal priorities that first responders can access and improved roadways and sidewalks. The BRT will be able to move a large number of people in and out of the District, reducing traffic to the area, minimizing the need for parking and making it easy to journey to the district for sports games, conventions, a nice meal or any of the other benefits a Downtown Event & Entertainment District will bring.
For more information about Bus Rapid Transit, including a full route map and video, please visit saskatoon.ca/brt. 
Getting There
There will be a number of options to get to the event and entertainment district - by car, transit, walking, cycling, ride share...however you prefer to travel!
 
---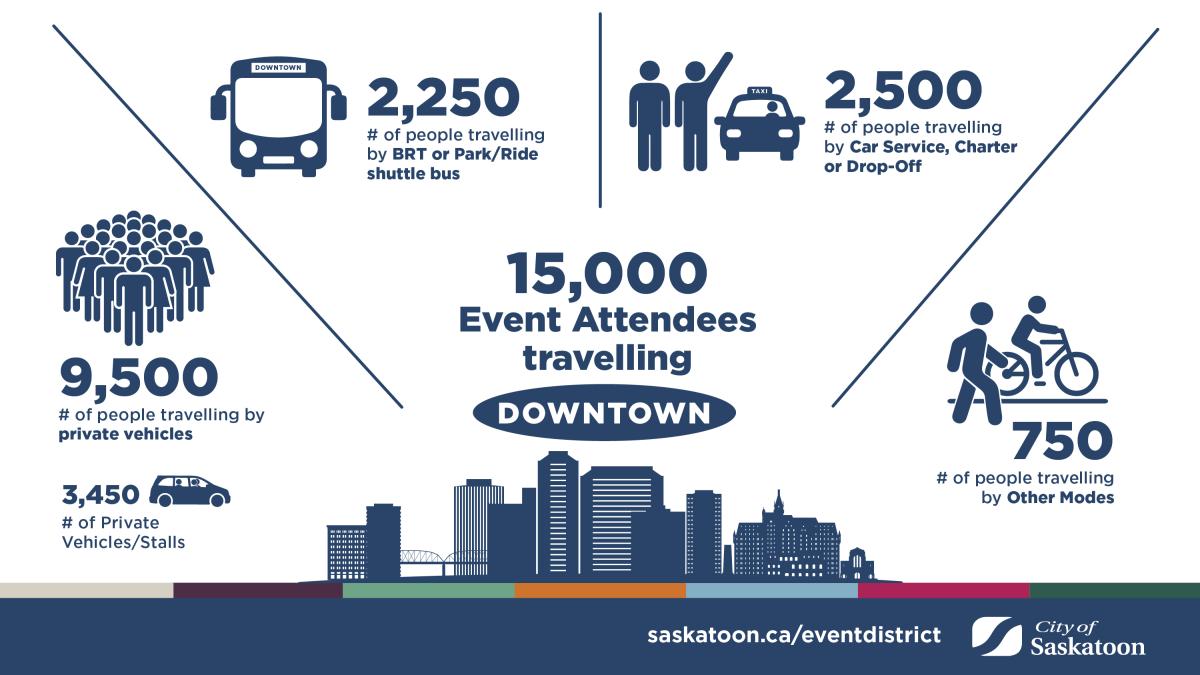 ---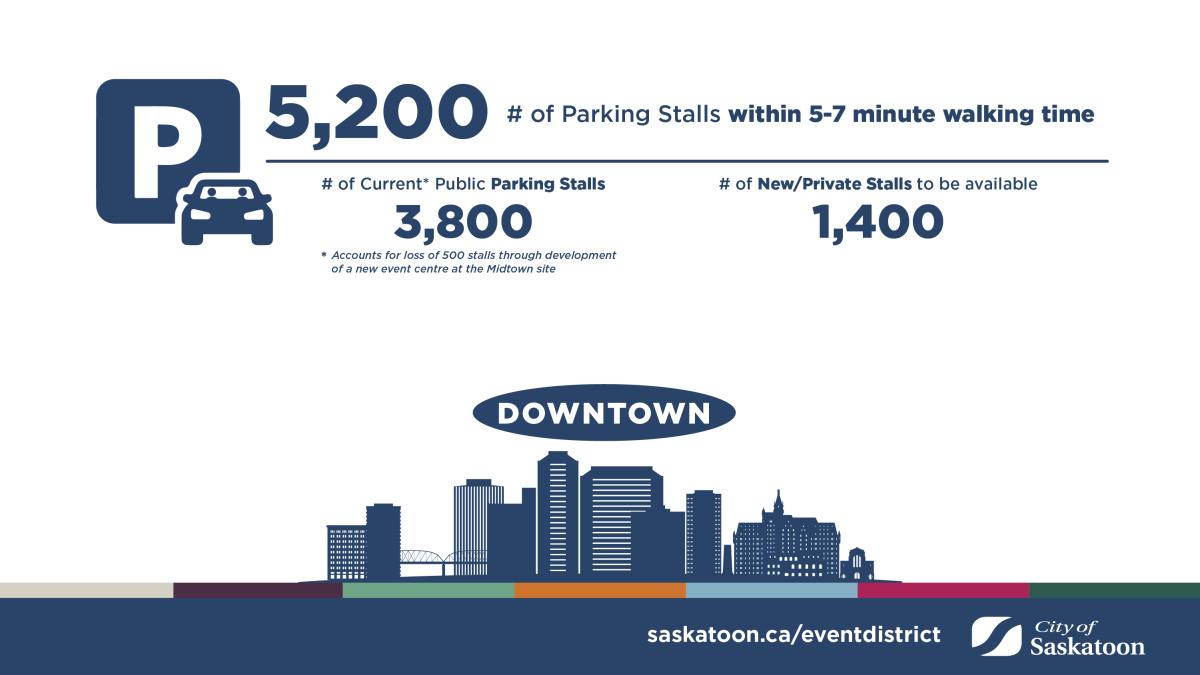 ---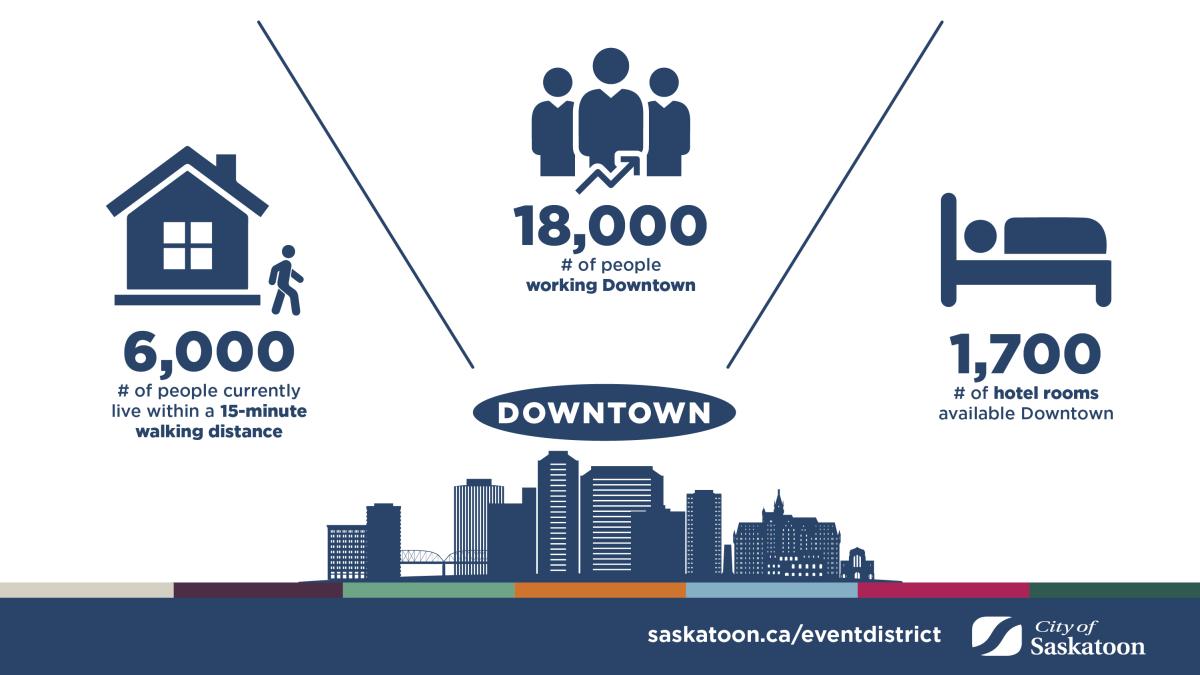 You can find out more information on this information sheet .
Parking
SaskTel Centre has over 4,000 parking spaces among four parking lots. These lots are open an hour prior to an event, and it currently takes approximately 45 minutes for the last vehicle to leave after a major event with limited routes into and out of the site. The open space of the parking lot provides little protection from the environment when there is wind, rain or extreme cold, and isn't designed with pedestrian safety in mind. In comparison, there is almost as many parking spaces that will be available in the same walkshed as at SaskTel Centre, with more ways to get into and out of the area. You can find a comparison map with detailed numbers on the parking opportunities here.