Other Initiatives & Updates
Searching, please wait...
Water Treatment Training Program for Indigenous People
The City of Saskatoon, Gabriel Dumont Institute, Radius Community Centre, Saskatchewan Polytechnic, and Saskatoon Tribal Council coordinate the kanātan nipīy (the water is clean/clean water) program. The training is an opportunity for Indigenous people to gain essential skills and access employment opportunities in water treatment and distribution facilities — such as with the City's Water and Waste Operations. But there are also opportunities to apply this program with: other municipalities, industrial plants, provincial or federal government agencies, First Nations communities, engineering firms, parks, mining or oil & gas industry, contractors, private utility companies, and more.
This program includes FREE tuition and living allowances for qualified applicants.
The next session will be offered beginning January 10, 2022. The application deadline for this intake is December 10, 2021. Spaces are limited!
The 11-week program includes: essential skills training, Level 1 Water Collection & Treatment Training, Level 1 Wastewater Collection & Distribution Training, First Aid/CPR and Workplace Hazardous Materials Information System (Canada's national standard for workplace safety) and Service Best, and work experience.
ADMISSION REQUIREMENTS:
Must be Indigenous 
Grade 12 or GED
Class 5 Saskatchewan Driver's Licence
Driver Abstract (within the last 3 months)
Resumé (includes 3 references)
How to Apply:
---
TRC Calls to Action Inspire Bus Shelter Art - June 2021
Saskatoon Transit and students from the E.D. Feehan Newcomer Youth Engagement Program (NYEP) and the miyo mâcihowin program met with Metis Elder Nora Cummings, First Nations Elder Harry Lafond, and Newcomer Community Leader Senos Timon to create and design a bus shelter by their school - on the north side of Rusholme Road, west of Avenue M.
The students from the NYEP and miyo mâcihowin program reflected on Elder Cummings and Lafond's teachings, with inspiration from Newcomer Community Leader Senos Timon, to create this piece of art. One of the themes that continued to pop up was the idea that we are all different and should be proud of that, and remember who we are and reach out to one another.  
The student's artwork was put together by Muveddet Al-Katib, an immigrant artist working with the NYEP as an art educator, and then laser cut by Metal Shapes Manufacturing.  
The idea behind Saskatoon Transit's Bus Shelter Art Project is to comply with the Truth and Reconciliation Call to Action #79; calling upon the government, Indigenous organizations and the arts community, to develop a reconciliation framework for Canadian heritage and commemoration, including integrating Indigenous history, heritage values and memory practices into Canada's history.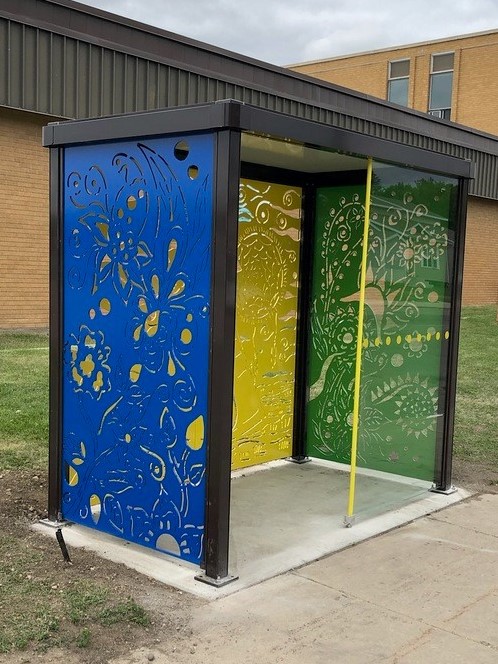 As of June 2021, there are three Indigenous inspired bus shelters in Saskatoon at the following locations:
In front of Aden Bowman Collegiate (1904 Clarence Ave S)
12th Street and Broadway Avenue
E.D. Feehan on the north side of Rusholme Road, west of Avenue M (pictured above)
---
First Michif Street Name in Saskatoon - April 2021
The City's Naming Committee has selected what is thought to be the first Michif street name in Saskatoon. The name "Shakamohtaa" (shaa-KAM'-moh-TAHH') was assigned to a street in the southeast quadrant of Brighton. "Shakamohtaa" is the Michif word for "connect" and symbolizes the importance of coming together and building relationships. 
The Métis in Saskatchewan speak three Michif languages. The most widely known Michif is a Cree-French mixed language composed of Plains Cree (nêhiyawêwin) with some Plains Ojibway (nakawēmowin) verbs/verb phrases and French (with some English) nouns/noun phrases. A world-renowned language, Michif is spoken in all three prairie provinces and into Montana and North Dakota. Michif-French—which is a French-based language blended with an Algonquian syntax—is spoken by the Métis in Batoche/St. Louis, Saskatchewan and in St. Laurent and St. Eustache, Manitoba. Northern Michif—a Cree-based language with a small amount of French word (noun) borrowings—is spoken in the northwest corner of Saskatchewan, with most speakers living in or near Ile-à-la Crosse, Buffalo Narrows, Beauval, and Green Lake. (SOURCE: Gabriel Dumont Institute, Saskatoon) 
The Civic Naming Committee is comprised of three members of Council and non-voting administrators who provide support and information. The Committee's mandate is to review all requests and suggestions for naming municipally-owned or controlled facilities, streets, developments, neighbourhoods and parks. The Naming Committee works with the Diversity, Equity and Inclusion Advisory Committee to ensure there is representation from all segments of our population.  
Since street names are selected during the neighbourhood planning stage, the physical street does not yet exist anywhere other than on planning maps. It's expected that the road will be in place along with its accompanying street sign in about two years' time. Please see the below map to see where Shakamohtaa Street will be located.