The Greenhouse is responsible for providing and maintaining floral displays for public viewing and landscape enhancement in the Civic Conservatory, City Hall and other civic facilities, as well as major public roadways, parks and public open spaces. Please note, the Civic Conservatory is currently closed (for more information see Civic Conservatory). 
Greenhouse Fun Facts:
4,000 plants maintained daily
350 plant and flower species used
51,000 annuals produced each year for park flower beds and the flower pot program
Flower pots receive over 80 gallons of water each summer
Saskatoon Flower Pot Program
The Greenhouse creates and places over 900 flower pots on street corners and boulevards to brighten our streets during the summer months. 
Annuals used in the 2022 Flower Pot Program: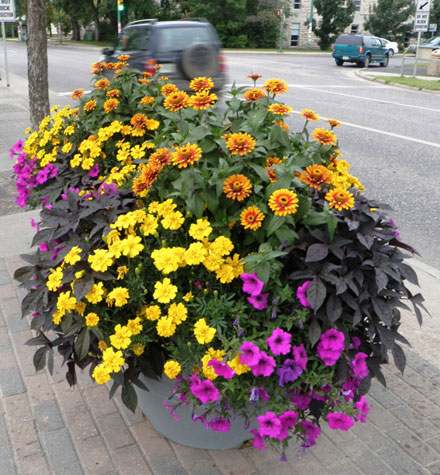 Centre Plants:
Begonia - Pegasus
Canna - South Pacific Rose, Cannova series: Bronze Orange, Orange Shades
Coleus – Perilla, Lime Delight, ColorBlaze series: Rediculous, Royal Pineapple Brandy, Torchlight
Cyperus - Baby Tut
Fountain Grass - Purple
Gaillardia - Heat It Up Yellow, Heat It Up Scarlet
Gaura - Belleza Hot Pink, Stratosphere White
Kniphofia - Orange Blaze
Little Bluestem grass - Twilight Zone
Panicum Switchgrass - Shenandoah
Salvia – Evolution Violet, Victoria Blue
Verbena - Meteor Shower
Mid-Height Plants:
Begonia - Illumination White, Surefire Red
Coleus - Wizard Rose
Geranium – Mojo Dark Red
Sunpatiens - Compact Orange, Compact Royal Magenta
Petchoa - Supercal Cinnamon
Petunia - Tiki Torch Crazytunia; Supertunia series: Honey, Latte, Mini Vista Indigo, Mini Vista White, Royal Magenta, Royal Velvet
Trailing Plants:
Artemisia - Makana Silver
Asparagus Fern
Bidens – Goldilocks Rocks
Licorice Vine - Petite Licorice, Splash variegated
Lobularia - Snow Princess
Lotus Vine - Parrot's Beak
Petunia - Ray Red
Supertunia series: Black Cherry, Blue Skies, Bordeaux, Trailing Silver, Vista Fuchsia, Vista Paradise, Vista Silverberry
Sweet Potato Vine (Ipomoea) – Sweet Caroline Sweetheart Lime, Bewitched After Midnight
Verbena – Temari Patio Blue