The Parks Department provides and maintains floral displays for public viewing and landscape enhancement along major public roadways, parks and public open spaces and also in City Hall, civic facilities and the Civic Conservatory (currently closed - for more information see Civic Conservatory). 
Greenhouse
Since it was built in 1958, the City's Greenhouse facility (Greenhouse) located within the Vic Rempel yards off Avenue P North, has provided plants for all the City's flower pots, flower beds and indoor greenery and has now reached the end of its service life.  
In recent years, the Greenhouse has experienced escalating structural concerns due to its age and unique design and will soon need to be vacated for the safety of staff. In September 2022, an engineering assessment indicated increasing issues with the Greenhouse structure from the previous year and recommended that it be vacated.   
The City wants everyone to know that bright and beautiful flowers will continue to be planted citywide by Parks staff every year. While options will be explored for the future of the Greenhouse, the City has secured a suitable private sector contractor to provide seasonal plants for the 2023 season. 
Later 2023, City Administration will bring a report back to City Council outlining longer-term recommendations for the future of the Greenhouse program.  
Saskatoon Flower Pot Program
Parks staff place and maintain over 1050 flower pots on street corners, centre medians and boulevards to brighten our streets during the summer months.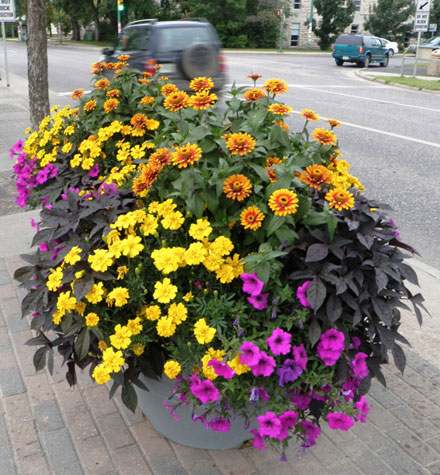 Fun Facts:
4,000 plants maintained daily
350 plant and flower species used
51,000 annuals produced each year for park flower beds and the flower pot program
Flower pots receive over 80 gallons of water each summer
Annuals used in the 2023 Flower Pot Program:
Centre Plants:
Artemisia - Makana Silver
Asparagus Fern - Foxtail
Begonia - Pegasus
Canna - South Pacific Rose, Cannova series: Bronze Orange, Bronze Peach, Bronze Scarlet
Coleus – Perilla Magilla,  ColorBlaze series: Royal Pineapple Brandy, Torchlight, Dip-t in Wine
Cyperus - Baby Tut, Prince Tut
Fountain Grass - Purple
Gaura - Karalee Petite Pink, Stratosphere White
Juncus - Blue Mohawk
Kniphofia - Pyromania Backdraft
Pennisetum - First Knight
Salvia – Victoria Blue
Verbena - Meteor Shower
Mid-Height Plants:
Calylophus - Ladybird Lemonade
Dahlia - Venti Lemon
Gaillardia - Heat It Up Yellow
Geranium – Survivor Coral
Petchoa - Supercal Premium series: Caramel Yellow, Cinnamon
Supertunia series: Blue Skies, Latte, Persimmon, Royal Magenta, Royal Velvet, Silver
Vista series: Fuchsia, Jazzberry, Paradise, Mini Indigo, Mini Scarlet, Mini White, Mini Yellow
Trailing Plants:
Asparagus Fern
Calibrachoa - Superbells Dreamsicle
Licorice Vine - Petite Licorice
Lobularia - Snow Princess
Lotus Vine - Parrot's Beak
Lysimachia - Green Creeping Jenny
Petunia - Ray Red
Scaevoa - Whirlwind Blue Fanflower
Sedum - Lemon Coral
Sweet Potato Vine (Ipomoea) – Sweet Caroline Light Green, Bewitched After Midnight
Verbena – Superbena Peachy Keen, Temari Patio Blue