The Good Neighbour Guide provides a handy overview of Saskatoon's bylaws, standards and regulations to help us all do our part to keep our neighbourhoods and city safe, clean and beautiful.
The guide includes information on:
Boulevard and Back Lane Maintenance
Property Drainage
Fences
Fire Pits
Garage and Yard Sales
Garbage, Recycling and Composting
Home-based Businesses
Home Development
Hot Tubs and Swimming Pools
Landscaping
Noise
Parking
Responsible Pet Ownership
Snow and Ice on Sidewalks
Untidy Properties
Making a Bylaw Complaint
 View Saskatoon's Good Neighbour Guide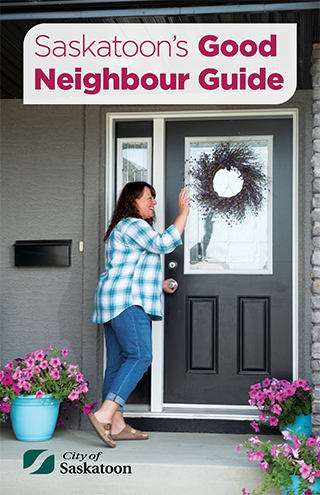 NOTE:  The guide contains a summary of the most common bylaw complaints and concerns and is intended as a guide only. 
After reviewing the guide, if you still have questions about Dos and Don'ts, please DO get in touch with the Bylaw Compliance team and they'll be happy to help. Hey, that's what neighbours are for, right?