Active Transportation Advisory Group
The Active Transportation Advisory Group (ATAG) provides advice and feedback to the Transportation Department on active transportation policies, programs, education and awareness initiatives. The ATAG represents the perspectives of active transportation users, residents, partners and stakeholders in Saskatoon and is made up of organizational representatives, community representatives and City of Saskatoon representatives. The ATAG meets approximately five times a year to discuss active transportation topics in Saskatoon.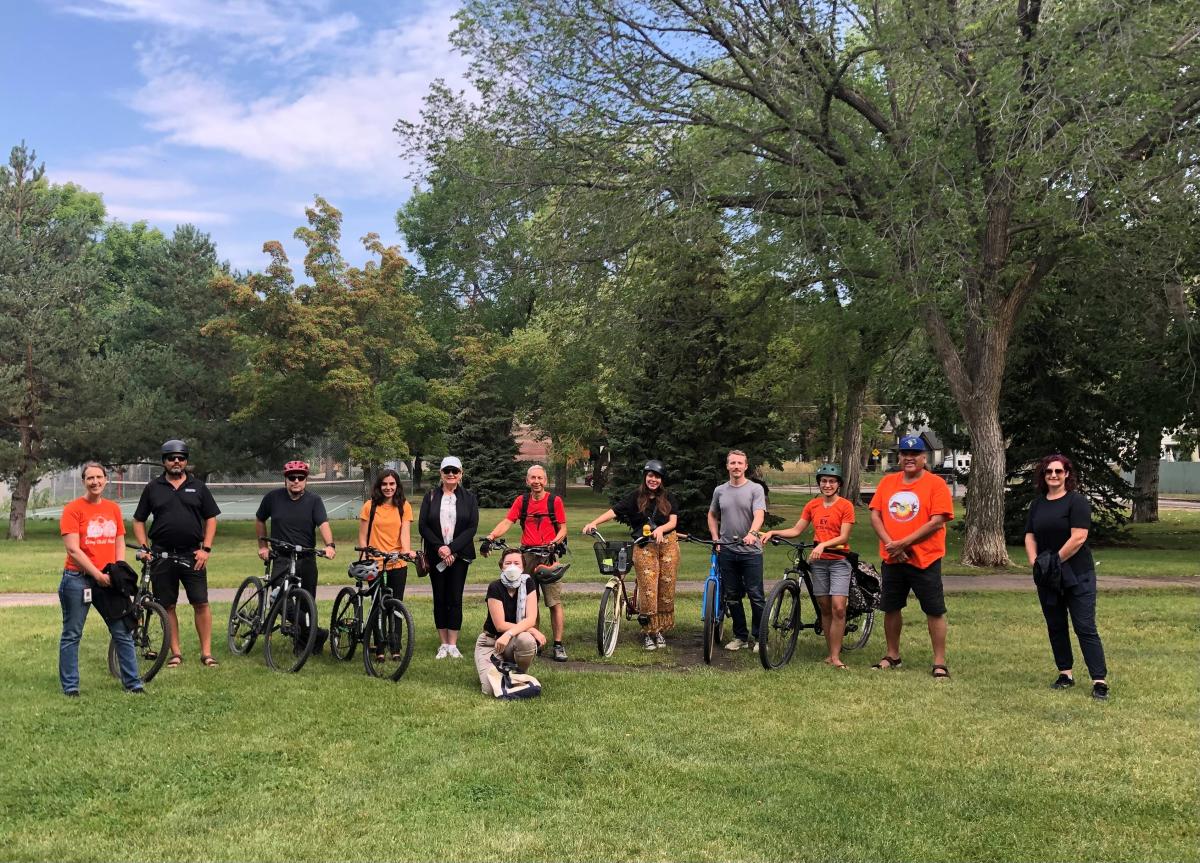 The ATAG is comprised of appointed representatives of stakeholder groups that represent multiple perspectives and/or user groups:
Verna Gallen (Walking Saskatoon)

I am a retired researcher, writer and policy analyst with a love of learning that has led me to university studies in fields like medieval literature, historical archaeology and art. Raised in Saskatchewan, I have lived in Saskatoon most of my adult life but have also spent time in Finland with my Finnish-born husband. Concerned about what life will be like in the future for my four grandchildren, I now concentrate on living locally and no longer drive a car, relying instead on active transportation and public transit. On ATAG, I represent Walking Saskatoon, a non-profit organization that advocates on behalf of pedestrians in Saskatoon. I am also an active member of a variety of other committees and groups that are working to address the climate crisis, improve life in Saskatoon for all of its residents, and adapt our city to the changing circumstances of the 21st Century. 
Cora Janzen (Saskatchewan Health Authority) - Public Health

Cora Janzen lives in Treaty 6 territory and homeland of the Métis and has called Saskatoon home for almost 30 years. She works for the Saskatchewan Health Authority in the Population Health Department and has been an organizational representative for the Active Transportation Advisory Group since it was created. Cycling is the main mode of active transportation she uses but walking is a close second for shorter distance. She is a big supporter of all-ages-and-abilities and protected cycling facilities as well as creating a network as this will help encourage others to use that mode for some of their trips.
Kelly Klassen (Saskatchewan Government Insurance) - Road Safety 

My name is Kelly Klassen, the Manager of Driver Education and Training at SGI, I have worked at SGI for 26 years and during that time I worked in various departments including, Driver Examinations, Auto Claims, Carrier & Vehicle Safety Services and Issuer Relations. Each department has provided me with a good understanding of the many safety programs SGI has in place.

Outside of work I enjoy spending time at the Lake located in Northern Saskatchewan riding ATV's, kayaking and sitting by the fire. Over the past summer I was only able to enjoy a bike ride on a couple of occasions, but I am going to make an effort to ride more next summer, although I was not able to get my bike out I was able to go for a walk in the downtown area during my lunch and coffee breaks.

I have been a member of the ATAG for a couple of years now, when I was offered the opportunity came to be a part of the ATAG I quickly accepted. I am happy to share my knowledge about driver education and traffic safety with the group from both a class 5 and class 1 vehicle perspective.

I am looking forward exploring the bike lanes as they continue to expand around the city.
Alan Otterbein (Meewasin Valley Authority)

Alan Otterbein is a Landscape Architect in Saskatoon and has been the Manager of Design and Development at the Meewasin Valley Authority for close to ten years. He has lived and worked in Saskatoon with his family for over 20 years, and has been involved with improvements to the public realm in many parks and natural areas. Originally from northern Alberta, he has gained valuable education and experience in landscape construction and design at various locations, including Ontario, British Columbia, Montana, Alberta and Saskatchewan. His grandparents farmed west of Saskatoon and eventually retired in Delisle.  In his current role, his focus has been on enhancing Meewasin's trail network, that now runs over 100 km in total length, and gets over 2.24 million visits annually. Besides building trail, he is an avid user – biking and walking the trails regularly.
Darby Sutherland (Discover Saskatoon)

Darby Sutherland is the Earned Media Lead at Discover Saskatoon. She loves the City of Saskatoon and is passionate about telling the stories of its residents to anyone who will listen.  She is especially interested in how the work ATAG does makes it easier for visitors and residents to explore our wonderful city.
Merlin Toth (Saskatoon Cycles)

My name is Merlin Toth. I have lived in Saskatoon since 2012 and have recently retired. Prior to coming to Saskatoon I lived in Yorkton where I started the Sunrise Cycling club and as it's president, sat on the Yorkton Active Transportation Collaborative where we worked on designing and implementing a network of active transportation routes in the city. Since moving to Saskatoon I have been involved in the cycling community through many cycling clubs and organizations. My wife and I live in Saskatoon's Exhibition Neighbourhood, which we love, because it gives us easy cycling and walking access to the Meewasin Trail network, Riversdale, the Broadway area and Downtown. We would much rather use our bikes for errands to any of these areas instead of searching for parking spots. For holidays we enjoy loading up our bikes, heading out from Saskatoon and bikepacking the backroads of Saskatchewan, linking some of our many great Provincial and Regional Parks on trips of up to two weeks. We do own a car but most years we put far more kilometres on our bikes than we do on our poor neglected vehicle. : )

I am excited to have been appointed to the Active Transportation Advisory Group, where along with representatives from many other Active Transportation organizations, I can play a part in developing policy within the City of Saskatoon and help to advocate for safe and efficient all season Active Transportation in our wonderful city. 
Community

 
Adam Bue (Commuter/Recreational Cycling)

My name is Adam Bue and I'm the community cycling representative for the ATAG.  I was born and raised in Saskatoon although I've lived and worked on the East coast and in B.C. as well.  I work as a physiotherapist at Royal University Hospital.  What really motivated me to apply to be part of the ATAG was having two young daughters.  Trying to get around with kids really highlights how wonderfully easy it can be with good infrastructure, and how uncomfortable and exposed you can feel without it.  My main interest is advocating for dedicated active transport infrastructure.  I'd like as many people as possible to be able to reap the benefits of active transport without having to feel like they're in danger or stressed by being forced into close contact with vehicles.
Abe Eazadi (Business community)

My name is Abe Eazadi . I call myself a landed immigrant after passing 10 winters in Saskatoon. We as a family are running a hydraulic and manufacturing company in Saskatoon and exporting our products to all five continents . I am a nature lover and adventurous hiker and biker. I hope we can make positive changes in our community and make this beautiful city more convenient ,  safer and livelier for all and make it to the top of the list of most liveable cities in Canada . 
Michael Painchaud (Post-secondary institutions)
Lisa Franks (People of all abilities)

Lisa has lived, studied, worked, and played in Saskatoon for more than twenty years and could not be prouder to call it her home.  She graduated from the University of Saskatchewan with a degree in Mechanical Engineering and has worked on the design of mechanical systems in commercial buildings. As a wheelchair user, Lisa has seen firsthand the impact that accessibility can have on one's quality of life.  She has always had a love of the outdoors and can often be found navigating the city using her hand cycle, adaptive mountain bike, or motorized wheelchair attachments. In 2021, Lisa made a major shift in her career focus and completed the Rick Hansen Foundation Accessibility Certification course and she hopes one day she can say she had a hand in enhancing Saskatoon's accessibility so all people can enjoy what the city has to offer.
VACANT (Commuter/Recreational Walking)
Lucille Stobbe (People of all ages, Youth)

My name is Lucille Stobbe and I am a grade 12 student and an active cyclist. I have a huge passion for cycling in the city as an enjoyable and healthy mode of transportation. Our city has some great cycling routes but there are many things that can and need to be done to make it safer. I want to add my voice with those who choose to commute to work or school to the chorus of voices advocating for safer roads. I truly believe that cycling doesn't have to be considered a dangerous activity.  
Mark Closson (People of all ages, Older adult)

My Name is Mark Closson and I'm the People of all Ages representative.

I have called Saskatoon home for the past 50+ years. During this time I have lived in 5 different neighborhoods, commuting year round by foot, bicycle, transit and automobile.

I am retired from the Saskatoon Police Service with over 34 years of service providing me with first hand experience in emergency response, public safety, neighborhood and traffic issues. I graduated for the U of S with a Planning degree. Although this did not become my vocation I have continued my interest in urban planning issues. I am married and father of three adult children and two grandchildren. With the pandemic my children were fortunate to have the ability to work remotely. This elicited many conversations about commuting, and alternative (active) commuting and parking. Having grandchildren will certainly provide a safety perspective of young children. I have an elderly mother and father in law. With the experience of aging parents I am gaining insight to accessibility issues.

With my commuting days behind me I am a recreational cyclist who enjoys both road and trail (mountain) biking, and winter fat biking. Vacations are often planned around cycling opportunities. When we travel the preference for transportation is the use of transit and walking.
Jasmine Liska (Resident representative)
Tyler Rittinger (Elementary/High School students)

I spend my days teaching in a grade 8 outdoor program called Ecoquest. It allows me to maintain a healthy and active lifestyle and share these values with youth. We commit to active transportation to, from and during school. Sharing these student voices is a key reason I appreciate my inclusion on the Active Transportation Advisory Group. 

When not at school I'm typically found with my family and often on a bike…Gravel road meandering, fat bike trail riding and cyclocross racing are some of our favourite adventures!
Berenice Romero (Public Transit users)

My name is Berenice and I am a graduate student at the University of Saskatchewan. Before moving to Saskatoon a few years ago, I lived most of my life in Buenos Aires, Argentina. I am the public transit representative, yet there are other ways of active transportation that I use often. Depending on the day (and how windy it might be), I might take the bus, bike, or even walk to campus and shops nearby. After my first attempt at winter cycling last year, I am looking forward to switching my regular tires for the studded ones this upcoming winter. 
Stephanie Siemens (Resident representative)

My name is Stephanie Siemens. I was raised in Warman, Saskatchewan, and have lived in Saskatoon off and on for the last 10 years. Through travelling and living abroad I've experienced the benefits of functional public transit and active transport. I'm excited to be part of the ATAG because I see the potential for Saskatoon to be a great city for all modes of transportation, and I want to be a part of building that.

I cycle year-round as my main mode of transportation. When I'm not biking places, I enjoy volunteering with girl guides, reading, playing roller derby, and staying in touch with family and friends.    
Curtis Standing (Indigenous community)
Councillor Bev Dubois

Bev Dubois is a graduate of the University of Saskatchewan and is serving her 5th term as City Councillor.  Bev represented Ward 10 for three successive terms on Council from 2003-2012, and was elected in Ward 9 in 2016 and 2020.  

Bev has served on numerous local, civic, provincial and national Boards, Commissions and Committees. Her extensive business acumen and passion for her community has served Bev well as former CEO of the Meewasin Foundation, Vice President of Sales & Operations for Canadian Digital Network Ltd., Manager of Investor Relations for SREDA, and Business & Marketing Manager for Ernst & Young. 

Bev is a proud recipient of the Governor General's Canada 125 Medal for Community Service, the Lieutenant Governor's Saskatchewan Centennial Medal and the Queen Elizabeth II Diamond Jubilee Medal. 
Nathalie Baudais, Transportation Engineering Manager

Nathalie Baudais joined the City of Saskatoon Transportation Department in July 2017. As the engineering manager for the transportation department, she ensures the activities of the Traffic Engineering Department align with corporate goals and guiding principles. She also implements modifications to the transportation network and develops guidelines and policies for the planning, design and operation of the transportation network. Nathalie is excited to be working with the ATAG to improve the infrastructure in the city to support walking, biking, and other active modes.
Danae Balogun, Active Transportation Program Manager

Danae Balogun joined the City of Saskatoon in 2010 and the Transportation Department in 2017. In her role as the Active Transportation Program Manager, Danae oversees and manages all aspects of the implementation and ongoing management of the Active Transportation Program. She provides oversight and guidance to the project team responsible for the development of short, medium and long term plans that address active transportation policy, standards, programs and specific projects. Danae is passionate about providing opportunities for people of all ages and abilities to travel safely and comfortably around Saskatoon using their preferred mode of transportation.
Isaac Dankwah, Public Engagement Consultant
Other representatives of the City's Administration, as needed