Household Hazardous Waste

What is Household Hazardous Waste?
Household Hazardous Waste (HHW) materials are the discarded, unused or leftover portion of household products containing chemicals that can cause illness or death to people, plants and animals. They can also negatively impact soil and nearby water sources. These products are often labelled CAUTION, WARNING, CORROSIVE, EXPLOSIVE, FLAMMABLE, POISONOUS or TOXIC. Common HHW includes aerosols, automotive fluids, batteries, cleaners, cylinders, light bulbs, medications, yard chemicals, vaping products and more. These and many other types of hazardous materials require safe handling and should not be put in your garbage or recycling containers, dumped on the ground or poured down the drain. 
Household Hazardous Waste Drop-off Days
To help you dispose of your HHW, the City of Saskatoon and GFL Environmental coordinate Household Hazardous Waste Drop-Off Days between April and November for recycling and safe disposal of HHW material.
2020 Event Details
Location: Civic Operations Centre (57 Valley Road)

Dates: 

April 5 (CANCELLED), May 3 (CANCELLED), June 7, July 5, August 9, September 13, October 4, November 1

Time:

 9:00 a.m.  – 3:30 p.m. ***The lineup may be cut off earlier than 3:30 p.m. depending on the level of traffic.***
The program is open to Saskatoon residents ONLY for hazardous wastes from Saskatoon residential properties ONLY – no agricultural, institutional, commercial, or industrial loads will be accepted. For disposal/recycling of hazardous wastes from non-residential sources, please contact GFL Environmental Inc. at 306-244-9500.
​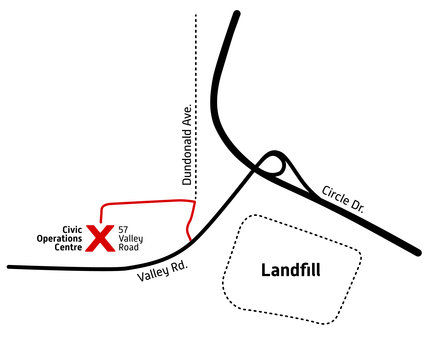 Customer Service
If you have any questions about the HHW program or alternative ways to dispose of this waste, please contact our Customer Care Centre at 306-975-2486 or email sustainability@saskatoon.ca. 
Other Recycling Opportunities in the Community
A variety of local retailers accept specific materials for disposal or recycling during regular business hours. Explore the Saskatchewan Waste Reduction Council website for a list of places that accept HHW materials.
Don't know where it goes? Ask the Wizard!