Household Hazardous Waste

The May 3 HHW Drop-off Day has been cancelled. The June 7 event will proceed as scheduled.
What is Household Hazardous Waste?
Household Hazardous Waste (HHW) materials are the discarded, unused or leftover portion of household products containing chemicals that can cause illness or death to people, plants and animals. They can also negatively impact soil and nearby water sources. These products are often labeled CAUTION, WARNING, CORROSIVE, EXPLOSIVE, FLAMMABLE, POISONOUS or TOXIC. Common HHW includes aerosols, automotive fluids, batteries, cleaners, cylinders, light bulbs, medications, yard chemicals, and more. These and many other types of hazardous materials should not be put in your garbage or recycling containers, dumped on the ground or poured down the drain. 
Household Hazardous Waste Drop-off Days
To help you dispose of your HHW, the City of Saskatoon and GFL Environmental coordinate Household Hazardous Waste Drop-Off Days between April and November for recycling and safe disposal of HHW material.
2020 Event Details
Location: Civic Operations Centre (57 Valley Road)

Dates: 

April 5 (CANCELLED), May 3 (CANCELLED), June 7, July 5, August 9, September 13, October 4, November 1

Time:

 9:00am - 3:30pm (Gates close at 3:30pm. Arrive before 3pm to beat the rush.)
The program is open to Saskatoon residents ONLY for hazardous wastes from Saskatoon residential properties ONLY – no agricultural, institutional, commercial, or industrial loads will be accepted. For disposal/recycling of hazardous wastes from non-residential sources, please contact GFL Environmental Inc. at 306-244-9500.
​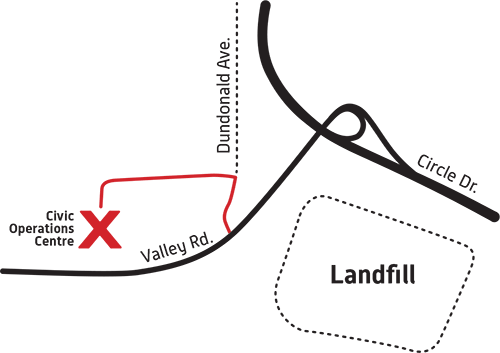 Acceptable items

Acid - battery acid, toilet bowl cleaner, sulphuric acid, hydrochloric acid
Adhesives - contact cement, resin, glue, sealer, caulking 
Aerosols - hair spray, insect repellant, lubricant spray, furniture cleaner, bear spray
Automotive - used oil, oil filters, antifreeze, carburetor cleaner, batteries, fuel, windshield wiper solution, transmission fluid, brake fluid, empty oil containers and pails (note: maximum of 40L of oil will be accepted at HHW drop-off events; barrels/drums of oil will not be accepted at HHW drop-off events; please visit Saskatchewan Waste Reduction Council for other options to recycle large volumes of oil)
Batteries - alkali, dry cell, NiCad, lithium, lead-acid (automotive)
Cleaners - floor, carpet, clothing, oven, glass, car wax, disinfectant, aluminum cleaner
Cylinders - propane, helium, oxygen, acetylene, fire extinguishers, MAP gas, butane, carbon dioxide
Corrosives - drain cleaner, engine degreaser, ammonia, battery acid, sulfuric acid 
Fuels - gasoline, diesel, kerosene, oil/gas mixture 
Light Bulbs & Ballasts - fluorescent light ballasts (with or without PCBs), light bulbs
Mercury - mercury, mercury thermometers 
Oxidizing Chemicals - chlorine, bleach, pool chemicals, fertilizer, hydrogen peroxide
Paint - Paint and paint products are accepted at HHW events; however, many items including leftover paint and empty paint cans are also accepted at all SARCAN recycling depots in Saskatoon. SARCAN is the designated collector of these materials under the Saskatchewan Paint Recycling Program. A complete list of items accepted under the program can be found at SARCAN.
Pesticides & Fertilizers - pesticides, herbicides, insecticides, rodenticides, fertilizer
Pharmaceuticals - prescription drugs, medicines (no needles, sharps or biological waste) 
Propane Cylinders - barbeque cylinders (20 lb), camp cylinders (1 lb)
Solvents - varsol, paint thinner, naphtha, acetone, toluene, xylene, alcohol, benzene
Vaping Products - Vape juice containers and cartridges (full or empty) and vape pens with non-removable batteries are accepted. Vape pens with removable batteries should be disposed of in the garbage, and the batteries can be taken to a HHW Day or disposed of through the Call2Recycle program.
Other Materials - asphalt sealers, roofing tar, detergents, photographic chemicals, pigments, dyes, hair colour, nail polish, nail polish remover, lead, mothballs, pet supplies, phenol, pine oil, scouring powder, spot remover, septic tank chemicals, shoe polish, wood preservatives, household products containing microbeads (e.g., hand soap)
Unacceptable items

Asbestos and asbestos-containing materials - contact GFL Environmental at 306-244-9500 or Loraas Landfill at 306-242-8909 
Biologically hazardous materials including sharps, needles and items contaminated with human fluids - see Needle Safe brochure or contact Needle Safe Saskatoon Information Line at 306-655-4444; operators of Medical or Business Offices please contact Biomed Recovery and Disposal Ltd. at 306-253-4476

Construction, renovation, and demolition waste

 - tiles, shingles, insulation, light fixtures (ballasts and light tubes will be accepted if removed from fixtures).

Class 1 (Explosives)

 - including ammunition, fireworks, flares, guns, gun powder and related items - contact Saskatoon Police Service at 306-975-8300.​

Class 2 (Compressed Gases)

 - other than aerosols and cylinders specified in 'Acceptable items' - contact GFL Environmental at 306-244-9500.
Class 7 (Radioactive) - including ionization chamber-type smoke detectors - contact Saskatchewan Waste Reduction Council at 306-931-3242.

Electronics of any type

 - see 'Other Recycling Opportunities in the Community' section below
Large/heavy containers - ​70L and 205L drums will not be accepted; liquid containers must be 20L capacity or less - contact Saskatchewan Waste Reduction Council at 306-931-3242 for options to recycle large volumes of oil.

Non-sealed containers 

- waste must be properly contained, and containers must be sealed.
PCB materials other than fluorescent light ballasts - contact GFL Environmental at 306-244-9500

Railway or landscaping ties

 will no longer be accepted at HHW events - contact GFL Environmental at 306-244-9500

Unknown chemicals

 - contact GFL Environmental at 306-244-9500

Unlabeled containers

 - containers must be clearly marked to identify the contents.
Used tires (automotive and bicycle) - contact Saskatchewan Scrap Tire Corporation at 306-721-8473
What you can expect from us

Monthly drop-off events for the disposal of HHW.
A friendly and knowledgeable team of experts available to unload your vehicle safely and efficiently.
Responsible disposal of your HHW.
How you can help us

Help put waste in the right place. Learn about HHW and how to safely and responsibly discard of unused or leftover portions of products containing harmful chemicals.
For large loads (e.g. used oil and household paint) please consider the other convenient recycling options available to you.
For exceptionally large loads (e.g., you cleaned out your parents' garage), please contact us at sustainability@saskatoon.ca to coordinate drop-off arrangements.
If you plan to attend an HHW event, make sure your materials are safely contained or packaged for transport. Let the event staff know if you want to keep the box/bin used to transport your items, and they'll return it after your items have been removed.

All waste must be properly contained, and all containers must be sealed; containers that leak may be refused.
All containers must be clearly marked to identify the contents; unknown items may be refused.

Stay in your vehicle and let the event staff do the work – it is safer for everyone and speeds up the drop-off process!
Tell us about your experience attending the event. What did we do well? How could we improve? Contact us at sustainability@saskatoon.ca.
Customer Service
If you have any questions about the HHW program or alternative ways to dispose of this waste, please contact 306-975-2486 or sustainability@saskatoon.ca. 
Other Recycling Opportunities in the Community
A variety of local retailers accept specific materials for disposal or recycling during regular business hours. Explore the Saskatchewan Waste Reduction Council website for a list of places that accept HHW materials.
Don't know where it goes? Ask the Wizard!