City of Saskatoon Greenhouse Gas Emissions
  Status: Needs Improving
Greenhouse gases (GHGs) are linked to climate change which is predicted to increase the frequency and intensity of extreme weather events such as droughts, floods, and storms. The City of Saskatoon local government (City) has a role to play in reducing GHGs from its own operations and showing leadership in our community.
In 2017, Saskatoon City Council adopted targets to reduce GHG emissions resulting from City operations by 40% below 2014 levels by 2023, and 80% below 2014 levels by 2050.
The City's 2022-2025 Strategic Plan includes the following key actions within the Environmental Sustainability and  Civic Assets priority areas:
Implement climate actions in the 

Low Emissions Community Plan

 and the 

Corporate Adaptation Strategy

 within proposed timelines.
Develop initiatives to improve energy conservation and efficiency in buildings, transportation and land use planning.
Develop initiatives to increase the use of renewable energy or low emissions energy sources and promote opportunities for property owners to generate their own electricity from renewable sources.
Review existing design standards for civic assets and incorporate improvements that support Triple Bottom Line considerations, including life cycle costing, equity principles and climate change mitigation and adaptation strategies.
Where are we now?
Planning for climate action begins with understanding the sources of our GHG emissions. The most recent GHG emission inventory shows that City emissions decreased by 3%, or by approximately 7,200 tonnes CO2e, between 2014 and 2021. The decrease was driven by emission reductions in the Buildings and Streetlighting sectors. City emissions represent approximately 6% of the community's emission total. More details on the 2021 City GHG emission inventory are available in: Climate Action Plan: Progress Report 2021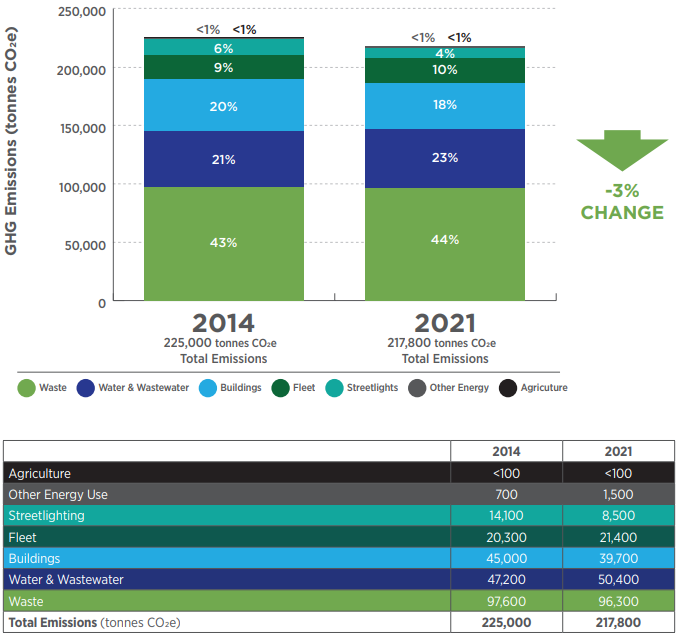 Data Table

Total Corporate Greenhouse Gas Emissions

| Year | Greenhouse Gas Emissions (tonnes CO2e) | Target |
| --- | --- | --- |
| 2014 | 225000 |   |
| 2018 | 229900 |   |
| 2019 | 236200 |   |
| 2021 | 217800 |   |
| 2023 |   | 135000 |
| 2050 |   | 45000 |

Source: City of Saskatoon - Sustainability Department
What Are We Doing?

The City of Saskatoon is taking action on climate change and working to reduce greenhouse gas emissions. Supported by the Environmental Leadership goal of the 2013-2023 Strategic Plan and guided by the Low Emissions Community Plan, the City has implemented a number of initiatives to reduce emissions and improve the overall environmental performance of its operations. A few current initiatives are highlighted below; please visit the Climate Action Plan webpage for more info.

 

The City has been managing the progress of a program that involves renovating civic facilities to improve energy performance and operational efficiencies. The Facility Improvement Program uses an energy performance contract to help reduce utility costs and GHG emissions, all while maintaining – and in many cases, improving – indoor environment quality in City facilities. As of December 2021, lighting improvement measures have been completed in fourteen facilities, chiller replacements completed at City Hall and Shaw Centre, and boiler upgrades completed at Lakewood and Lawson Civic Centres. Similar upgrades at other civic facilities are in the feasibility or design phases.

Vehicle Fleet Efficiencies

A number of initiatives are underway to improve the carbon footprint of the City's vehicle fleet, including fitting the entire vehicle fleet with on-board global positioning system (GPS) units to optimize routes and ultimately reduce the amount of fuel used by the fleet, and adding 4 plug-in electric vehicles to complement the 7 full hybrid electric vehicles currently in operation in the City's light-duty fleet.

High Performance Civic Building Policy

The City adopted a High Performance Civic Building Policy on January 1, 2022. The Policy requires all new civic buildings, major renovations, and additions to achieve LEED Silver Certification. The policy is a key step toward achieving the City's Strategic Goals and meeting our GHG emission reduction targets.

Sustainable Procurement

The City's Purchasing Policy states that purchasing will consider economic, environmental, and social sustainability to achieve best value. The City's purchasing power can be used to achieve targets and commitments such as lowering emissions, supporting Indigenous suppliers, conserving energy and water, and reducing waste more quickly.
Did You Know?
44% of the City's GHG emissions are generated by the Waste sector, which includes emissions associated with the City's landfill and compost facilities.