Corridor Planning

The purpose of the Corridor Planning Program is simple - to turn Saskatoon's busy traffic streets into places for people.
The Growth Plan to Half a Million (Growth Plan)  established Corridor Growth as a key initiative to help balance future outward growth of the City with infill development opportunities.   Specifically, the Plan re-envisioned the future growth of Saskatoon with long-term targets of balancing 50% infill and 50% new area development, with 15% of the planned infill, or approximately 22,000 new residential units, targeted along the city's busy corridors.
The Corridor Transformation Plan, endorsed by City Council in January 2020, outlines principles and guidelines that support the Growth Plan's goals in the corridors to be developed by the Corridor Planning Program (CPP).
The Transformation Plan is a transformative vision for the city's corridors.  It provides high-level direction for detailed land use planning activities to occur within the Corridor Growth Area. 
Corridor Growth Area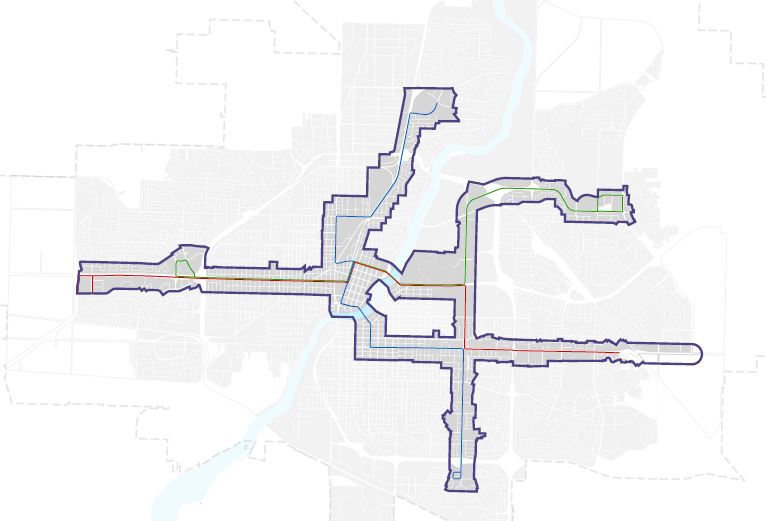 Segment Area Maps

The Corridor Growth Area has been divided into 10 segment areas.  A Corridor Plan will be created for each area.  Click on the segment names below for a detailed map.

 
Guiding Principles

Corridor Planning is based on four guiding principles that guide the program and inform decisions:

Transit-Oriented Development Principles –

focused on buildings and streetscapes

that support the relationship between land use and transit.

 

Land Use Principles –

focused on the types and mix of uses, building sizes and relationships with adjacent neighbourhoods.

 

Transit Villages Principles –

focused on locations that

could

be re-imagined into mixed-use areas combining housing, employment and open spaces.

 

Public Realm Principles –

focused on creating public streets and spaces that are visually appealing, safe, inviting, universally accessible and livable on a year-round basis.

 
Current Work​

 

Phase Two of the Program includes the preparation of Official Community Plan (OCP) and Zoning Bylaw amendments, a development financing and incentives framework and the review of current parking standards.  This work will be completed in advance of initiation of the first Corridor Plan.   

New Corridor Land Uses 

To support the work of the CPP, the following new land uses have been included in the recently adopted Official Community Plan: 

Station Mixed Use

–

that enables medium density mixed-used development

on properties

on the major corridors

adjacent to a

proposed BRT

station

;

 
Corridor Mixed Use

– that enables low to medium density mixed use and residential development focused on properties on the major corridors between BRT station locations;

and

  

Corridor Residential that provides for a range of residential housing forms and densities.

Corridor Planning Implementation Projects 

The next phase of the Corridor Program includes six projects:  

Corridor Planning Process: The preparation of a 'standardized' process for preparing future Corridor Plans. 
Corridor Zoning Districts:

New, corridor-focused

zoning districts that align with the new OCP land use designations

will be prepare

  
Priorities and Selection Criteria

:

Criteria to determine priority areas and

timing

of future corridor plans

.

 
Corridor Engagement Strategy

:

A plan to help us

understand how local groups, organizations and residents want

 

to be involved in future corridor planning activities. 

 
Corridor Development Incentives and Financing Options

:

Ideas and options for

development incentives

and

financing

options

to encourage and support new development

along the major corridors

.

 
Corridor Development Tools:

Ideas for additional

tools

that could be

used t

o help encourage development that reflects the goals and objectives of the Transformation

Plan .  

 
Public Transit Infrastructure Fund
Funding for this project is provided through the Public Transit Infrastructure Fund (PTIF) from the Government of Canada and the City of Saskatoon.  To learn more visit Infrastructure Canada.