The City of Saskatoon manages the Banner Program throughout Downtown, Riversdale, Broadway, Sutherland and other city-wide locations.  The program adds colour and visual interest to our streets while promoting a variety of events, awareness campaigns, and other community-building efforts.  If you are organizing a public cultural event such as an art festival, a sporting event, or an awareness campaign, street banners could be a way to get the word out. The City can install both pole mounted and cross street banners in specific locations for eligible events.
Program Updates
City of Saskatoon Urban Design manages the Banner Placement Program.  New Information including a detailed Banner Policy and Guidelines are updated periodically.  Please check back regularly for program updates.
Frequently Asked Questions 
What type of event can my banner advertise?

The installation of banners shall be limited to the advertising of international, national, provincial or citywide sporting, cultural and/or community based public events, including fund raising drives, or to provide aesthetic improvement to a street.  A few examples of past banner placements are University of Saskatchewan convocations, Truth and Reconciliation Orange banners, United Way annual fundraising, Juno Awards, and the annual Fringe Festival.
Do I need to design and buy the banners? How long does manufacturing banners usually take?

The design and manufacturing of the banners is the responsibility of the applicant.  Depending on the level of detail, quantity of banners produced, and availability of the manufacturer, production could take anywhere from 1 to 4 months.

Details for banner graphics, text sizes, recommended colours, etc are identified in the Banner Guidelines.
How early do I need to apply before my event?

Applications must be received no later than 6 weeks prior to your preferred installation date.  Applications received beyond this deadline will be considered on an individual basis.
How much does the City charge to put up and take down my banners?

Side Street Banners: $95/banner at locations that already have the banner supporting hardware installed hardware existing                  

Side Street Banners plus applicable hardware: $400/banner in locations where new banner hardware needs to be added

Cross Street Banners: $1000/banner
Where can my banners be installed?

Most light poles in the city can have side street banners installed, but only a few locations in the Downtown, Riversdale, and Broadway areas are able to support cross street banners. The application process includes a map where you can check what poles are available for the time period you are hoping to use and which poles already have banner hardware. 
There are always banners or decorative winter lights on the poles I would like to use – can I still apply for those locations?

When poles aren't in use, the Business Improvement Districts often installs banners to provide colour and aesthetic to the districts.  These banners can be replaced with event banners and will show as "available" in the application map. 

During the winter months, decorative seasonal lights are installed on many of the poles throughout the city.  If the poles accommodate seasonal decorations from November to the following March, these poles are not available for event banners during this time.
How long can my banners be installed for?

Side Street Banners shall be installed for a minimum period of one month and a maximum period of 3 months, except on Business Improvement District Streets where the maximum period shall be 4 weeks.  Exceptions may be granted by the Urban Design Section to facilitate scheduling.

Cross Street Banners shall be installed for a maximum period of two weeks before the event and shall be taken down within a few days after the event is completed. Exceptions may be granted by the Urban Design Section to facilitate scheduling.
Do I need to get my banner designs approved before I get them made?

Design graphics must be approved no later than 6 weeks prior to your confirmed installation date and we strongly encourage you to submit your designs for approval before getting them made. We will not be able install banners that do not meet the design requirements in the Banner Guidelines. 
How do I apply to reserve poles for my event?

All applicants must submit an online application form even if continuing an ongoing installation from the previous year.  This application should be done via computer and not by phone to ensure a proper submission.  The following are a few items to consider when applying online:

Zoom into the area of the city where you think you would get the best visual impact for your event.
Select the poles you would like to utilize.
Check the availability for your selected dates.  If not red in colour, the poles are available.  Selection will allow you to see pricing at each location.
Select Start a New Banner Program Application.  Populate the document.
Attach the banner graphics.
Submit.

Once approved, you will be sent a confirmation letter indicating key banner installation and delivery dates. 
Who should I contact if I have additional questions?

The City of Saskatoon, Planning & Development Division (Urban Design) directly administers the program.  For additional information, please feel free to contact Trevor Tumach (Banner Program Administrator) at (306) 986-1734 or by e-mail at trevor.tumach@saskatoon.ca.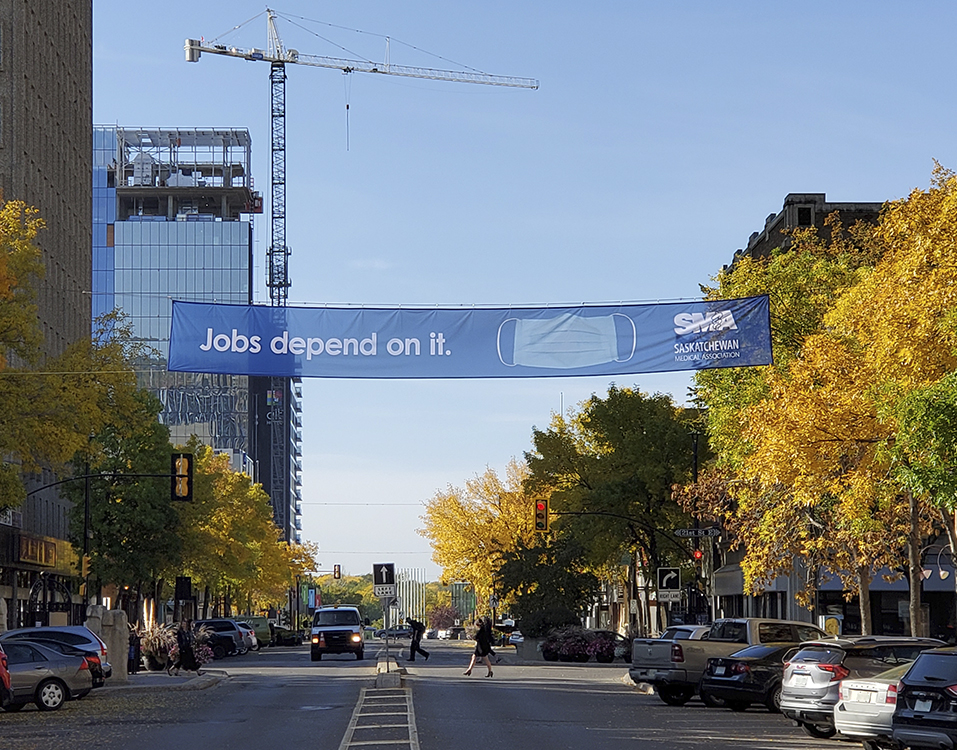 Cross street banner example.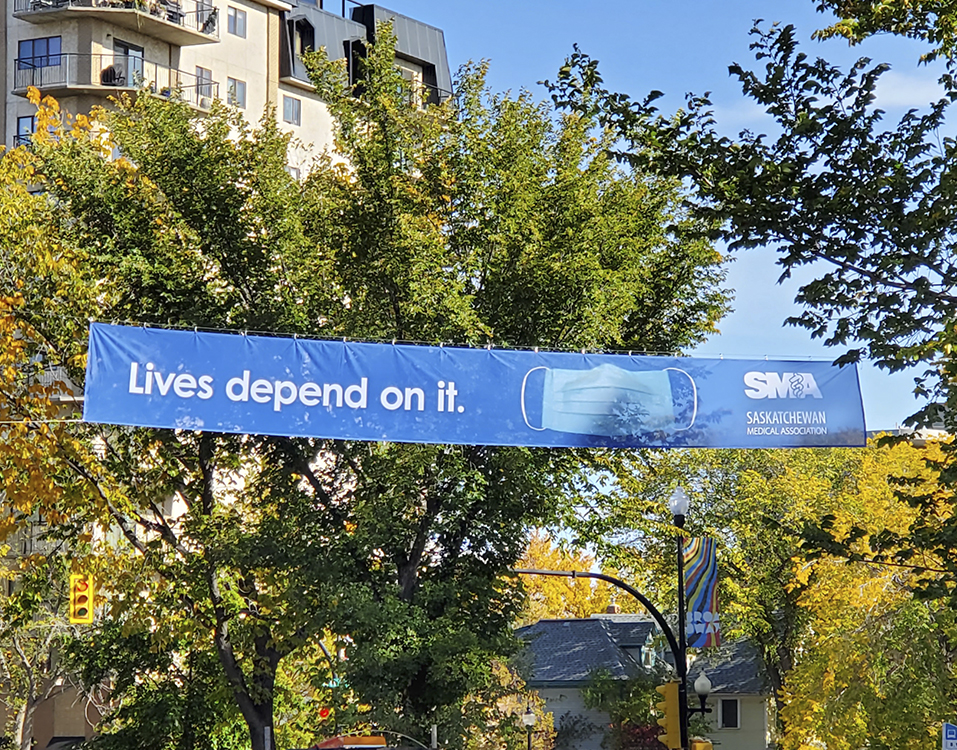 Cross street banner example.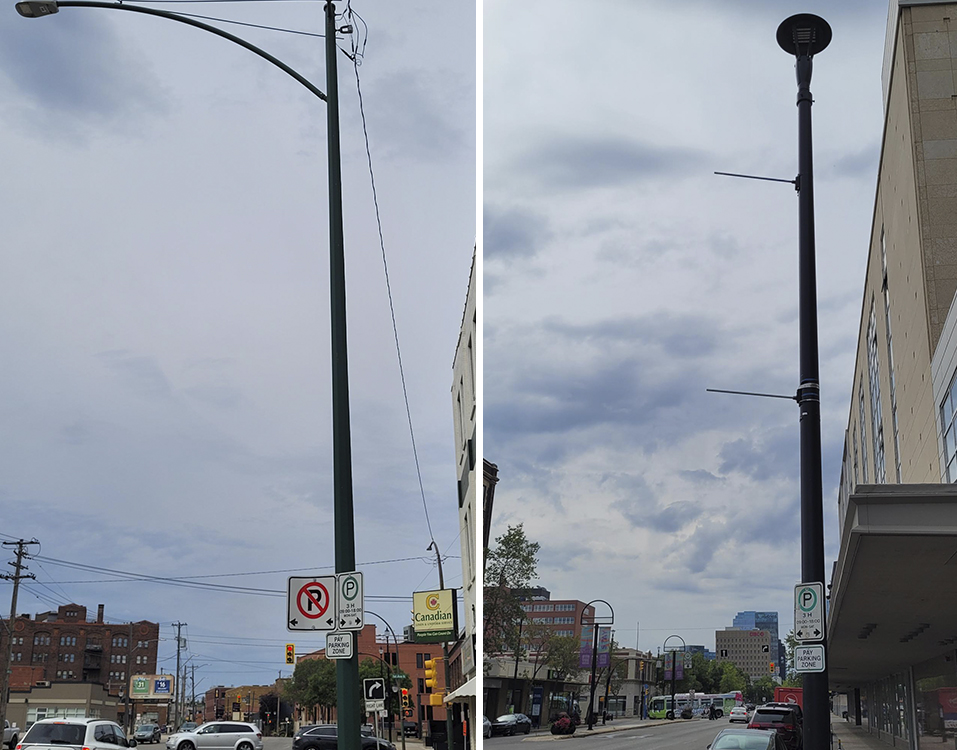 Side street banners with and without hardware.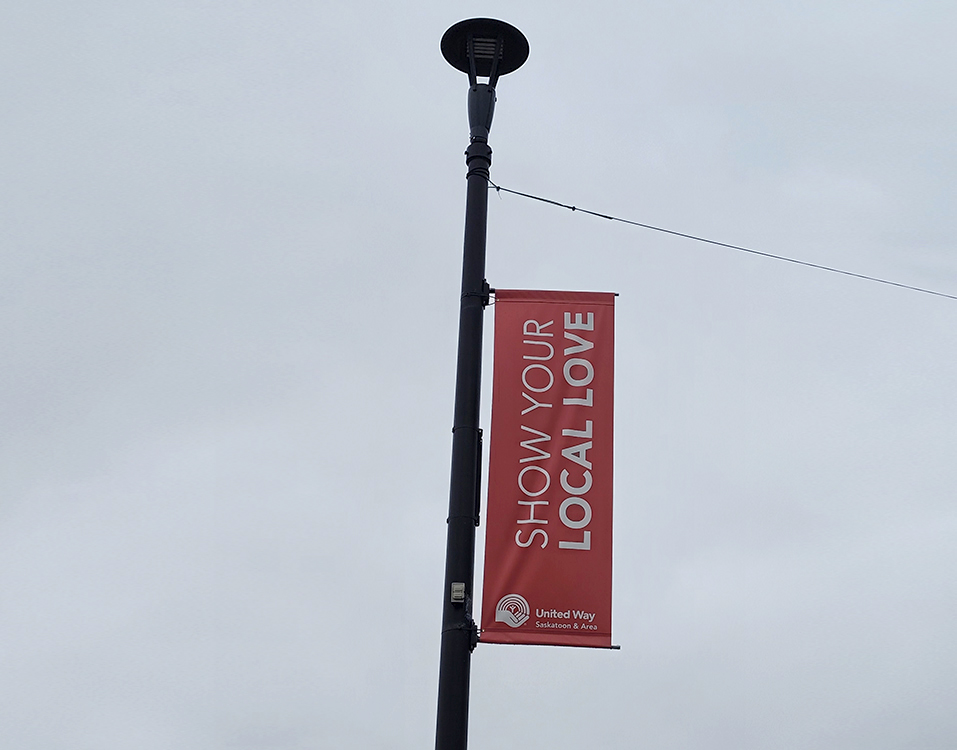 Pole mounter banner example.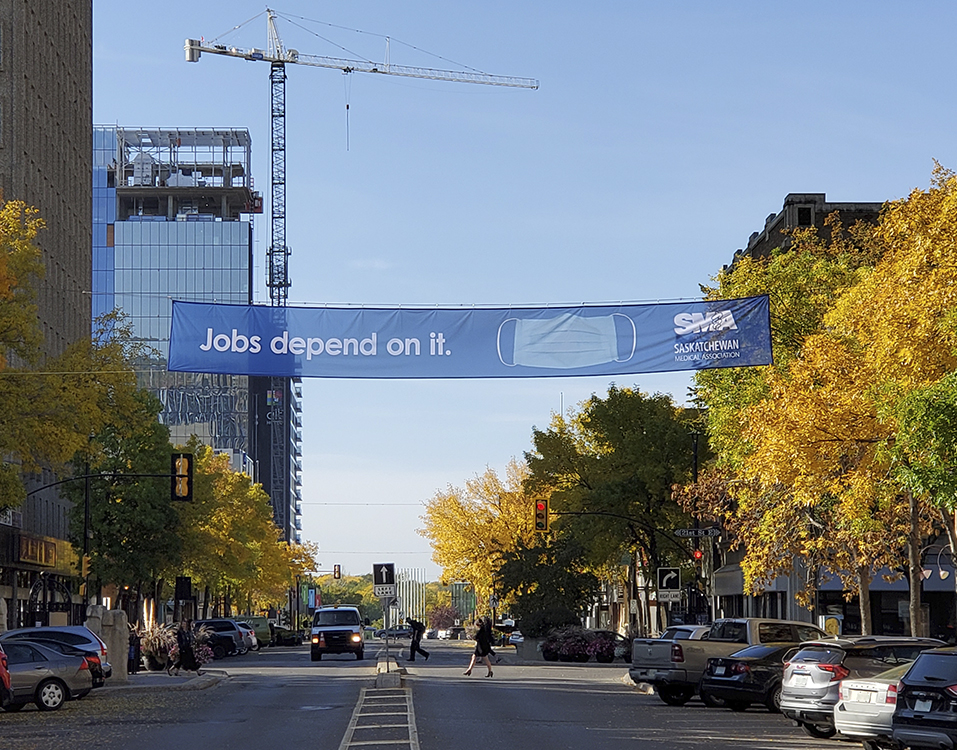 Cross street banner example.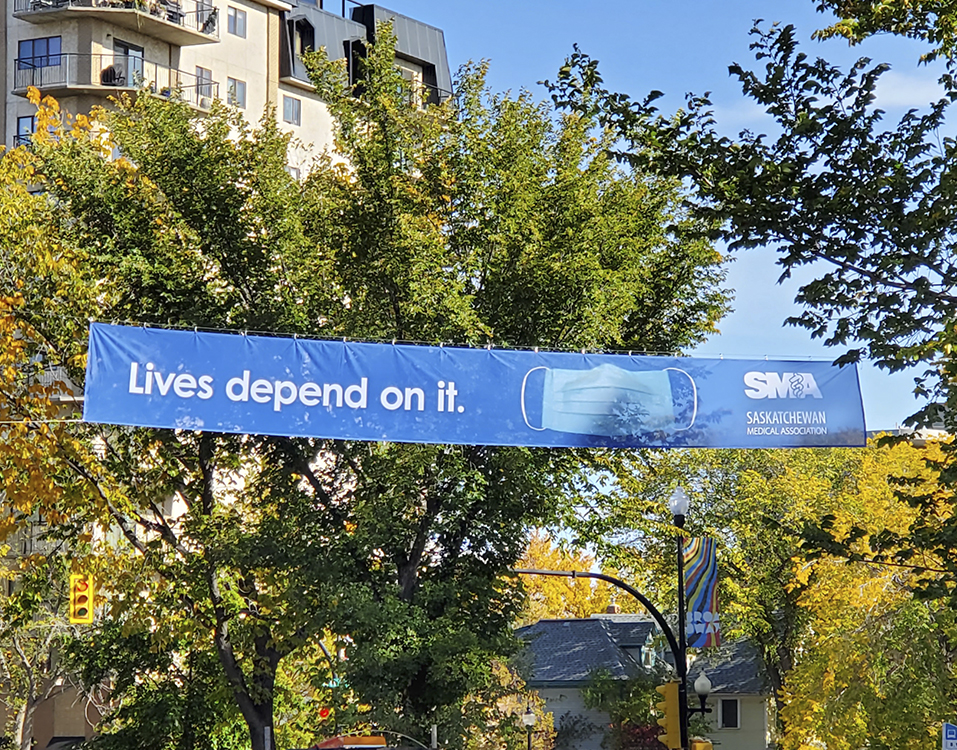 Cross street banner example.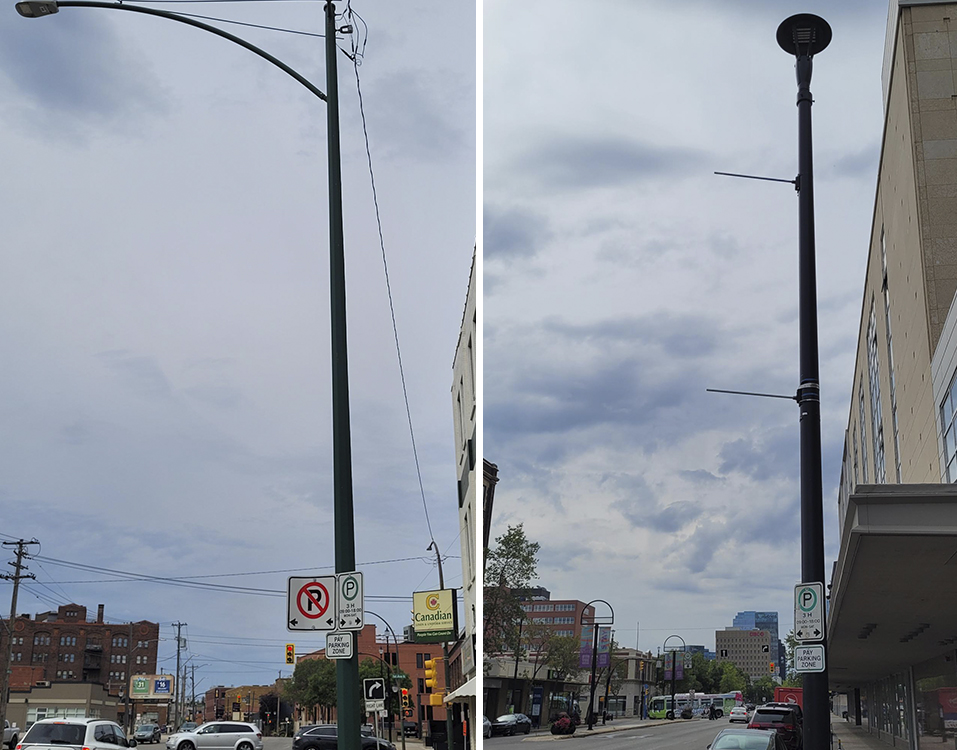 Side street banners with and without hardware.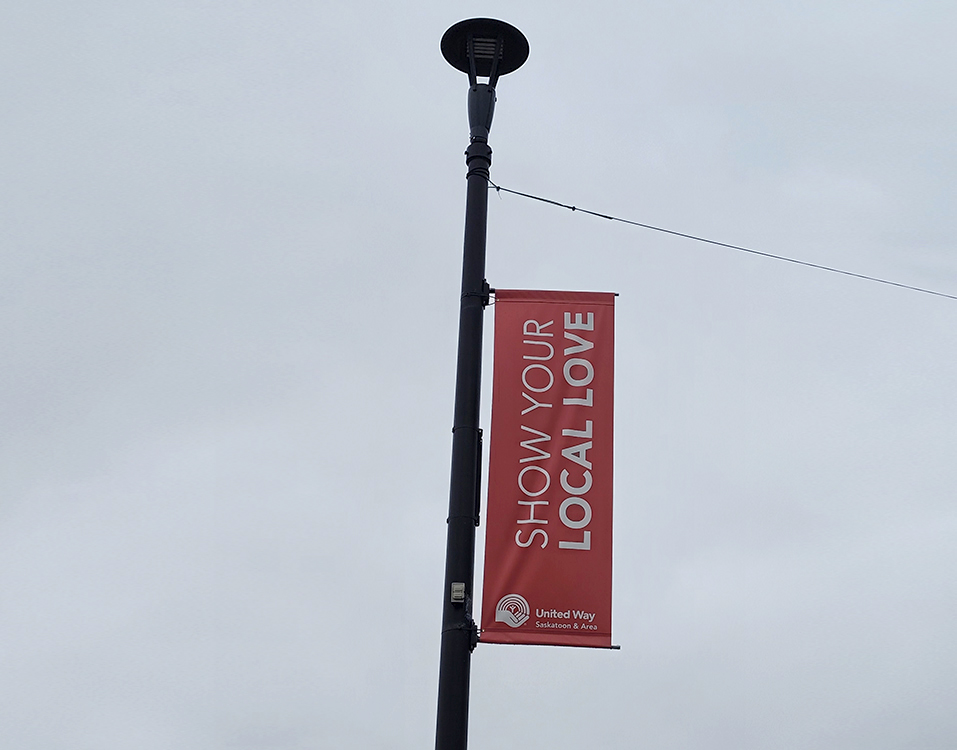 Pole mounter banner example.