Water Treatment Plant - Transfer Pumping and Electrical Upgrades
Please Note
Noise from equipment can be heard in the river valley due to a large construction project at the Water Treatment Plant. We apologize for the inconvenience and will continue to monitor the noise level.
In July a hydrovac professional was procured to identify all existing underground utilities to ensure the health and safety of the workers by safeguarding them from utility strikes. This work will be intermittent throughout the duration of the project; however, it is anticipated that the majority of the work will be concentrated at the beginning and it is anticipated that it will taper off. Thank you for your patience.
The Transfer Pumping & Electrical Upgrades Project is the construction of a fully automated transfer pumping system that will transport water from the Water Treatment Plant (WTP) clear wells to the UV disinfection system and into the adjacent reservoir.
The project also includes essential electrical, instrumentation and control upgrades which will enhance operational safety. The upgrades will affect all major process areas including the filters, chlorine, chemical feed, control power supplies, residuals handling, clarifiers, UV disinfection and sand separation.     
The critical component of the electrical improvements is the addition of standby power generators, which will improve the reliability and efficiency of the entire WTP.
The Water Treatment Plant's Transfer Pumping & Electrical Upgrades is a three-year, $43 million project, expected to be completed in fall 2022.
January 2021 Update: The construction for the Transfer Pumping and Electrical Upgrades Project is approximately 35% complete.  Currently the Contractor is working on completing the substructure and all below grade process piping for the new facility. The project encountered some delays, pushing back completion a few months to October 2022, barring any further issues.
Transfer Pumping Facility (rendering)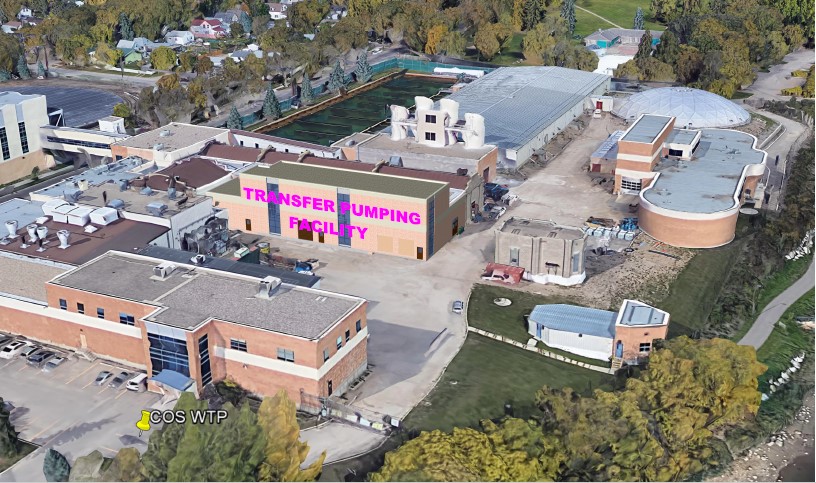 Saskatoon Water Treatment Plant - Transfer Pumping & Electrical Upgrades