Indigenous History Month (June)
Each June, we celebrate National Indigenous History Month to honour the history, heritage and diversity of Indigenous people. It's also an opportunity to recognize the strength of present-day Indigenous people and their communities. In June, a number of events are held and resources made available so as to honour and learn from Indigenous Peoples.
June Calendar of Events
June 2023

May 29
Reconciliation Flag Raising Event

The 2023 Reconciliation Flag Raising event will be held on May 29 in Civic Square (area beside City Hall off 23rd St E). The program includes: remarks from dignitaries, performances by Indigenous artists, raising of the flag. All are welcome. The flag remains raised for one week.

JUNE
Reconciliation Walking Tour

Indigenous History Month is the perfect time to visit places around Saskatoon that speak to the process of Reconciliation including public art installations, sites of historical significance, renaming initiatives, and unique Indigenous and non-Indigenous partnerships.

More info and Walking Tour Booklet available here.

JUNE
Read for Reconciliation

Make a commitment to Read for Reconciliation by accessing suggested materials through the local branch of your Saskatoon Public Library. The SPL website has an Indigenous History Month recommended reads!

JUNE

Explore BeAConnectR.org Website - Resources for Reconciliation

Reconciliation Saskatoon's BeAConnectR website helps you choose your next steps towards reconciliation. Find calls to action to grow what you know, encourage a shared future, and generate change. Link here.

JUNE
Art Exhibitions (various)

Remai Modern and Wanuskewin Heritage Place offer Indigenous art exhibitions during the month of June. Inquire directly to confirm details.

JUNE
Daily Programming at Wanuskewin

Open 7 days a week, 9:30 a.m. to 5:00 p.m. Annual offerings in the month of June include: performances, nature walks, exhibits and videos, award winning playground.

NOTE: Programs are adjusted for weather including rain and wind. Call the main line at 306-931-6767 Ext. 9 to confirm the day's schedule.

June 21

National Indigenous Peoples Day Celebration

The Saskatoon Indian & Métis Friendship Centre partners with community to host a community celebration in Victoria Park, between 10:30 a.m. and 4:00 p.m. The City of Saskatoon is participating in this celebration, which is open to all. Info here

June 21

Dakota Dunes Resort - Indigenous Peoples Day Celebration

The Dakota Dunes Resort often holds a celebration. Check with the resort to confirm details.

 
Reconciliation Flag Raising Event
Before the start of June, the City of Saskatoon and Reconciliation Saskatoon hold an annual Reconciliation Flag raising event to set the stage for Indigenous History Month and Indigenous Peoples Day (June 21). The Reconciliation Flag represents a commitment to Reconciliation - the process of building bridges between Indigenous and non-Indigenous peoples. In addition to the flag raising, the program includes:
Drumming
Honour Song & Métis Anthem
Remarks from Pipe Carrier, Dignitaries
Dance performances by Indigenous artists
The 2023 event - open to all - was held Monday, May 29, 10:00 a.m. to 12:00 p.m. in Civic Square.
 
City of Saskatoon Reconciliation Visual Identity
The 2023 flag raising event included the unveiling of the City's new Reconciliation Visual Identity. The design was developed through consultation with community Elders to include significant imagery capturing Saskatoon and our shared journey forward on the path to Reconciliation.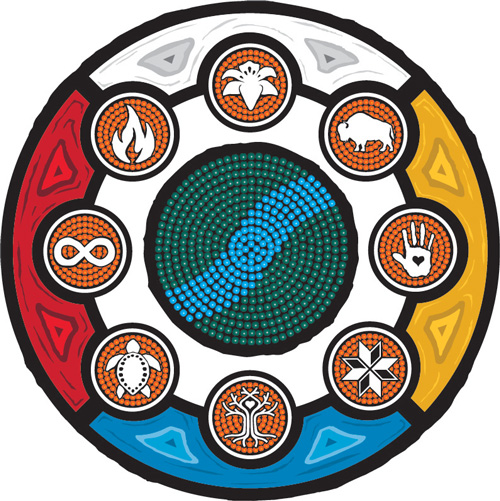 A new community tipi with the visual identity hand painted onto it was also unveiled at the May 29 event. A huge thanks to three young Indigenous artists - Honey Constant-Inglis, Josh Whitecalf, and Autumn Baptiste - who led the tipi painting.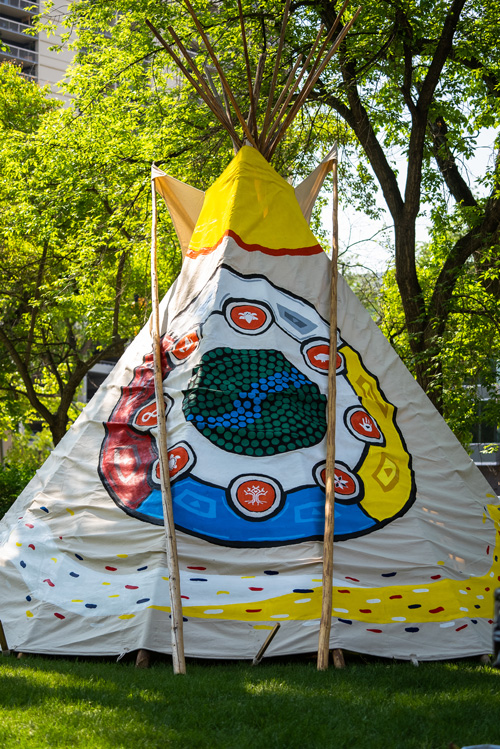 ---
Indigenous Peoples Day (June 21)
June 21 has been recognized annually as National Indigenous Peoples Day (formerly National Aboriginal Day) since 1996. For generations, many Indigenous communities have celebrated their culture and heritage on or near this day due to the significance of the Summer Solstice as the longest day of the year. This is a day to recognize and celebrate the unique heritage, diverse cultures, and outstanding contributions of Indigenous people.
The City of Saskatoon will be participating in the Saskatoon Indian & Métis Friendship Centre's annual community celebration:
Indigenous Peoples Day Celebration
Wednesday, June 21, 2023
10:30 a.m. to 4:00 p.m.
Free and open to all
Victoria Park
 
---
National Day for Truth & Reconciliation (Sept 30)
Wearing orange on September 30 continues to be one way to honour residential school survivors, their families, and those who didn't make it home. It's a way to acknowledge the legacy of residential schools, demonstrate a commitment to reconciliation, and affirm Every Child Matters. The origin of the orange shirt comes from the personal story of residential school survivor, Phyllis Webstad.
You can also demonstrate your public commitment to Reconciliation by hanging an orange shirt in your window or printing and displaying this Orange Shirt Stencil.
 
Rock Your Roots Walk for Reconciliation
​The City of Saskatoon, in its role as Co-Chair of Reconciliation Saskatoon, helps organize the annual Rock Your Roots Walk for Reconciliation. The significance of a walk can be attributed to the Sunday walks in residential schools; often the only time when siblings and cousins might be reunited. 
Rock Your Roots has been an annual event in Saskatoon since 2016 (modified during the height of COVID). It's a chance for all Saskatoon residents to answer the TRC Calls to Action by demonstrating their commitment to Reconciliation, honouring Residential School Survivors, and working towards an inclusive community.
Walkers are invited to wear their cultural dress or symbols, or an orange shirt. Cultural performers 'rock their roots' along the route to share their culture and showcase Saskatoon's incredible diversity.
---
Wîcihitowin Indigenous Engagement Conference
(FINAL conference held November 28-29, 2022)
The Wîcihitowin Conference was an annual event between 2014 and 2022 (cancelled in 2020 due to COVID). The purpose was to bring Indigenous and non-Indigenous organizations together to learn from survivors of the residential school system and sixties scoop, and to explore different ways of implementing the Truth and Reconciliation Commission's Calls to Action. "Wîcihitowin" is a Cree/Saulteaux term meaning "to help each other/to work together". The City of Saskatoon was a proud partner of the event through its 8-year duration.
Wîcihitowin was originally planned to be an annual conference for four years. Due to its immense popularity, it was decided that it would be continued for an additional four years. In 2022, the organizers felt that the time had come to take the next step—where individuals and organizations take the learnings they've acquired and use them to lead Reconciliation action in our community.
On Nov. 28-29, 2022, the City helped deliver the 8th and final Wîcihitowin Indigenous Engagement Conference. Thank-you to everyone that contributed or participated in the conference. Recordings of the presentations are available at wicihitowin.ca/category/video.