Winter Road Maintenance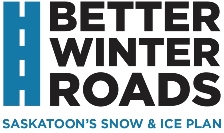 November 24, 2015 Snow Event - Daily Updates
A snow storm can happen any day, any time. From sanding icy roads to snow grading, City crews are ready for whatever winter brings this year!
During and after a heavy snowfall, salting, sanding and grading occurs according to the City's Priority System, with the highest traffic streets being cleared first. Snow is pushed to the side of the road into windrows or onto boulevards. Snow is removed on the streets with no storage space and where accumulation causes visibility issues for drivers.
Don't miss out on any important information by signing up for Snow & Ice service alerts to keep you informed of our progress during and after a snow event. To be notified when a Snow Route Parking Ban is declared subscribe to notifynow. 
WINTER IS COMING Contest - NOW CLOSED

Effective 3:00 p.m. on November 24, the City has called the first snow event of the winter, meaning that the Winter is Coming contest is now closed! All entrants who chose Nov. 24 prior to that time have been entered into a draw. The winner will be announed soon! Thank you for your interest in our contest.

WINNER RECEIVES $100 in CITY PROGRAMS!

Winter will soon be upon us and City crews are prepared to sand, salt and plow streets to keep Saskatoon drivers moving during and after a snow storm.

To ease the frost bite from the first big snow storm, we're giving YOU the chance to a win a $100 City of Saskatoon gift card. Use it towards one of our many leisure programs or to play at one of our facilities.

Participants that guess the date correctly (or closest to it) will be entered into a draw to win a City of Saskatoon $100 gift card.

A snow event is typically called at 5 or more centimetres of snow when, combined with freezing temperatures and wind, driving conditions are affected.

 

OFFICIAL RULES:

The official date used will be when the snow stops and the Snow & Ice service alert indicates the priority streets will be cleared within 72 hours. Once a snow event has been called the contest will be officially closed and no more entries will be accepted. All entries made on the date of the snow event prior to the time of the official announcement of the snow event, via the Snow & Ice Service Alert, will be entered into a draw to win the prize. If there are no entries on the date of the snow event, entries on the date closest to and before the snow event will be entered into the prize draw.

 

To be eligible to win, entrants must:

You must be 18 or older and a current resident of Saskatoon.

Contestants must provide a valid phone number with their entry. This phone number will be used only to alert the contest winner.

You must submit your contest entry no later than midnight on Thursday, December 31st.

You may only submit one entry per person. Additional entries will not be entered into the draw.

In the event that multiple people have correctly answered the question, the names of each of those contestants will be entered in a random draw. 

In the event that no one correctly answers the question, the contestant with the closest correct answer prior to the snow event will be named the winner. If there are multiple contestants that provided the same answer, the names of those contestants will be entered in a random draw.

The winner will be notified by phone. It is the contest winner's responsibility to make arrangements to redeem their prize.

If there has not been a snow event by end of day December 31, 2015 there will be no winner.

If a winner cannot be reached within 10 days of the draw date, he/she will be deemed to have forfeited his/her opportunity to win, and a new winner will be chosen.

To collect the prize, the winner must:

Provide proof of age, identification and of a Saskatoon address.

Agree to allow their photo to be taken and their name to be revealed publicly through the City's communications channels and the Saskatoon media.

This Contest is subject to all applicable federal and provincial laws.

The City of Saskatoon is the sole judge and decision maker regarding any dispute about the application or interpretation of the rules or any other aspect of the Contest and the judgement or decision of the City of Saskatoon will be final.
Snow Grading

Snow Event

Additional staff and outside contractors help out during and following a snow event. A snow event is called when there is a combination of 5 cm or more of accumulated snow along with reduced temperatures, high winds, and drifting snow. View our snow grading map which shows the status of cleared streets after a snow event. De-icing and grading occurs based on the following Priority Street System:

Priority 1: Highest traffic streets - will be plowed within 12 hours after a snowstorm ends.
Priority 2: Rapid transit bus routes and busy streets - will be graded within 36 hours.
Priority 3: Main streets, school zones and residential pathways - will be graded within 72 hours.

Another snowfall or blowing snow within the 72-hour timeframe may require crews to return to Priority 1 streets, causing clearing to take longer.

City-wide snow grading

City-wide neighbourhood grading will be initiated after the average snowpack is 15 centimetres (6 inches), to prevent the development of extreme ruts. This grading occurs later in the season to reduce the time that windrows adversely affect parking. 
Snow Route Parking Ban

Streets identified on a Snow Route are priority roadways for snow grading because they ease the flow of traffic throughout our city. The City will only declare a Snow Route Parking Ban if snowfall is extreme. If this occurs, vehicles must be removed from priority roadways to help us grade snow more effectively.

There are two snow routes, the Green Circle Snow Route and the Blue Square Snow Route. The routes are marked with permanent No Parking Snow Route signs, with a metal plate indicating if it is a green or blue route. See map for snow routes.

The Green Circle Snow Route Parking Ban will always be declared first. Snow Route declarations can only be announced at either 7:00 a.m. or 3:00 p.m. You will have a minimum of 8 hours notice to move your vehicle before the parking ban takes effect.

Avoid getting towed and a $100 ticket by removing your vehicle in time and keeping it off the declared snow route until the parking ban has expired.

Sign up for notifynow – Receive direct communication from the City when a Snow Route Parking Ban is declared by signing up to the City's emergency mass alert system, notifynow.
Sidewalks

Sidewalks adjacent to City-owned facilities, pedestrian overpasses, bridge walkways and high-pedestrian Downtown streetscaping locations are cleared after a snow event according to the Sidewalk Clearing Bylaw. Lit asphalt park pathways are cleared of snow within 48 hours after a snowstorm ends.

To help improve public safety and mobility, the Bylaw requires residential sidewalks to be clear of snow and ice within 48 hours after a snowfall, and sidewalks in certain commercial and suburban areas to be cleared within 24 hours after a snowfall. It is the responsibility of the property owner to ensure sidewalks are clear and the snow is placed on private property, not onto the street.

A cleared sidewalk is one where there is visible evidence that effort has been taken to clear the sidewalk and has a cleared path width of at least 1.2 metres. A packed surface no thicker than 3 centimetres is acceptible. View the Sidewalk Snow Clearing Guidelines.

When the City receives a report of an uncleared sidewalk, the Bylaw Inspector will investigate, and if necessary, a Bylaw Notice will be issued requiring you to clear it within 48 hours. If your sidewalk is not cleared, and the City has to clear the sidewalk, the cost will be charged to your property tax notice.

To report an uncleared sidewalk, please contact the City Bylaw Inspector at 306-975-3193.

Residents who are not able to clear their own sidewalks of snow could consider asking younger family members or neighbours for help, or perhaps the person who cuts their grass. Snow clearing services are also available online, in the phonebook, or in the newspaper.
Snow Angel

Be a Snow Angel - If your neighbour is elderly, has health concerns or mobility restrictions, lend a hand by clearing their sidewalk.

If you receive help from a neighbour/relative – nominate them as a Snow Angel online or mail in their name and phone number to:

Public Works, City of Saskatoon, 222 – 3rd Avenue North, Saskatoon SK S7K 0J5

 Tell us how your Snow Angel has brightened your day. Once nominated, we'll send you're Snow Angel a thank you and enter them in a prize draw!

When clearing sidewalks, please exercise caution and care, especially during extremely cold weather.
School & Business

Schools

Graded snow piles, known as windrows, can present hazards for drop-off and pick-up times and if a student attempts to climb on them. During these times this area can become congested and visibility is reduced with exhaust during cold weather. This winter, windrows are monitored to ensure they do not grow too large. If they do, the windrows will be removed. Windrows removal will be performed outside of school hours, typically at night.

Business

Once priority roads are graded following a snow event, snow removal will occur on the remaining Business Improvement District streets.
Snow Storage Sites

The following City snow storage sites will be available for public and private use this season. See map for exact locations. Please obey signage.
Subscribe for Snow Storage Site e-mail updates.

1. Northeast - Central Avenue (3.8 km north of Attridge Drive) - Now Open
2. Northwest - Wanuskewin Road (1.4 km south of Highway 11) - Now Open
3. Southeast - 8th Street* (east of Boychuck Drive) - Opens Thursday, November 26 at 7 a.m.
4. Southwest - Valley Road* (west of the Saskatoon Landfill access) - Opens Thursday, November 26 at 4 p.m.

*To reduce the noise impact to adjacent residents, a new tailgate slamming policy will be monitored and enforced at the temporary Valley Road and 8th Street East snow storage sites; and the 8th Street East site is restricted to daily operation from 7:00 a.m. to 10:00 p.m. 

Please

report any illegal snow or waste dumping at these sites and other City property

to our

 Public Works customer service at public.works@saskatoon.ca or 

306-975-2476 

.