Mayor's Office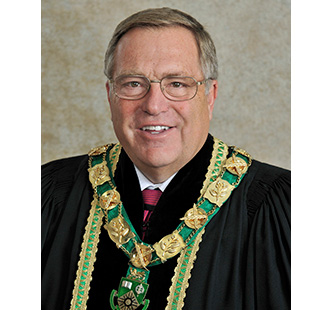 For visitor and resident alike, there are many reasons to take an interest in Saskatoon.  I hope you find this website useful and helpful.
If you are thinking of moving here, you might be surprised by our diversity.  We are a multicultural city; a city of neighbourhoods old and new; where volunteerism is second to none.  We celebrate life through our festivals, special events and rich offering of the arts, sports and recreation.
If you are looking for a place to establish or expand your business, you have come to the right place!  Saskatoon is a national leader in economic growth.  Our prosperity is assured through some of the richest resources in the world, our agricultural strength and our position as the largest city in Saskatchewan.  We welcome more businesses, and more skilled workers, to meet the growing demand.
Perhaps, though, you are a visitor just passing through or attending one of our many conventions.  My sincerest wish is that you will want to return again soon.
To my fellow residents of Saskatoon, I urge you to always be passionate about our city.  This is not a place of "either-or."  Saskatoon is all of us, from all walks of life and with all points of view.  It is a place to celebrate - and to proudly call our home.
Donald J. Atchison, Mayor
Biography 
His Worship Mayor Donald Atchison's life is about two things: family and public service.
Mayor Atchison is serving his fourth term as Mayor and when this term is complete he will be the longest serving Mayor in Saskatoon's history.  He was first elected to City Council in 1994 and was elected Mayor in the 2003 election.
Growing up in Saskatoon, "Atch" was involved in community activities and discovered his talent as a hockey goaltender.  That led to the professional leagues.  After hockey, he returned to Saskatoon and the family business.
As Mayor of Saskatoon, he taps into his life experience.  He and his wife Mardele raised their five children in Saskatoon.  And if anything teaches consensus, it's having five children.  He sees challenges as opportunities and looks for creative solutions that will generate the greatest benefit for all the citizens of Saskatoon.  For the Mayor, partnerships mean results. 
Complementing his team approach is his business sense.  He believes progress requires decisive action.  Mayor Atchison's leadership philosophy has brought the City together with the school boards, different levels of government, volunteer groups, individuals and corporate donors to build a great city for families and a positive business environment.  Three nationally and internationally renowned examples are the Shaw Centre, the SaskTel Sports Centre and the Remai Modern Art Gallery of Saskatchewan.  In addition, after decades of study and debate, River Landing, Saskatoon's signature downtown development, is under way. 
In recognition of his forward thinking approach, Mayor Atchison has received a number of honours.  He was named a Paul Harris Fellow by the Rotary Foundation of Rotary International; awarded the Medal of Merit by the International Association of Lions Clubs; Consumer Choice "Man of the Year" Award and the Canadian Sport Tourism Alliance President's Award for Public Sector Supporter.