Digester & Heating Upgrades
The Digester & Heating Upgrades Project at the Wastewater Treatment Plant involved the construction of a fourth digester and required ancillary equipment to improve capacity for solids and gas.
This project also included the installation of new mechanical mixing and gas handling systems, new electrical and mechanical connections, a new heat exchanger, new boilers, modifications to pumping and sludge feeds, modification and relocation of utilities, and associated works including landscaping. 
The Digester & Heating Upgrades Project was a 3-year, $48.2 million project, and was completed in 2022. This project was funded by the Government of Canada ($9.5 million) and Government of Saskatchewan ($9.5 million) through their New Building Canada Fund, with a $29.2 million investment by the City of Saskatoon.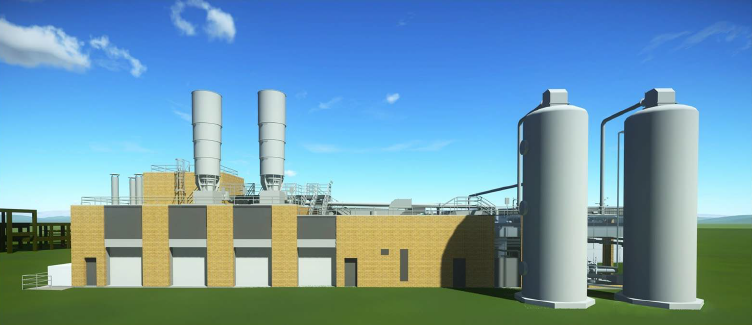 Above: Rendering of gas scrubbing and heating building
Frequently Asked Questions
What are digesters?
Digesters are the last stage in the wastewater treatment process. The solids removed during the treatment process are held in an oxygen deprived environment to allow bacteria to form and break the solids down.
The digesters produce two types of renewable resources; biogas (energy) and biosolids (soil nutrient).
This expansion includes a new sustainable energy recovery process that will condition biogas to be used as fuel in the boilers while the solid matter is used as nutrient for local crops.
Why was a fourth digester built?
Construction of a fourth digester tank improves capacity and allows the City to maintain Water Security Agency processing standards when a digester is taken out of service for maintenance purposes.
Upgrades to boilers were also made to accommodate the additional heat that will be required to run all four digesters.
Now that construction is complete, residents can no longer see an open flame as the flare has been replaced with two enclosed flares.