The City of Saskatoon has 31 wet ponds and 10 dry ponds. These ponds are an essential part of the storm water system as they help to manage run-off from snow melt and rain events, and protect our city from flooding.
Wet ponds hold water at all times. During rain events and spring melt, the water level in these ponds rises as run-off is diverted here.  Wet ponds are great additions to neighbourhoods as they protect properties from flooding and often facilitate recreational paths, bird watching, and skating.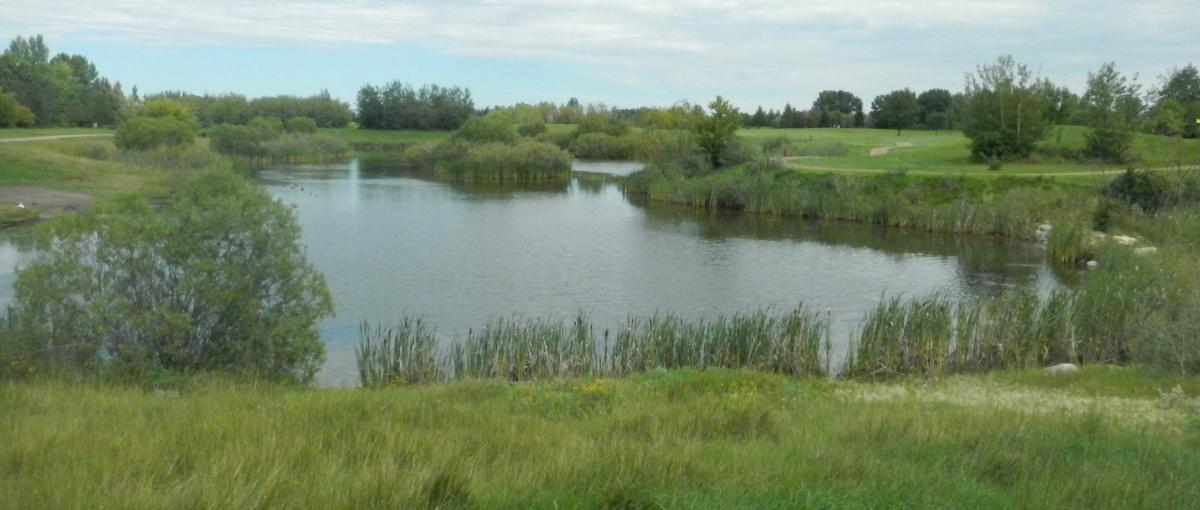 Dry ponds are spaces that appear to be open fields but they fill up with storm water and act as essential temporary storage when it rains. Similar to wet ponds, water is directed from properties and roads into dry ponds when it rains. These areas slowly release water to the storm sewer when there is capacity until they dry out completely. These spaces can often be used for recreation similarly to other fields in dry weather, but it is very important to vacate as soon as it begins to rain and the area begins to fill with water.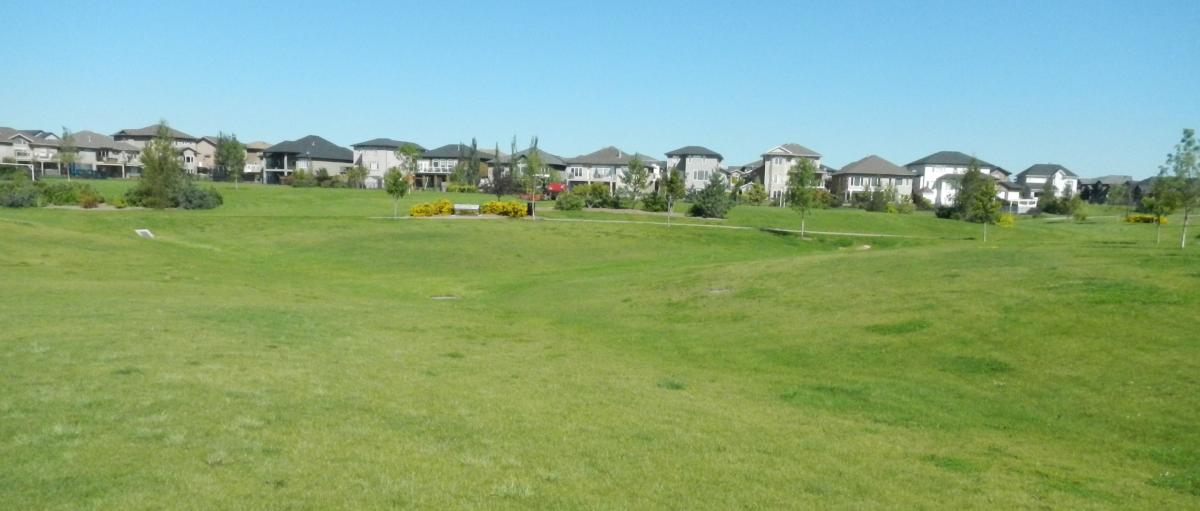 Storm Pond Invasive Species Information
Invasive goldfish, known to harm local habitat in Saskatchewan waterways, have been identified in certain City storm ponds. The Government of Saskatchewan Ministry of Environment – Fish, Wildlife and Lands Branch – requires the City of Saskatoon to protect our river system and control these invasive species. Learn more about the project below.
Invasive Species Removal Project | Summer 2022

The City of Saskatoon has partnered with the provincial Ministry of Environment to safely apply a natural compound called Rotenone to the storm ponds for the safe removal of the invasive species. Rotenone, a natural fish toxicant, has been very successful in the removal of fish in similar environments. It is derived from roots of plants in the bean family and has been used in fish control practices around the world and in other municipalities and national parks in Canada. It is not dangerous to people, mammals or birds unless ingested in extremely large quantities. [source: Parks Canada] 

A very low concentration of the compound will be applied directly into the affected water to treat the invasive species. After several hours have passed, a City crew will remove the fish from the pond

This work is scheduled to take place in mid-August (August 15-19, 2022) in the following ponds:

Dundonald Pond (Dundonald neighbourhood)
George H Clare Pond (Kensington neighbourhood)
Bev M Dyck Pond (Kensington neighbourhood)

There is a very low risk to human and animal life from the prescribed approach. If animals somehow eat any treated fish before they are removed or drink the treated water, rotenone will be broken down by the strong enzymes naturally present in their stomachs and intestines.

The Ministry of Environment will be on-site at each pond beginning at 8:00 a.m. The work is expected to be completed the same day, weather permitting, however, the removal process can take up to three to four days.

Information and warning signs required by the Ministry of Environment will be in place at access and entry points to the ponds prior to the application. The required signs will be around the work areas during the removal process. The required signs will remain at the ponds for two weeks after the application. Access to the pond will be limited during the work period. 

The required warning signs may be startling; however, we remind everyone the application is not dangerous to people, mammals or birds.

For your general safety, while work is underway: 

Follow the instructions on signage in the area  
Remain at least 10 metres from the edge of the work zone 
Do not access the pond for 14 days after the application has taken place 

This process is essential to protect the ecosystem of your neighbourhood ponds and other waterways like the South Saskatchewan River, and to reduce the negative environmental impact of these invasive species.  

Pond Aerial Images
FAQ

What is an invasive species? 
Invasive species can be any animal, wildlife, fish or reptile not natural or original to the waterway. An example is the common goldfish released into the pond when a family can no longer care for it. A goldfish can grow up to 30 cm (12 inches) in length and threaten native species by eating available food supplies, eating the eggs of original species and spreading diseases. Strange as it sounds, this small fish has been identified internationally as a problematic, invasive species.   

How did they get in our ponds?
These fish were most likely introduced by well meaning members of the public into the ponds. It is important to not release any aquarium species into any natural water bodies including storm ponds.  

How does an invasive species get from a storm pond to a river or lake? 
Once an invasive water species is in a pond, eggs can travel on birds and be transported to lakes and rivers.  High rainfalls can also cause storm pond water levels to rise, which can then allow the invasive fish to travel to the river and lakes.  

How will the invasive species be removed? 
Saskatchewan Ministry of Environment will apply a safe required dose of a natural compound (rotenone). Rotenone, a natural fish toxicant, has been very successful in the removal of fish similar environments. It is derived from roots of plants in the bean family and has been used in fish practices around the world and in national parks in Canada. It is not dangerous to humans, mammals, and birds unless ingested in extremely large quantities.  

Can we eat fish treated by rotenone? 
You are strongly cautioned not to eat fish that have been treated with rotenone because no federal or provincial guidelines are in place for eating fish taken after rotenone treatment. Also, salmonella and other bacteria may grow on any fish that is not properly preserved, such as fish that have been floating in a lake for some time, making them unsafe to eat. 

Will pets or wildlife that eat fish and drink water treated with rotenone be affected? 
To control fish, rotenone is used in very low concentrations. Rotenone residues in treated fish are generally very low, are broken down quickly, and are not easily absorbed through the gut of the animal eating the fish. Birds, cats, dogs, and other mammals that eat treated fish and drink treated water will not be affected. If animals eat fish or drink the treated water, rotenone will be broken down by the strong enzymes naturally present in their stomachs and intestines. 
Birds and mammals don't rely predominantly on the invasive fish population may be affected slightly because of the temporary absence of fish, but they usually find other food. 

Will chemical harm other aquatic life? 
Animals with gills, such as tadpoles and some aquatic insects, are more susceptible because rotenone is absorbed directly into their bloodstream through the gills. Studies have shown that those animals will naturally repopulate an area after the rotenone neutralizes. The City will mitigate this by treatments in the late summer or early fall when life stages of some aquatic organisms have fully developed making them less susceptible to rotenone exposure 

What will happen to the fish after treatment? 
During the planning process, arrangements will be made to handle the treated fish. Most of the fish along the pond's surface will be collected and properly disposed of. Some of the fish will naturally sink to the bottom of the pond where they will decompose and release nutrients back into the water. This process will assist in the production of plankton which will, in turn, help re-establish the invertebrate community in the pond.  

Does rotenone smell? 
Some report a mothball-like aroma, which often comes from the substances added to liquid rotenone to help it spread through the water. This smell may last for a few days, depending on air and water temperatures and winds. There are no health effects from this smell.  

What if the rotenone gets into the air? 
No health effects to the public from rotenone used as a fish management substance are known. In United States trials of airborne drift in the Lower 48 states, the highest rotenone concentrations found during treatments were approximately 1,000 times lower than what is estimated to be safe levels. However, there will not be any drift into air from projects involving liquid rotenone. Liquid rotenone is applied directly to the water. 

Will the water level be lowered? 
At this time, only the Dundonald pond water level will be lowered temporarily.