Building Better Roads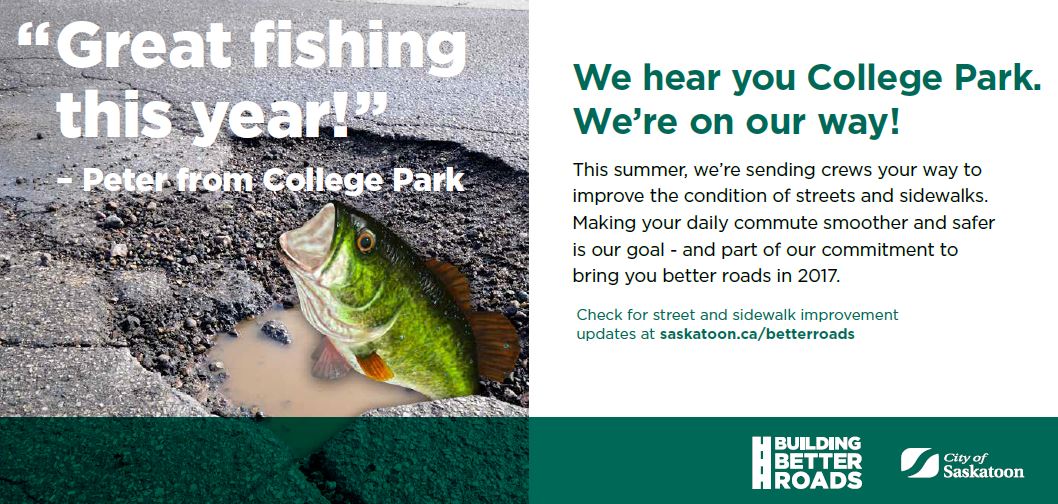 Building Better Roads is Saskatoon's most aggressive program of road construction, repairs and maintenance ever. The program started in 2014 after the 2013 Civic
Services Survey identified road conditions as the single most important issue affecting our city, and citizens told us they support increased investment in our roadways.
You can help us Build Better Roads by giving us your feedback.  Call or click to let us know how we're doing and help us continue to improve the way we do business.
Contact us by using our online form 
Call our Customer Service Centre at 

306-975-2476

.
Give Us Your Feedback is your way to tell us what you think about your neighbourhood construction project(s)!
In 2017, the focus of the $61 million budget will be spent in improving sidewalks and roadways in local neighbourhoods.  Over 205 residential lane kilometres in more than 44  neighbourhoods will see improvements.  That more than half the city's communities!  There will also be improvements to key intersections, replacement work water mains, sanitary sewer mains and 1009 water/sewer connections!   Building Better Roads is also working to continuing improving street sweeping, pothole patching sidewalk rehabilitation, back lane upgrades, road construction and repair, as well as snow and ice management. 
Our goal is to provide you with the most current information available on larger Building Better Roads projects taking place in 2017.  For regular updates on road restrictions and smaller construction projects taking place throughout the city, check our Road Restrictions and Construction Project Map.
Major Construction Projects 2017
2017 Water Main, Sanitary Lining and Lead Water Replacement Initiative

2017 Water Main, Sanitary Lining and Lead Water Replacement Initiative is a 10 year project designed to replace/repair aging water mains and sanitary lining and to replace over 4900 lead water pipes still remaining in our city.  This summer there will be 7 projects completed in the city in Holiday Park, Caswell Hill, Buena Vista, Nutana, and Westmount.  Work completed this year will be paid for as part of the $2 billion Cleanwater Waste Water Fund. 

Buena Vista - summer 2017

  
Intersection Improvement

 The Intersection Improvement Project Selection Process was formalized in 2015 to prioritize key intersections that would benefit from improvements. This year, the intersections of Diefenbaker Drive and 22nd Street, Preston Avenue and Taylor Street, and Warman Road and 51st Street have been identified by this process as priority intersections

22 West and Diefenbaker

The intersection where 22nd Street West meets Diefenbaker Drive is undergoing improvements to reduce delays, allow for easier movements, and create an overall safer intersection. The work has been underway since 2016 and is expected to wrap up in late spring 2017. Beginning May 8, 2017, the final phase of work will get underway at this location which will entail some restrictions to traffic movements. Road users should expect delays and might consider an alternate route.

Improving the efficiency and safety of Saskatoon intersections is part of the City's Building Better Roads program, a multi-year plan to improve the quality of Saskatoon's road and road support infrastructure. Through the Building Better Roads program, the average roadway treatment cycle has improved from once every 83 years in 2011 to once every 18 years in 2017. More proactive treatment means better roads.

51 Street and Warman 

Work starts at this intersection on Tuesday, May 23rd and is expected to last 11 weeks.

Work at 51st Street and Warman Road will see the realignment of pedestrian islands and medians and the introduction of an additional dedicated northbound left turn lane and new protected southbound left turn lane. These additions will improve safety and prepare the intersection for the change in traffic patterns that is expected with the opening of the North Commuter Parkway in 2018.  

This is one of the city's busiest intersections and managing traffic flow carefully during construction is critical to maintaining safety and reducing delays.   During this 11-week project, lane restrictions and closures will be in place.  Extra time has been taken to explore every opportunity to reduce the impact construction will have on drivers.  Opportunities that will further improve the traffic flow at peak hours have been identified that include extra north bound lanes being open between 4-6 pm to allow for traffic to flow more freely.  Work will also be completed in three phases to minimize disruption to businesses, residents, and motorists. 

Advance construction notices were delivered to surrounding businesses and residents and message boards have been placed at key locations identifying project timelines and locations. 
Victoria Avenue Rehabilitation
Paving and Resurfacing Projects
Major Projects (North Commuter Parkway and Interchanges)
Reroute Your Commute! Plan your route around road work by checking out Road Restrictions & Construction Projects map. Subscribe to Traffic Detour Service Alerts and follow our progress on Facebook and Twitter with #BetterRoadsYXE.