Parking
Parking Services provides a coordinated approach to the provision, regulation, enforcement and collection services related to parking in Saskatoon. The rules and regulations surrounding parking in Saskatoon is governed by the Traffic Bylaw 7200 and provincial legislation.
Parking Rules and Regulations
A parked vehicle must be:
A minimum of 10 metres from a corner or intersection
A minimum of one metre from both sides of a private driveway or alley
A minimum of one metre on both sides of the point where a fire hydrant intersects with a curb.
Currently, parking meters require payment from 9:00 a.m. to 6:00 p.m. on Mondays through Saturdays. Payment amounts and payment options are displayed on all parking stations. Maximum allowable time limits are displayed on each station.
Sundays and Statutory Holidays do not require payment.
Time limits for meters on Saskatoon streets vary depending on location, ranging anywhere from 30 minutes to 3 hours, with the majority being 90 minutes or 2 hours.
Typically, tickets issued on private or in residential areas are on a complaint driven basis and the bylaw does not require private property owners to post signs or warnings. Parking on a residential street is limited to a maximum of 36 hours. Parking in an alley or at a bus stop is prohibited.
Vehicles, or a combination of an attached vehicle and trailer, in excess of six metres in length may be parked on a residential street for no longer than one hour.
Semi truck power units cannot park in a residential area.
Parking Meter Hoods
The City authorizes temporary reservation of metered parking stalls, commonly referred to as meter hooding or bagging, and charges a fee for this service. Similar to other municipalities, parking meter hooding is primarily requested by building owners, property managers, contractors, and moving companies to facilitate commercial services to a property.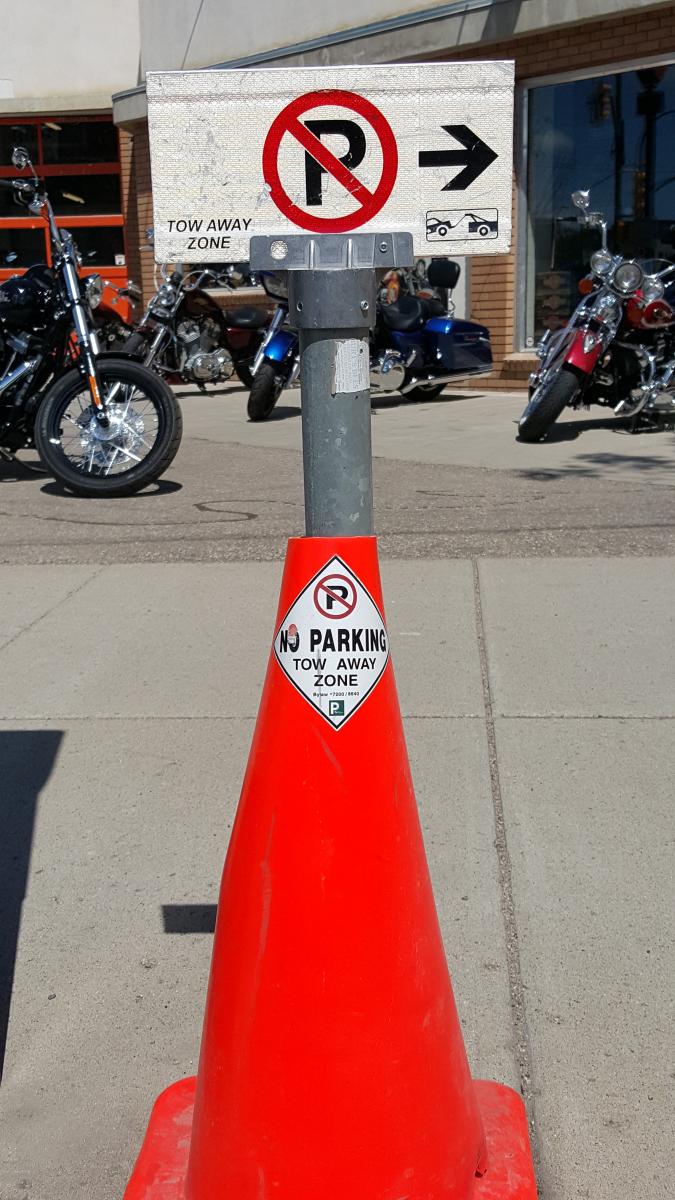 The company/person paying for the stall to be reserved is responsible to report unauthorized parking. Violators receive a $50 ticket, and their vehicle can be towed to the impound lot.
Each parking space is marked with an orange pylon and accompanying signage displaying the times parking is restricted.
Seized Vehicle Auctions
The City of Saskatoon holds a monthly auction at at PBR Auction to dispose of seized vehicles. Vehicles are seized for a number of reasons, such as outstanding fines, abandonment, crime, etc. Auctions take place the first Saturday of each month.
Find out where to pay your parking ticket in person, or pay online.
There are new parking meters coming to town. Find out more.
Get information on residential parking permits, the veteran parking program, and parking programs for people with disabilities.
Find clear information about unpaid parking violations and the City's impound lot.