Curbside Garbage (Black Cart)

Beginning in January 2024, households with curbside collection services will be able to choose from three different black cart sizes. Households with curbside collections have green, blue and black roll-out carts that are collected bi-weekly from the front street or back lane.
Residents with curbside collection services will be able to assess their waste needs and choose the black cart size suited to their needs. Communities that use similar approaches have seen their waste diversion rates increase by 5-17%, as residents improve their use of diversion programs and find new ways to reduce their general waste generation.
 What you can expect from us
The City provides bi-weekly collections in the winter and summer. Check your Collection Calendar to confirm your pick-up day.
 How you can help us
Please remember to check your collection schedule and review the following information to ensure your cart is collected:
The cart is placed out for collection prior to 7 a.m. on your scheduled pickup day.
There is at least 1.2 meters (4 feet) of clearance around all sides of the cart.
The garbage is bagged and inside the cart, and the lid is closed.
No prohibited materials, hazardous waste or liquids.
New cart requests can be submitted once residents are living at their new address so the cart can be stored on the property immediately to avoid theft and bylaw infractions.
---
What goes in your black cart?
Use your black cart for normal household garbage including non-recyclable waste such as Styrofoam, diapers and wipes. All food and most yard waste can go in your green cart. Use the Waste Wizard tool below to find out what goes in your black cart.   
What are the cart sizes?
The cart sizes include the current large (360L) as well as a medium (240L) and a small (120L – 135L) black cart. The small black cart size will be finalized following procurement.
When can I request a smaller black cart?
Requests to change cart size will be accepted beginning in January 2024 with smaller black cart deliveries expected in the spring. Come back here in the new year to submit your request!
Administration is not recommending a cart swap fee for initial swaps. A process for property managers and condo boards to manage bulk requests is also being developed.
Get ready for cart swaps and set up your online Utility Account and consider switching to Paperless eBill.
Rates and Fees
In 2023, the residential black cart program is funded through property taxes.
In 2024, Saskatoon will begin billing customers for residential black cart collection based on cart size. Residents pay for the black cart program through a monthly utility rate.
A fixed utility rate of approximately $9.92 per month will be in place from January to June 2024 for all households with roll-out black cart garbage services until cart swaps are completed mid-year.
The proposed monthly utility rates for the black cart program are approximately as follows: small (120 L – 135L) cart - $3.73, medium (240 L) - $7.05 and large (360 L) - $10.58. Final rates are to be approved at Budget Deliberations in November 2023 and as such are subject to change. 
Beginning Mid-Year 2024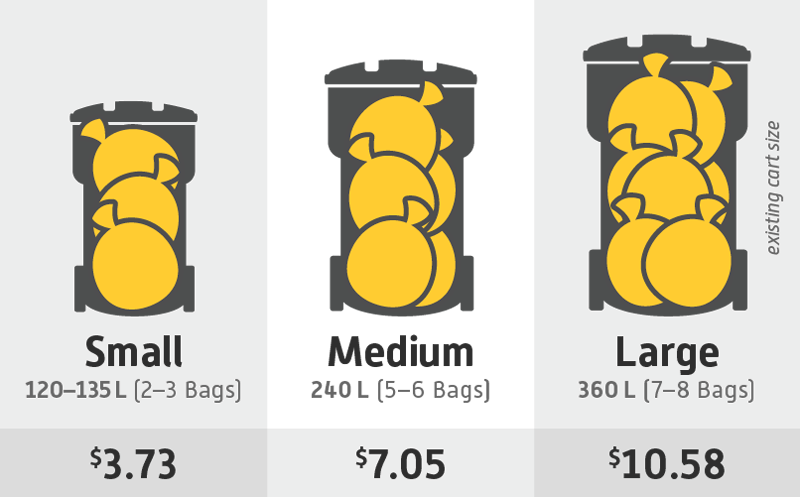 How will you support low-income households with this transition?
A transitional subsidy of $100 annually will be available beginning in 2024 to help minimize the financial impact on low-income households. This subsidy will be available to eligible low-income households who have a City utility account in their name. The waste utility subsidy will be available until the implementation of a broader Universal Low Income Subsidy program planned for approximately 2027. More details to come.
Frequently Asked Questions
What is the monthly utility fee used for?

The monthly fee covers:

Collection of garbage from your home and container management
Processing (landfilling)
Education, bylaw and program support
Debt repayment for smaller carts
What is the City going to do with the old carts?

A foundational assumption is that existing black carts are kept in the field unless residents request a smaller size.  If a cart is requested, a new cart will be deployed, and the old cart retrieved and put it into inventory for future use if it is still in good condition. Administration is currently exploring opportunities to reuse, re-purpose, or recycle old carts that are at the end of their life cycle. 
What are the payment options for additional carts?

We are committed to continuous improvement and making it easier for our collections customers to conduct business with us. We now accept e-Transfer auto deposits in addition to our traditional payment methods, to ensure timely processing and receipt of payments.

Payment Process:

Log in to your online banking website or application and select the option to send funds via INTERAC e-Transfer.*
Add the 

City of Saskatoon

 as a contact using remittance@saskatoon.ca as the email address.
Enter the dollar amount you would like to send.

IMPORTANT:

 Please include your customer name or number (as it shows on your invoice) and the invoice number in the message field. If you are paying more than one invoice, please include all relevant invoice numbers. Failure to provide this information may result in significant delays in applying your payment.
The funds will be applied to your account within four business days from receipt of payment.

For more information, please email revenue@saskatoon.ca or call 306-975-2400.

*Some financial institutions may have transaction fees or minimum/maximum transaction requirements or restrictions in place.
Customer Service
Report a missed garbage collection
For any other questions or requests, please contact Customer Care at 306-975-2476 or email.