Indigenous Women & Girls and Two-Spirit People
Love Bomb: A Musical About Human Trafficking & Sex Exploitation
The City's Indigenous Initiatives Department is partnering with Iskwewuk E-wichiwitochik ("Women Walking Together") and Mamohkamatowin (an Indigenous-led faith community in Saskatoon) to showcase Love Bomb - a "play with music" that explores the topics of human trafficking and sexual exploitation using real life criminal cases. It's being made available at no cost to attendees thanks to a grant from the Government of Saskatchewan.
Human trafficking, love bombing, and sexual exploitation are topics of grave importance in our community. There are numerous families in Saskatoon - Indigenous and non-Indigenous - who have lost family members to trafficking and exploitation. Indigenous women and girls are disproportionately affected by these issues.
The play will be showing on Friday, Sept. 15, 2023 at the Broadway Theatre. Following the play, there will be a discussion panel – the complete event is 7:30 to 9:30 p.m. The suggested audience is 14+.
Get your Love Bomb ticket(s) here
---
Red Dress Display - City Hall Lobby
The red dress is a symbol of solidarity with the families of Missing and Murdered Indigenous Women and Girls and Two-Spirit persons.
A Red Dress Display has been installed in the City Hall Lobby to increase awareness of MMIWG2S. When visiting the City Hall Lobby, you can find this display on the wall next to the Customer Care Kiosk. The accompanying plaque reads:
This red dress is a tribute to Missing and Murdered Indigenous Women and Girls and Two-Spirit persons (those who identify as having both a masculine and feminine spirit). 
Indigenous Women and Girls and Two-Spirit persons face disproportionate violence, trauma, and exploitation. This is not an Indigenous issue; it's a community issue. We have a collective responsibility for the safety of every member of our community.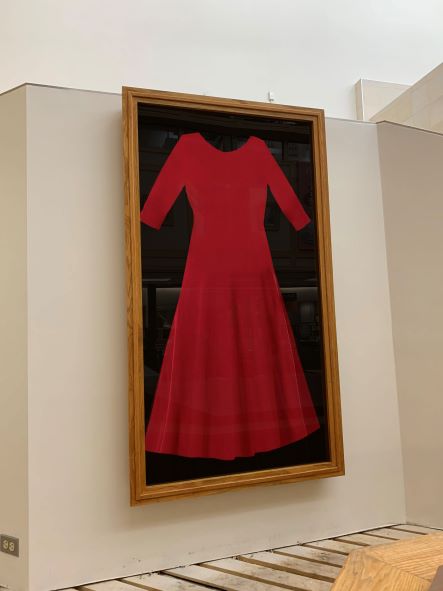 ---
Red Dress Day (May 5)
The first Red Dress Day, held in 2010, was inspired by a national public art installation where red dresses were hung in a range of environments to bring attention to the issue of Missing & Murdered Indigenous Women, Girls & Two-Spirit people (those who identify as having both a feminine and masculine spirit). Red Dress Day has since been observed annually on May 5 as a National Day of Awareness for MMIWG2S.
On May 5, here are a few ways you can help raise awareness about MMIWG2S and demonstrate support for IWG2S and their families:
Display a red dress in a public space
Print and display this Red Dress Decal
Wear a Red Dress Pin (available for purchase locally including at Wanuskewin)
 
---
Creating Safe Spaces for IWG2S
In August 2021, the City of Saskatoon released a report on supporting IWG2S. The report, IWG2S* Coming Home, was developed in response to a directive from City Council to identify options for how the City can respond to the Calls for Justice contained within The Final Report of the National Inquiry into Missing and Murdered Indigenous Women and Girls (released by the federal government in 2019).
Proposed Action Plan: The key recommendations contained in the final report, entitled IWG2S – Coming Home, are:
Phase 1: Hire an Independent Representative of Matriarchs for IWG2S. That person will coordinate, refer, support, review, evaluate and assess, decide, investigate, and advise. 
Phase 2: Create an IWG2S Centre to coordinate services that works in tandem with the rest of the City departments and the other agencies offering services to IWG2S. 
Phase 3: Extend the Role of the Representative of Matriarchs to become an Officer of Transparency and Accountability. 
​​
The report emphasizes that the methods of addressing the exploitation of IWG2S people must be developed, instituted, and administered by the matriarchs in the Indigenous community, as was the case traditionally. It's noted that the input heard again and again by the research team, from a range of diverse voices in our community, was "this is not something that can be done for us or about us. It must be led by those from within."  
Other Key Insights:
Our community benefits from the input of IWG2S people but we are fully realizing these benefits. We need to acknowledge the strength and contributions of IWG2S people versus the suffering. For example, dropping "missing and murdered" from references to supports for Indigenous women and girls.
We need to recognize that there are IWG2S people that we're not reaching and will only reach through a new form of intervention. 
Anti-racism work in our community is also necessary since racism and patriarchy are the root causes of the challenges and barriers to creating a safe and secure community for IWG2S people. 
Next Steps: The report was presented to City Council's Governance and Priorities Committee on July 19, 2021, where Administration indicated they would conduct an analysis of the recommendation and ways in which the City could approach implementation.
​​​​​
The Coming Home report was partially funded by the First Nations and Métis Community Partnership Projects, a program of the Ministry of Government Relations.