Proposal
Dream Development has applied to rezone and develop a Car Wash on parcels adjacent to Gallagher Street and McClocklin Road in the Airport Business Area, as shown on the maps below. The areas subject to the proposed rezoning and discretionary use application have also been outlined on the Hampton Village Business Park Concept Plan map in the Amendment Area tab.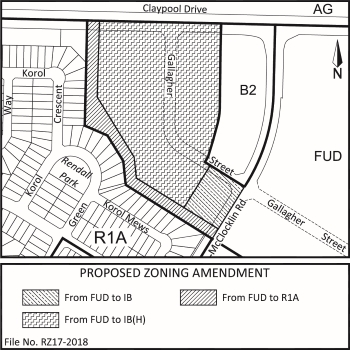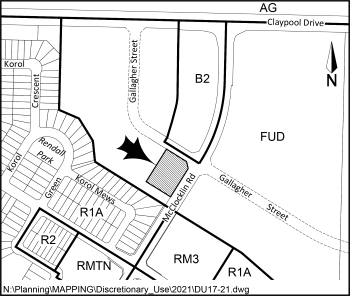 The proposal would provide for the parcels to be rezoned from FUD – Future Urban Development District to R1A – One-Unit Residential District, IB – Industrial Business District and IB District subject to the Holding Symbol (H).
The purpose of the:
R1A District is to provide for residential development in the form of one-unit dwellings as well as related community uses; and
IB District is to facilitate business and light industrial activities that are seeking a high quality, comprehensively planned environment.
The proposal would apply the Holding Symbol (H) to lands adjacent to Gallagher Street and Claypool Drive. The application of the Holding Symbol (H) on these sites would ensure that servicing and access requirements are provided prior to development commencing.
Details of the Proposed Car Wash
In conjunction with the rezoning application, a Discretionary Use application has also been submitted to develop a car wash on a proposed site adjacent to Gallagher Street and McClocklin Road. Car washes are considered a Discretionary Use in the IB District.
The Zoning Bylaw No. 8770, 2009 (Zoning Bylaw) defines a "car wash" as a building or portion of a building which is used for the washing of vehicles, including full service, automatic and hand operated facilities, but does not include facilities for the washing of vehicles with a gross vehicle weight of more than 5000 kg.
Subject to Council approval, the proposed development will be constructed at the corner of Gallagher Street and McClocklin Road. The building would be approximately 938m2 in area and would provide 10 parking spaces to serve this business. The development would need to satisfy all development standards prescribed in the Zoning Bylaw. A site plan and renderings of the proposed structure are shown in a separate tab.
Provide Feedback
Questions and comments on this proposal are invited at this time by contacting:
Nik Kinzel-Cadrin | Planner
Phone: 306.986.3697
Email: nik.kinzel-cadrin@saskatoon.ca
Due to the COVID-19 epidemic, the City of Saskatoon is conducting all engagement activities virtually and through mail outs at this time.