Discretionary Use Proposal
102067804 Saskatchewan Ltd. has applied for Discretionary Use approval to develop a Car Wash at Parcel ZZ Registered Plan No. 102308082 at the northwest corner of the intersection of Payne Bend and Orban Way in the Evergreen neighbourhood. This site is zoned B4MX - Integrated Commercial Mixed-Use District under Bylaw No. 8770, 2009, The City of Saskatoon Zoning Bylaw (Zoning Bylaw). The purpose of the B4MX District is to facilitate mixed-use development on principal streets in this district. The B4MX District provides for a range of medium to high-density residential uses, commercial and institutional uses in a manner that encourages retail and service-based uses at grade level. The B4MX District promotes a compact, pedestrian-oriented built form that supports transportation options, street orientated buildings and active uses at grade level. Car Washes are considered a Discretionary Use in the B4MX District. 
The Zoning Bylaw defines a Car Wash as "a building or portion of a building which is used for the washing of vehicles, including full service, automatic and hand operated facilities, but does not include facilities for the washing of vehicles with a gross vehicle weight of more than 5000 kg."
This application is being reviewed for compliance with requirements under the Zoning Bylaw.
Location Map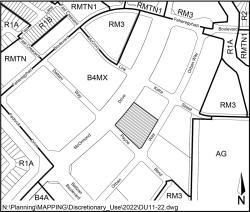 Provide Feedback
Questions and comments on this proposal are invited at this time by contacting:
Tyler Kopp | Planner
306.986.3639