Sidewalks
Sidewalk preservation treatments are completed on a priority basis. Sidewalks along the roadway preservation program are currently our top priority for the sidewalk preservation program in order to rejuvenate streets as a whole.
The most economical solution is to repair a sidewalk panel, but if distresses or combination of distresses are extreme enough, a panel may require replacement. Less severe sidewalk panels that are between multiple sidewalk panels slated for replacement may be replaced at the same time to reduce costs and maintain safety. A concrete sidewalk can reasonably be expected to remain in good condition for 15 years.  Over time, sidewalks can wear, and be damaged by vehicles, equipment or tree roots.  These compromises result in cracking or becoming uneven, and pieces can start to crumble or chip off, causing dips and trip hazards.  Unless the sidewalk requires replacement, the City will do its best to repair the hazard for pedestrian traffic.  
To report a tripping hazard, please call (306) 975-2476.
The PDF on the right details some examples of the city's common sidewalk defects and the criteria that would trigger a specific type of treatment that would be applied based on the defects severity.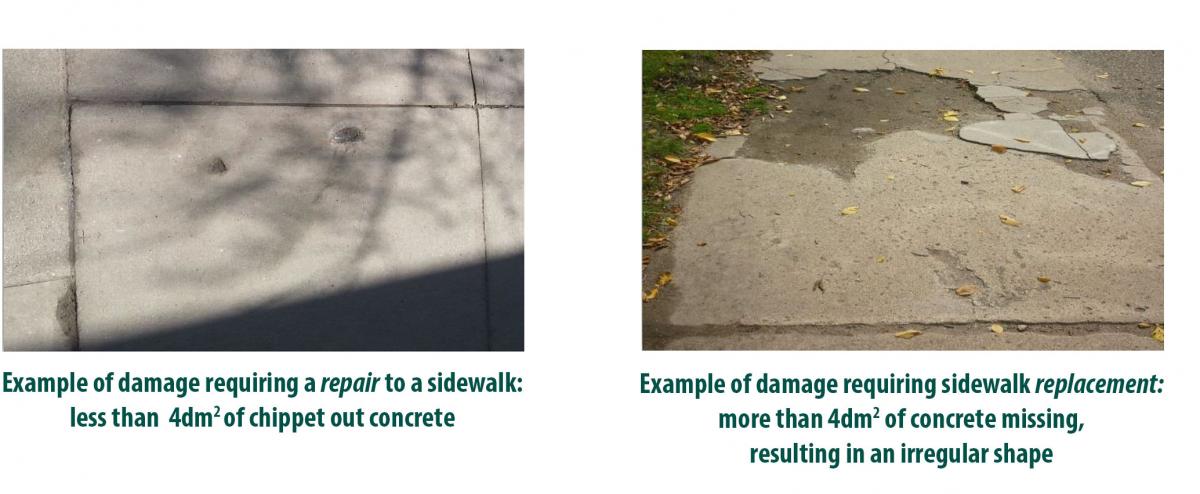 Sidewalk Preservation Repairs - Frequently Asked Questions

Each location is investigated to identify hazards for pedestrians as the top priority.  Sidewalks are repaired or replaced in order of priority, based on severity. Repairs can include one of the following, depending on the condition and severity: 

Grinding and patching (crack fill) with a concrete-based material, where possible.  

Used if sidewalk is lifted causing a severe ledge.

Asphalt patches or full overlay.  This process is a quick, cost-effective way to address severe locations. A

lthough the appearance is darker when the work is freshly completed, it will lighten over time.

Used if grinding or patching will not reasonably repair the defect to remove hazards. 
This process is an effective way of repairing a sidewalk where a tree root is pushing up sidewalk panels.  As these roots grow larger and our urban forest grows (which adds immense value to our city) we do not do damage to trees by cutting the roots and promoting decay and endangering the life of the tree.  
Note: Where feasible and if approved by Parks division that it will not compromise the health and longevity of the tree, roots may be cut and panels replaced to remove the 'ramp' effect of heaved panels.  These ramp effects can prove to be difficult for mobility challenged pedestrians.

Full replacement of sidewalk panel. 

This is a permanent solution, but may cost twice as much.
Replacement is only used for severe cracking or crumbling
Sidewalks that were removed or damaged by a contractor or the City to repair or install underground utilities will be replaced. 
Sidewalks that are currently on a list for future rehabilitation will not be replaced, but will be maintained through grinding, patching or overlays to minimize the hazards until full rehabilitation can occur.

How does the City select sidewalks for repair?

Each year, high-pedestrian and previously treated (asphalt overlay, grinding, or patching) sidewalks are rated to ensure that hazard free walking conditions are maintained. 

Sidewalks identified during rating or reported by a resident with severe defects that could cause a pedestrian to trip or fall, will be repaired or replaced on a priority basis, based on severity.  This year, sidewalks with cracking or crumbling that were adjacent to road rehabilitation construction were replaced as part of the construction project for efficiency.

What are the criteria for overlays and/or replacement?

Severe trip hazards that cannot be repaired with other methods due to severe ledge
Wide crack with several connecting cracks
Most of the sidewalk panel has chipped away
High-severity scaling, the sidewalk is pitted
Severe curb drop due to the ground settling where a utility cut was repaired.
Where a tree root is causing a steep slope that would be difficult for a pedestrian with reduced mobility to navigate
Previous asphalt overlay where the curb is deteriorating

Why would the City use black asphalt on concrete sidewalks? I don't like the look of it.

We agree that asphalt overlay is not the same as a new sidewalk and doesn't blend in as well.  This is the most cost-effective and efficient method for quickly addressing hazardous locations. The primary goal is to reduce the risk of tripping and injuries from severe cracks, dips and exposed tree roots.

Is the asphalt a temporary fix? Will it be replaced with a real concrete sidewalk next year?

The asphalt will last up to 5 years before it may need replacing.  At this point, there is no plan to replace a sidewalk with an asphalt overlay unless the condition worsens and it meets the criteria for replacement.

How long does it take to dry before people can walk on it?  Oil is being tracked all over.

Asphalt overlay take one-two hours to cure and dry.  The area will be marked to notify people on the sidewalks.

Why did another sidewalk get replaced and mine is getting asphalt?

The following remediation programs also exist:

Sidewalks damaged during an excavation for work on an underground utility are replaced. 
This year, sidewalks with cracking or crumbling that were adjacent to road rehabilitation construction were replaced as part of the construction project for efficiency.
If grinding, crack fill patching or asphalt overlay are not effective treatments for a sidewalk with severe issues, replacement may be required.
Each year, sidewalks are replaced by the initial contractor as part of the warranty agreement.
Private Driveway Crossing
A Private Driveway Crossing Permit is required for construction of any driveway or landscaping project that crosses over the public right of way (The Private Crossing Bylaw), including sidewalks, curbs, lanes and ditches.  The application process is quick and can protect you from expensive changes later on.
To apply for a permit, review the Private Driveway Crossing Guidelines and provide site plans using the Curb and Sidewalk Crossing Information Package by e-mail.  For more information about installing a driveway or to arrange an inspection call 306-975-2454. 
Utility Cuts - Sidewalks 
A Utility Cut is an excavation required to connect, repair or maintain underground utilities that are often located more than eight feet deep beneath the roadway surface. Utility Cuts have straight edges and can range in size from one foot to more than 10 feet wide, and are gravel filled. These are not considered potholes and are repaired under a separate program. Roads sidewalks and landscaping affected by a Utility Cut are filled with gravel until restoration occurs between May and October.
Check the status of repairs on our Utility Cuts and Repair Schedules map.
Utility Cuts - Frequently Asked Questions

The sidewalk in front of my house was damaged by a utility cut; how will it be scheduled for repair?
You may check the status of repairs for a utility cut on our Utility Cuts and Repair Schedules interactive map. The map is updated regularly and includes locations scheduled for up to four weeks.

Concrete sidewalks are repaired in order of impact, beginning with high-pedestrian areas, such as Downtown and other business improvement districts, with residential sidewalks to follow.

Residential locations are typically repaired in the order they were excavated, but this can vary slightly based on location and crew availability. If a location requires more time to settle, curbs and/or driveways may not be placed until the next construction season. Once started, it typically takes three days to perform the work. Sidewalks cannot be poured in the rain, which can delay this final step.

How are driveways and walkways on private property repaired?
City crews will schedule and replace the blocks of concrete that were damaged during the excavation and underground work process. Initially, the area to be replaced is marked with paint.

Notification will be provided to the affected home 3-5 days in advance in the form of note in the mailbox or on the door advising of the date work is to occur, along with instructions to avoid watering lawn adjacent to the affected area. If you intend to take this opportunity to change the type or size of driveway, you will be responsible for the cost of the additional area.

Will the City replace my specialty driveway constructed from paving stones, or stamped/ coloured concrete?
For specialty concrete replacement, the homeowner must present three separate quotes for the repair by private contractors. Once the claim is submitted, we will inspect the location and collect "before" pictures as part of the process. The quotes will be reviewed by the City and reimbursement will be paid up to a fixed amount upon approval. Any additional charges or costs associated with an expanded scope of the work will be the responsibility of the home owner.

How long after the concrete is poured can I walk or drive over the sidewalk/driveway?
The first step in the replacement process for concrete is the "break-out", which is where we remove the section of old concrete. This takes three to five days, weather-depending. Once break-out is complete, the concrete is poured. In order for the concrete to properly cure, please allow 24 hours before walking on the new concrete and seven days before driving on it.