History of Saskatoon's Fire Department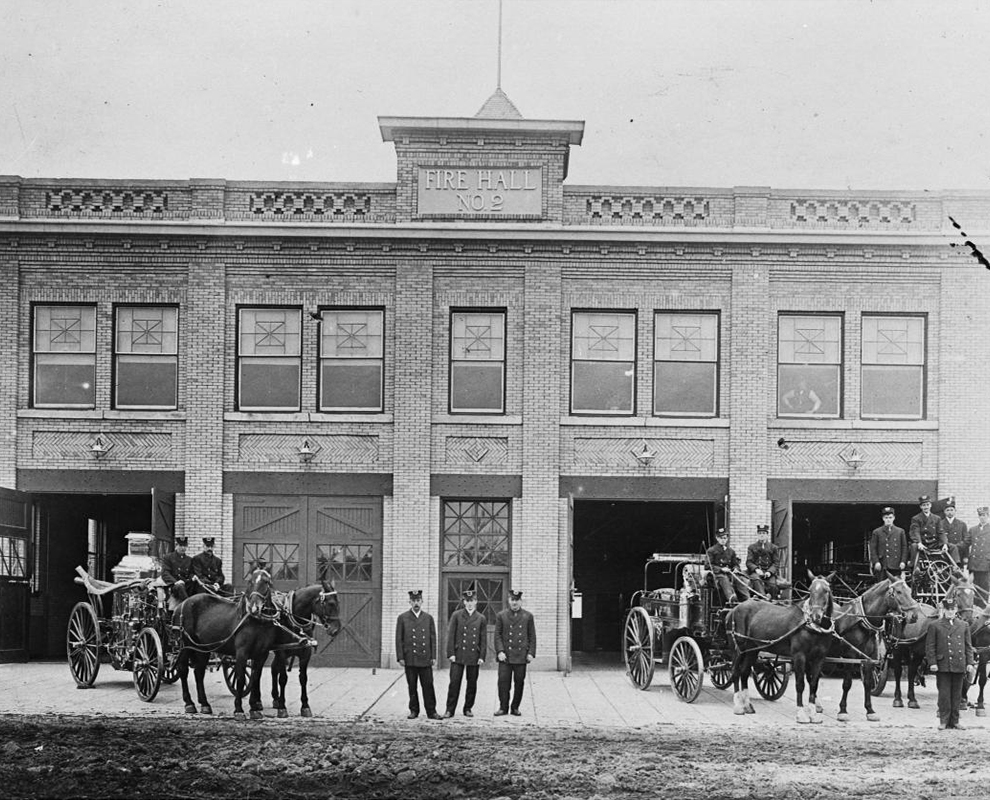 Saskatoon was founded as a Temperance Colony in 1882. As Saskatoon grew through the first three decades it went from reservoirs, buckets and horses to its first piece of motorized apparatus in a unionized professional department in 1909.
From the beginning the primary objective of the Saskatoon Fire Department was to:
Prevent fires from starting.
Prevent fire loss of life and property in case fire does start.
Confine fire to the place of origin.
Extinguish the fire.
This set of original priorities has not changed, even as the city has grown to its present size. Find out more about the history of the Saskatoon Fire Department below.
Saskatoon Fire Department Through the Years

In 1913 the department had:

In 1965 the department had:

189 men
11 trucks
2 aerials
1 ladder truck
1 snorkel

In 1981 the department had:

251 employees
225 fire fighters
9 pumpers
2 aerials
2 snorkels
1 rescue truck

In 2018 the department has:

334 employees

280 fire fighters
12 inspectors
12 dispatchers

14 front line apparatus
3 reserve apparatus
2 heavy rescue trucks
2 tankers
3 brush units
1 command bus
2 rigid hull boats
1 inflatable boat
Duty Chief's Vehicle
Hazardous Goods Unit
Hazardous Goods /Decontamination Unit
Urban Search Rescue Unit
Fire Investigation Unit
Station 1

Built 1908 at 23rd St. and 4th Ave (current location of Frances Morrison Library), Demolished in 1965

Population approximately 8,000 to 12,000 people

Opened October 31, 1964 at current station located at 125 Idylwyld Drive South

Cost - $500,000​

Renovations:

1986

interior alterations to office area

1987

alterations to offices on the main and second floor
fire truck exhaust extraction system installed

1990

showers and air conditioning unit installed

1991

roof replaced
asbestos removed
female dormitory built
wash bay improvements
three underground tanks removed

2013

2014
Station 2

Built 1911 at Ave. A and 21st St. (current location of Station 1), demolished Jan. 13, 1964

Population approximately 15,000

Built 1962 116 Ave. W S, closed 1981 but renovated to be Staff Development Centre in 1993

Population approximately 103,623

Built 1981 at 3111 Diefenbaker Drive

Population approximately 154,210
Station 3

Built 1912 at 11th St. near Broadway Ave.

Population approximately 28,000

Closed 1958 and s

old to private enterprise 1990 (current location of The Hose and Hydrant Brew Pub).

Built 1958, 1906 York Ave.

Population approximately 82,799

Built 2018 at 2613 Clarence Avenue South
Station 4

Built 1961 at 2106 Faithfull Avenue

Population approximately 95,526
Station 5

Built 1966 at 421 Central Avenue

Population approximately 115,247

Agreement with the Town of Sutherland May, 1955

5.       The City to make definite plans for the early establishment of a Fire Hall near to and serving the Sutherland area, and extend the present fire alarm system to Sutherland.

     A study has been carried out regarding fire hall locations which indicates that if amalgamation takes place a fire hall will be required much closer to Sutherland than any existing hall. They city has under consideration a progressive plan for re-location of fire halls and construction of new ones. At the present time it is not expected that a fire hall closer to Sutherland would be an immediate project, but it certainly is in the plans. In the meantime Sutherland would be served from one of the existing halls. The fire alarm system would be extended to Sutherland at an early date. Undoubtedly Sutherland would get just as good, and probably better, fire protection than it now receives.

Report to Council – January 8, 2001

… The new design will provide for a fire station with a 35-year life rather than a 100-year life. This is deemed acceptable by Administration. Changing demographics and the physical make-up of the City typically indicate that fire stations may better serve the population if they were in a different location beyond that period of time."

2001 Capital Budget – 2002-2005 Capital Plan Project 1902 – New Fire Station – Erindale

Recommendation 1b)

Alternative #2 in this report – to temporarily retain Fire Station No. 5 in Sutherland until a new fire station can be located that will maintain a 4-minute average initial response time into the Sutherland, East College Park and Briarwood communities and recommend to the Budget Committee that an additional $241,593 be added to the 2003 Fire and Protective Services Department operating budget to hire 10 additional firefighters;"

p.4

3.       A new fire station would need to be constructed in a location that would improve the response times to East College Park, Briarwood, and the southeast portion of the City, while maintaining an effective 4-minute response time into Sutherland for the first arriving apparatus.

Communication to Council – March 25, 2002

Alternative #2 – Keep Fire Station No. 5 open as an interim measure until a new station can be built which will provide an effective response into the Sutherland, Briarwood, Lakeridge, East College Park and South East Development areas of the City.
Station 6

Built 1978 at 3309 Taylor Street East

Population approximately 141,167
Station 7

Built 1987 at 3350 Wanuskewin Road

Population approximately 182,216
Station 8

Saskatoon Airport  1996 to 2004

Built 2010 at 207 Slimmon Road

Population approximately 

223,200 
Station 9

Built 2002 at 870 Attridge Drive

Population approximately 210,312