Rezoning Proposal - WITHDRAWN
**NOTICE:  This rezoning application has now been withdrawn at the request of the applicant.  The file is now closed and no further steps in the rezoning process will be undertaken. This rezoning proposal was never presented to the Municipal Planning Commission or City Council.**
Griffin Properties Inc. has applied to rezone 535 Avenue H South (located on the northwest corner of the intersection of Avenue H South and 17th Street West) to accommodate the development of a multiple-unit dwelling containing 8 units, subject to a Zoning Agreement. 
For this application, a Zoning Agreement is proposed to be employed to address specific development standards respecting building form, building height, number of dwelling units, and parking.  Other items may be identified during the review process.
The proposed development is a street townhouse with 4 side-by-side 2-storey dwelling units with 2 bedrooms each, and 4 separate 1 bedroom units located in the basement level.  A total of 11 on-site parking spaces are proposed.  
The property is currently zoned R2 – One and Two Unit Residential, which provides for a maximum of 2 dwelling units on a site.
Location Map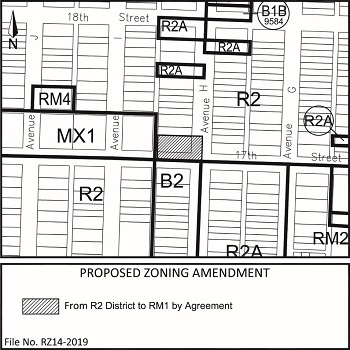 Provide Feedback
Questions and comments on this proposal are invited at this time by contacting:
Brent McAdam, Senior Planner
brent.mcadam@saskatoon.ca
(306) 986-3688
Appropriate alternatives to public information meetings are being evaluated in light of the COVID-19 pandemic.  Based on the response to this notice, next steps in the engagement process will be determined.