Discretionary Use Proposal
A Discretionary Use application has been submitted by Happy Face Daycare requesting approval to develop a child care centre at 1631 2nd Avenue North in the Kelsey-Woodlawn neighbourhood.
1631 2nd Ave N is an existing one-unit dwelling owned by the applicant.  The applicant has applied to repurpose the home to a child care centre with up to 20 children and 4 staff members at any given time between the hours of 7:30am to 6:00pm Monday to Friday.  No exterior alterations to the dwelling are proposed as part of this application.
Three on-site parking spaces are required and four spaces are being provided for in the rear yard of the property.  These spaces will be used for staff parking and for clients dropping off and picking up children.  The required fenced outdoor play area is located in the rear yard.
Prior to operating, the applicant will be required to obtain appropriate licensing and approval from the Ministry of Education, Early Years Branch.
The site in question is zoned R2 – One and Two-Unit Residential District under Bylaw No. 8770, The City of Saskatoon Zoning Bylaw.  This zoning district allows residential development in the form of one and two-unit dwellings as well as related community uses.  A child care centre is considered a Discretionary Use in the R2 District.
Location Map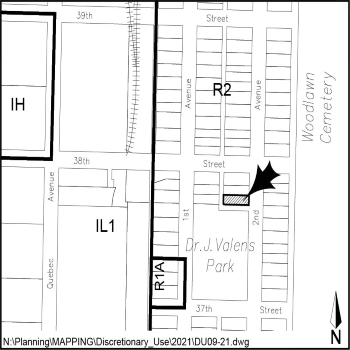 Provide Feedback
If you have any questions or wish to provide written comments to the Planning and Development Department regarding this application, please contact:
306.975.3323
Due to the COVID-19 epidemic, the City of Saskatoon is conducting all engagement activities virtually and through mail outs at this time.