Businesses selling beverages, food or other products from stationary stands, kiosks or mobile units on public sidewalks require a City of Saskatoon Mobile Vendor License. Mobile vendor licenses are non-transferable and are only valid for approved location(s). The purpose of the license is to ensure vending carts are located in a safe and orderly manner and to increase street-level activity.
How can I apply?
Vending applications are accepted each year beginning January 1st on a first come, first served basis, however it is advised that you submit an application before March 31st to secure your desired vending location.  Refer to the Mobile Vending Location MAP to see where sidewalk vendors have been allocated (locations are subject to availability).  You can apply for a Mobile Vendor License by submitting a completed application form to:
Business License Program
City Hall, 3rd Floor
222 3rd Avenue North
Saskatoon, SK  S7K 0J5
The following supporting documents need to be attached to your application in order for it to be processed (if applicable to your vending business):
If you plan on operating within a Business Improvement District (BID), written BID approval needs to be obtained for your vending location(s).
If you plan on serving food, written approval needs to be obtained from the Saskatchewan Health Authority for your vending cart(s).
Obtain a copy of your liability insurance. Your liability insurance needs to have a minimum liability limit of $2,000,000 and name the City of Saskatoon as an "Additional Insured".
A location map needs to be submitted for your vending location(s) and include the information shown below: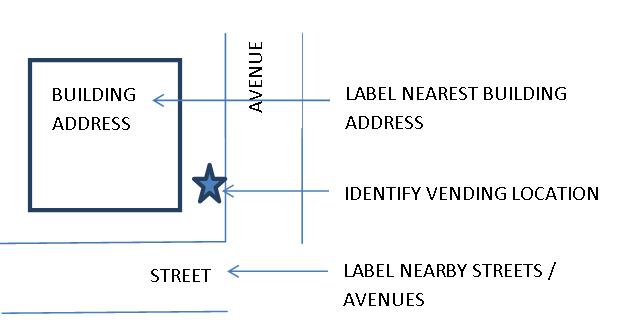 Who do I need to contact?
If you intend on operating within a Business Improvement District please contact the appropriate BID for written approval. If you intend on serving food please contact the Saskatchewan Health Authority to inspect and provide written approval for your vending cart(s):
| | |
| --- | --- |
| 33rd Street BID  | |
| Broadway BID | |
| Downtown BID | |
| Riversdale BID | |
| Sutherland BID | |
| Saskatchewan Health Authority         | |
How much does a Mobile Vendor License cost?
The license fee is $100.00 per vending cart and must be submitted annually.
How long does it take to receive a Mobile Vendor License?
Once a complete application (including supporting documentation and fees) has been received it will be reviewed internally for Right of Way approval. Please allow 3-5 business days for this approval process. Once approved the applicant will be notified to pick up their license. 
What other regulations apply to vending?  
The City of Saskatoon's 'Use of Sidewalks, Boulevards and Parking Stalls - Vending Policy - C09-013' regulates the use of public sidewalks for vending purposes and should be reviewed in detail prior to applying for a Mobile Vendors License. A summary of vending regulations, the application and approval process and related contact information is also available in the Mobile Vendor License brochure.