This application was approved by City Council at their meeting on February 22, 2021.
Rezoning Proposal
Blackrock Developments Ltd. has applied to rezone 1414 and 1416 Main Street (located on the southwest corner of the intersection of Main Street and Cumberland Avenue South) to facilitate the development of a multiple-unit dwelling, subject to a Zoning Agreement.
The application will also require an Official Community Plan map amendment from "Low Density Residential 1" to "Corridor Residential" to align with the policy framework established in Official Community Plan Bylaw No. 9700, 2020.  The intent of the "Corridor Residential" land use designation is to enable the development of a range of housing types in ground-oriented low to medium density residential buildings and provide a transition of densities from the nearby identified BRT network corridor on 8th Street.
The proposed development would be a four-story, apartment style dwelling containing 26 units of varying sizes. A total of 42 on-site parking spaces (12 above ground, 30 below ground) have been proposed. The proposed RM4 Zoning Agreement would ensure that only the specific development proposal put forward by the applicant could be constructed. A location map, renderings, and site plan are included with this information package.
The subject properties are currently zoned R2 – One and Two-Unit Residential District, which provides for residential development of one and two-unit dwellings as well as related community uses.
Location Map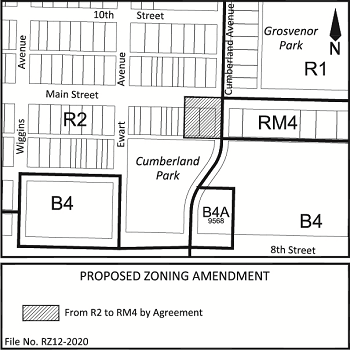 Provide Feedback
Questions and comments on this proposal are invited at this time by contacting: 
Jim Charlebois, Senior Planner II
jim.charlebois@saskatoon.ca
306-975-2292
This application was approved by City Council at their meeting on February 22, 2021.