Proposal
A Discretionary Use application has been received by POP Wine Bar Ltd. requesting approval for a tavern use at 334 20th Street West in the Riversdale neighbourhood.  
The site is zoned B5C – Riversdale Commercial District under Bylaw No. 8770, 2009 The City of Saskatoon Zoning Bylaw (Zoning Bylaw).  The purpose of the B5C District is to recognize historic commercial areas which include a wide range of commercial uses in a medium to high density form. The B5C District is intended to promote redevelopment which includes residential uses where appropriate. A tavern is considered a Discretionary Use in the B5C District.
The existing site currently functions as a restaurant which is a permitted use within the B5C – Riversdale Commercial District. The current owner has applied for a tavern designation at the location.
The applicant is not proposing any exterior alterations to the building, nor any renovations to the existing rear parking/garbage collection area. The Tavern will offer a "Natural Wine Bar" and is proposed to be open from 3:00pm – 12:00am, Tuesday through Saturday each week. The proposed tavern will feature a comprehensive wine and cocktail list and will offer a smaller selection of foods to pair with any beverage
Location Map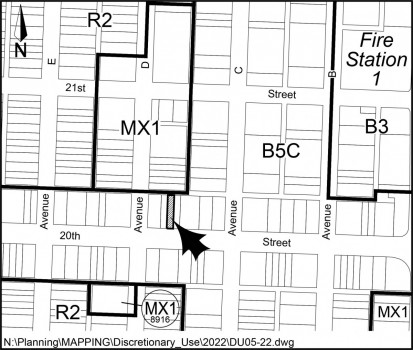 Provide Feedback
Questions and comments on this proposal are invited at this time by contacting: 
Nik Kinzel-Cadrin | Planner
306.986.3697
Due to the COVID-19 epidemic, the City of Saskatoon is conducting all engagement activities virtually and through mail outs at this time.