** Final Update **
This rezoning was approved by City Council at a Public Hearing on March 28, 2022.  The report and bylaw considered by Council as well as video of the hearing can be viewed on the meeting agenda (Item 6.1.1).
** February 2022 Update **
This rezoning application was considered by the Municipal Planning Commission (MPC) at their February 15, 2022 meeting.  The report considered by MPC can be viewed on its meeting agenda (Item 7.1).
Following further review of the application, some minor alterations to the original proposal described below have been made and details clarified:
46 parking spaces and 6 bicycle parking spaces on-site;
Landscaping treatments will include planters incorporated into the base of the new addition and a landscaped area at the northeast corner of the site, including the retention of two existing trees; surface parking will be screened with fencing;
Delivery of raw inputs will continue via the site's north-south lane, with delivery trucks entering the site from 26th Street via 1st Avenue (they currently enter from Queen St); shipment of finished product will continue to occur from loading bays on 1st Avenue;
A sidewalk is required on the north side of 26th Street adjacent to the new addition per City policy, which necessitates a change from angle parking to parallel parking along this half of the block to maintain sufficient travel lane width for traffic.
February 2022 Revised Site Plan (PDF)
Rezoning Proposal
Great Western Brewing Company has applied to rezone 519 2nd Avenue North (the current location of their operations) to facilitate the development of a new brewing facility.  The new facility is proposed to be constructed on the southeast corner of the property and will be integrated with the existing building that fronts 2nd Avenue.
The original 1927 building, identified by the Saskatoon Register of Historic Places as a heritage resource, will be retained. 
Approximately 670 m² (~7,200 ft²) of leasable commercial space is proposed within portions of the original building that will be vacated by the brewery. 
New brewing equipment is expected to improve efficiencies in several areas, including reduced water usage, energy consumption, and residual aroma released in atmosphere (the occasional smell of brewer's yeast).
A total of 44 parking spaces are proposed on-site.
Current locations for shipping and receiving activities will remain.
Proposed Zoning
The application requires a rezoning of the property from "IL1 – General Light Industrial" to "IH – Heavy Industrial", subject to a Zoning Agreement.  The Zoning Agreement will limit development of the land to the specific proposal submitted by Great Western.  Permitted uses of the land will be restricted to that of a brewery and its associated activities as well as a limited range of general commercial uses (office, retail, etc.), while prohibiting all other uses that can ordinarily locate in a heavy industrial zone.  Find more information on Zoning Agreements on Page 2.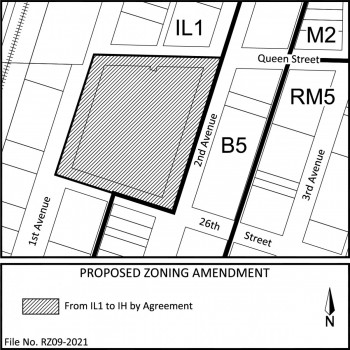 Why a Rezoning to Heavy Industrial?
Great Western is a longstanding brewing operation at this location and is considered a non-conforming use under the Zoning Bylaw because the IL1 – General Light Industrial zone prohibits breweries of this scale.  The brewery has existed at this location prior to this restriction being in place and it is permitted to continue operating as it has been, but a non-conforming use may not be rebuilt, expanded, or moved to any other portion of a property.  Given this, a rezoning to IH – Heavy Industrial (which permits breweries of this scale) is required to accommodate Great Western's new facility.  The current IL1 zoning does permit microbreweries that brew up to 20,000 hectolitres of beer, but Great Western is a regional brewer (as defined by the Saskatchewan Liquor and Gaming Authority) that produces higher volumes of approximately 170,000 hectolitres.
No change to the Official Community Plan (OCP) Land Use Map that designates this property (and the general area west of 2nd Avenue North and north of 25th Street East) as "Light Industrial" is proposed.  OCP land use designations provide the long-term policy vision for the development of an area, whereas zoning provides the specific regulations for development of individual sites.  The terms of the proposed Zoning Agreement are intended to ensure that this development aligns with the light industrial land use policies contained within the OCP, while prohibiting heavy industrial land use activities.