Cart Placement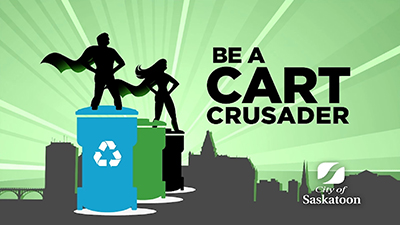 The City of Saskatoon and our recycling service provider, Loraas Recycle, use collection trucks with mechanical arms to empty your carts. To ensure your carts are emptied safely and quickly, they need to be properly placed.
Find a Cart Crusader! Ask your neighbours for help getting your carts to the curb. Be a Cart Crusader! Help your neighbours in need by offering to roll their carts out on collection days.
Tips for Cart Placement
Set out your cart by 7 a.m. on your collection day (actual collection times may vary each day).

Make sure the cart lid is COMPLETELY closed (even a 2 inch lift is not completely closed). Trying to empty overfilled carts can result in spills and litter.
Place your cart so there is at least 1.2 metres (4 feet) of space on all sides, with no obstacles in the way of the collection trucks. See collection guidelines below.
Return your cart to your property (and off of roadways, sidewalks, back lanes and other municipal property) within 24 hours of collection to prevent fines, theft, or damage to your cart.
Check out the cart collection video (Recycling Tips: Don't get left behind) and sign-up for collection reminders for your household.
The Waste Bylaw #8310 prohibits tampering with the carts and their contents wherever they may be found.
Front Street Collection
Your cart wheels should face the curb. Carts should not be placed on the sidewalk.

Back Lane Collection
Your cart should be no closer than four feet (1.2 metres) from parked cars, buildings, other carts, power poles or other obstacles so collection trucks have enough room to empty your carts.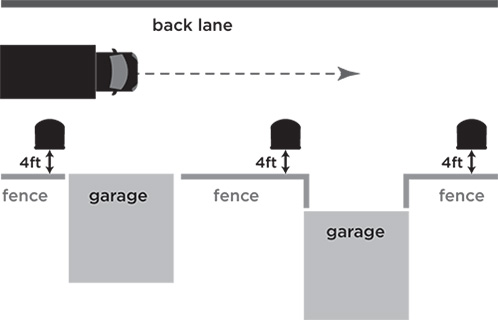 Cul-de-sac Collection
Arrange your carts in the centre, facing in the same direction as your neighbours' carts and with at least four feet (1.2 metres) between them.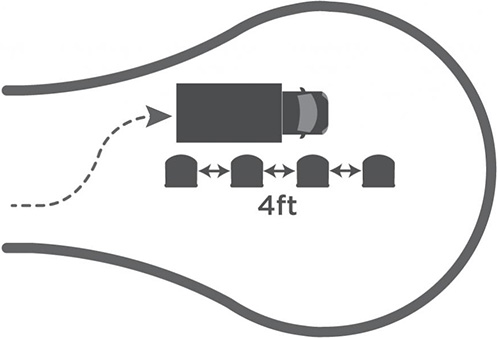 Snow Banks
Place your cart in front of the snow bank as close to the curb as you can. However, do not place your cart on the snowbank.
Customer service
Click on the hyperlinks to report a missed garbage collection, request a garbage cart for a new address or submit a request to replace a damaged cart, or report illegally disposed waste or debris, or looking for cart collection schedule (garbage, recycling, yard & food waste).
All other questions or requests can be directed to the following:
FAQs

My cart wasn't emptied on my collection day. What should I do?

If you had your cart out by 7 a.m. on your scheduled day, leave your cart out - we're on our way!  We may not arrive at the same time from week to week. Extreme weather, mechanical failures, and lane conditions may disrupt collection.

What if I put my cart(s) in the wrong place?

If your cart is located in the wrong place, it may not be emptied on schedule. Use the illustrations and examples on this website, and the back of your print calendar, to ensure that your carts are properly placed for collection.

What happens if my carts don't get emptied?

If one or more of your carts are not emptied, please contact the appropriate service provider to investigate. Customer service information for black, blue and green cart collection is listed within this website.

What if I'm going to be away when my cart is collected?

If you know you're going to be away when your cart is scheduled for collection, ask a neighbour or someone else to roll out it out for pick-up and return it to your yard or garage. Excess recycling can be taken to the Loraas Recycle drop-off depot at 1902 – 1st Avenue North at no additional cost.

What should I do if someone has dumped or gone through my cart(s)?

Your carts have been assigned to your household and are your responsibility. That's why it important to take care of them and ensure that they are returned to your yard after they have been emptied. Tampering or damaging carts, or adding or removing material to carts other than your own, is an offence under the Waste Bylaw #8310 and may result in fines.

My normal regular pick up falls on a statutory holiday. Do I still put out my cart?

Check either your print or online collection calendar for your scheduled days, including holidays.