Green Infrastructure Strategy

What is green infrastructure and the green network?
Green infrastructure includes public green spaces, trees, the South Saskatchewan River, soils, wetlands, and natural areas in Saskatoon.  It also includes spaces that have cultural or community importance, such as ceremonial use and growing food; and built spaces like trails. 
The Green Network is Saskatoon's collection of green infrastructure.  It provides the community access to continuous, high quality green space and provides a home for the other wildlife we share the city with.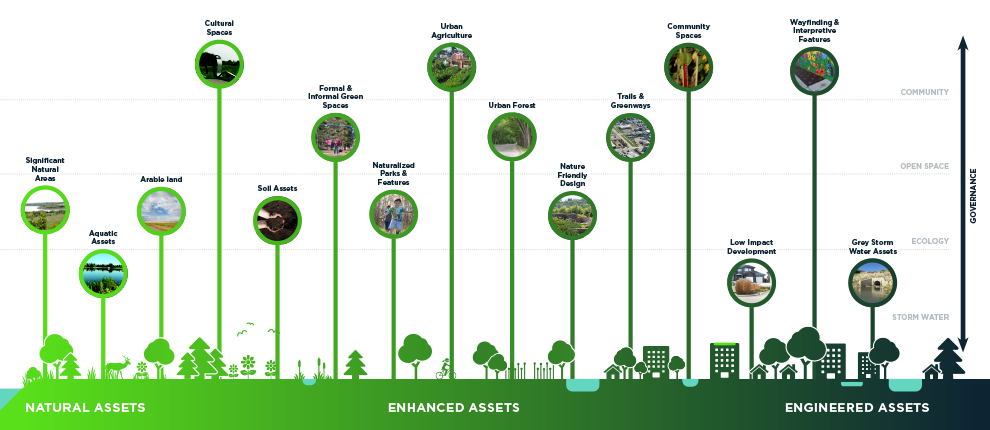 Why is the City investing in green infrastructure?
Just like Saskatoon's built infrastructure provides services to residents like transportation and water treatment, our green infrastructure provides many beneficial services including space for recreation, water and air filtration, and carbon storage. 
In some cases, we know an approximate value that green infrastructure provides. For example:   
Within Saskatoon the river is estimated to provide over $7.5 million per year in services to citizens including clean drinking water and electricity
The urban forest is estimated to provide over $46 million in carbon sequestration, with an additional $1.8 million of carbon stored annually.
A 2017 study estimated the economic value of the Meewasin river valley to be $182.65 per year, providing services such as tourism, climate regulation, recreation, waste treatment, and erosion control. 
Investing in the city's Green Network can help ensure that these ecosystem services continue to deliver tangible benefits to residents including public health, water treatment, access to nature, and increased resilience to climate change.
Phase 1:  Baseline Inventory (Spring 2018)

Phase 1 of the Strategy included gathering information about the City's existing green spaces to establish the baseline Green Infrastructure Network (Network) and identified areas that need to be strengthened. Ten guiding principles were drafted to outline what the Strategy strives to achieve. Thirty-two key findings highlight vulnerabilities to the Network as well as opportunities that could benefit the Network. These findings will inform the options and recommendations that will be developed in Phase 2.
Phase 2:  Saskatoon's Green Infrastructure Strategy (Spring 2020)

The Green Infrastructure Strategy (Strategy) is taking a nature-based approach to city planning to ensure Saskatoon is a connected and nature-friendly city that all residents can access. The Strategy outlines a vision for Saskatoon's Green Network and will guide the City's work through fifteen actions that address risks to the network. The completed Green Infrastructure Strategy was presented to City Council on February 24, 2020.
Phase 3: Pathways for an Integrated Green Network – an Implementation Plan for the Green Infrastructure Strategy (Summer 2022)

Pathways for an Integrated Green Network (Green Pathways) is the 10-year implementation plan for the Green Infrastructure Strategy.  Green Pathways advances the network of green infrastructure across the City comprehensively, through a series of interconnected initiatives that work to restore the urban environment and ecosystems, support climate action and nature-based solutions, and improve quality of life for residents and visitors.  Green Pathways includes initiatives that have been funded to proceed in 2022-2023 and outlines medium to long term initiatives that seek resourcing and approvals in the future.