Connecting with Nature in Naturalized Parks
From left to right: Mark Heit, Supervisor, Naturalized Parks Program; Rob Bartholomew, Park Technician, Naturalized Parks Program
Staff from the City of Saskatoon's (City) Parks Division care for more than 200 parks in the city. Park inventory is divided into a number of categories including: sports fields, neighborhood parks, and naturalized parks for example. Each type of park provides citizens with different passive or active recreation opportunities like attending sporting events or festivals, bird watching, walking and running, and having picnics or relaxing with family and friends. As a result, all parks help create a sense of place and community in Saskatoon and contribute to the City's Quality of Life Strategic Goal.
However, a naturalized park stands out from other parks in the way it looks and the purpose it serves and Saskatoon citizens have noticed. During the Recreation and Sport Master Plan engagement process citizens ranked this type of park space as one of the most popular outdoor amenities in the city. Approximately 12% of the Parks landscape inventory is managed as Naturalized area, representing various habitat types in Saskatoon, from native prairie to wetlands, and aspen parkland. Mark Heit, Supervisor for the Naturalized Parks Program, states the purpose of naturalized parks is to, "Diversify and enhance the landscape leading to increased biodiversity in Saskatoon as well as provide and urban refuge for various forms of life." As such, the naturalized park program is also a commitment to the City's Environmental Leadership Strategic Goal.
Interest in establishing naturalized parks in the city began in the early 1990's as a grassroots initiative between Parks staff and the Meewasin Valley Authority. The rationale behind the idea aimed at:
Increasing biodiversity in park space around the city through the use of native plants and grasses, drought resistant plants and natural wetlands,
Creating space for wildlife, like pollinating insects and native bird species, to reduce habitat disruption common around a growing city,
Providing space and education opportunities for city residents and visitors to connect with nature, as well as
Decreasing the amount of disturbance to natural landscapes during the neighborhood construction process.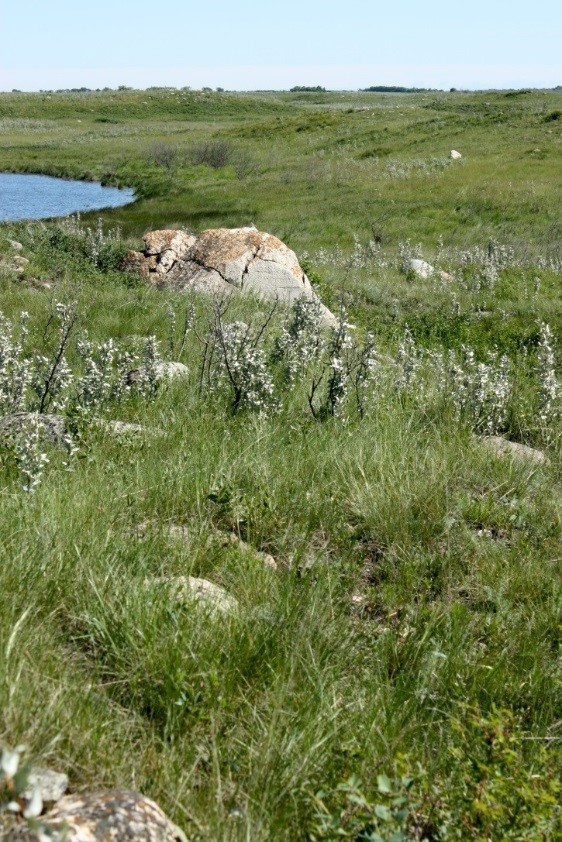 Even with a strong plan and support in place establishing naturalized parks is no easy task. Dave Hutchings, the Parks Superintendent for the East Side Parks Maintenance and Naturalized Program states that, "When naturalized parks are developed using industry best practices it takes three to five years to really establish the park, then often another five to ten years to get to a sustainable place." In these establishment years maintenance requirements are substantial as teams address issues like storm water runoff, weeds, and other invasive species. After this period naturalized parks are largely self-sustaining and can create maintenance cost savings for the City. Mainly less frequent mowing and irrigation. Other regular maintenance like litter collection, replenishing gravel and shale on pathways, and removing dead and/or diseased wood from trees and shrub beds is still required and completed by city staff based on defined service levels.
When asked what citizens can do to help protect naturalized parks for their intended purpose the team stated, "Stay on the trails until the end of June to avoid disturbing ground nesting birds, always keep pets on a leash and clean up after them, and be respectful of the environment by packing out what you pack in." Rob Bartholomew, a Park Technician with 12 years of experience adds, "Get kids involved and interact with nature at every opportunity, they really are key to the future, and learning in these urban natural environments is convenient and memorable."
Moving forward, the team hopes to increase and diversify education opportunities in naturalized parks. Potentially exploring partnerships with other civic divisions, school groups, and after school programs to ensure these areas are living up to their intended purpose in the city continually creating value for citizens. With summer officially here it's a great time to plan a trip to a naturalized park in your area, to locate the park closest to you check out the list below. Click on the Park Name to view a PDF map of the area.
Park Name
Location
Amenities
Lakewood Park 
Corner of McKercher Drive and Heritage Crescent
Naturalized areas, wetlands, walking paths, bird watching, various recreation facilities, 

wildflower beds and/or 

ribbons, and picnic areas

Heritage Park
 
Corner of Taylor Street East and Heritage Crescent
Naturalized areas, aspen forest, bird watching (e.g. songbirds, hawk, falcon, and woodpeckers), and wildflower beds and/or ribbons
Mark Thompson Park
 
Corner of Rempel Manor and Hunter Road

Naturalized areas, wooded areas, walking paths, and bird watching   *This park is still under construction

Gabriel Dumont Park
 
Saskatchewan Crescent West
Naturalized areas and grasses, walking paths, views of the South Saskatchewan River, bird watching (e.g. waterfowl and songbirds), and wildflower beds and/or ribbons
Patricia Roe Park
 
Corner of Rempel Manor and Hunter Road

Naturalized areas, wooded areas, and walking paths   *This park is still under construction.

Hyde Park 
 
Slimmon Road
Naturalized areas, wetlands and riparian areas, walking paths, bird watching (e.g. pelicans and waterfowl), various recreation facilities, accessible pathways, wildflower beds and/or ribbons, native prairie grasses, and picnic areas
Donna Birkmaier Park
Slimmon Road and Taylor Street
Naturalized areas, wetlands, bird watching (e.g. waterfowl), wildflower beds and/or ribbons, wildlife viewing, accessible pathways, and picnic areas
Sanatorium Site
Spadina Crescent West, near Holiday Park
Naturalized areas, walking paths, views of the South Saskatchewan River