Saskatoon Regional Waste Management Centre (Landfill)

COVID-19 Response
Cash transactions are not being accepted until further notice, to help reduce the spread of the COVID-19 virus. Credit and debit are still accepted, as well as direct invoicing options for those haulers who have commercial accounts.
Location
The City's Landfill is located off Valley Road, south of 11th Street.
Hours of Operation
Summer hours (7:30 a.m. - 5:30 p.m.)
Winter hours  (7:30 a.m. - 5:00 p.m.) NOW IN EFFECT
Open seven days a week
CLOSED: December 25 & January 1
Reminders
Weekends are busy at the Landfill, especially after 9:30 a.m. Arrive early and avoid line-ups.
Please bring along help if required to unload your material. For their protection and safety, Landfill staff are instructed to avoid lifting or handling items from personal vehicles. 
Personal Protective Equipment (PPE) is required for all customers with tip trailers unloading at the commercial unloading area (the face). A hard hat and high-visibility vest/shirt/jacket are required.  Hi-viz suspenders are not adequate. If you don't have adequate PPE, you will have to manually unload at the blue transfer bins.
Lift capabilities on trailers or vehicles must NOT be used at transfer bins, due to safety concerns.
   
Soil Delivery

Clean Soil

The landfill accepts clean soil, also called clean fill, free of charge. There is an approval process for the acceptance of clean soil at the landfill.

Clean soil cannot be mixed with:

Wood
Stumps
Branches
Concrete
Asphalt
Metal parts and pieces
Plastics
Ceramics and masonry materials
Rocks greater than four (6) inches in diameter
Refuse and garbage
Chemical substances that are regulated by the Provincial Ministry of Environment (these include petroleum hydrocarbons, halogenated hydrocarbons such as tetra & tri-chloroethylene, polycyclic aromatic hydrocarbons, PCBs, heavy metals, and chlorides).

Approval Process for Soil Delivery

When is approval required?

Soil deliveries originating from a single property that will exceed 10 loads from a single site must be pre-approved.
Single loads from residential sites or loads from private citizens are exempt from the process.

If you will have less than 10 loads per day from a single site, and answer 'Yes' to the following questions, call the Landfill Operations Engineer at 306-975-2486 for confirmation that the soil is acceptable at the landfill.

Does the soil contain or has the potential to contain non-natural chemical substances, has there been any fuel, oil, or any other chemicals spilled on the soil (before or after being loaded into the truck)?
Does the soil originate from a property that is, was, or adjacent to a gas station?

If you have more than 10 loads per day from a single site, complete the Soil Delivery Application.

All applicants will be required to have a landfill business account number that will be used to track soil deliveries.

If the total soil quantity from a single source site exceeds 1000 tonnes (1600 m3), a unique project number may be required; haulers will not be able to use their business account number.
Call 306-975-2486 to request an account number.

If the soil contains or has the potential to contain non-natural chemical substances, the soil must be tested to determine the concentration of that type of substance. See the Soil Delivery Instructions for details.
Allow a minimum of two business days for the application process.

If you have questions about the clean soil approval process, contact garbage@saskatoon.ca.

Landfill staff reserve the right to refuse any soil or to impose charges if the soil is not clean. 
Eco Centre

If you have items for the Eco Centre at the Landfill, please let the Scale Attendant know when you enter. If your load is not properly identified, general tipping fees will apply. You can recycle:

Used oil (up to 500 litres)
Used antifreeze (up to 100 litres)

Used oil and antifreeze must be in original containers (liquids in household containers such as milk jugs cannot be accepted).

Used oil, antifreeze, and diesel exhaust fluid (DEF) containers (up to 500 litres of total container capacity, regardless of the quantity).
Used oil filters: 10 large size, 20 small/regular size, and no paper filters

Note: Customers are required to unload containers from their vehicle, and place them in the appropriate drop-off receptacles. Landfill Attendants will then transfer the product(s) into the appropriate storage tank/area. Customers with empty 20-litre pails should be clean, stacked, and have the lids removed.  Full 20-litre pails must have handles and should have a clean exterior.
Sharps Waste (including needles)

Refer to the City of Saskatoon's Needle Safe Information webpage, which includes information on public disposal locations for hypodermic needles.
The Landfill will accept sharps (including needles) for disposal provided conditions within the Government of Saskatchewan's Biomedical Waste Management Guidelines are met. Please contact garbage@saskatoon.ca or call 306-975-2486 to make prior arrangements for sharps disposal. Special handling fees will apply.
Other Diversion Opportunities

Newspapers and magazines - general tipping fees still apply.
Old appliances, vehicle batteries, propane tanks, and scrap metal are accepted and recycled - general tipping fees still apply.
Check out the Recycling page for more information about recycling programs in Saskatoon.
The Saskatchewan Waste Reduction Council online tool helps you find the best places to recycle anything from your home and workplace. Select a location and material to find out how you can recycle.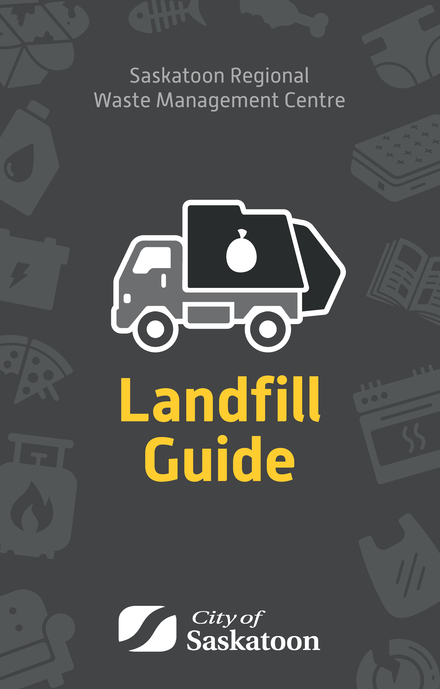 Download the quick-reference Landfill Guide
Waste Wizard
Don't know where it goes? Don't guess. Ask the Wizard.