Proposal
St. Andrew's College has applied to rezone 1121 College Drive to permit a limited range of educational and commercial uses. The rezoning application applies to only that portion of the building owned by St. Andrew's College.
The proposal would provide for the site to be rezoned from AG – Agricultural District to M3 – General Institutional Service District subject to a Zoning Agreement, as shown on the map below.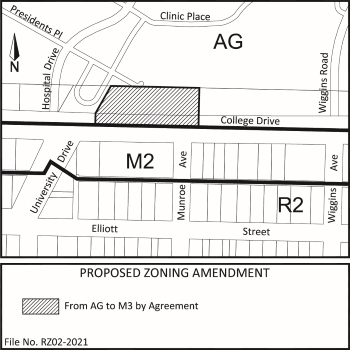 The Zoning Agreement would permit the following land uses:
Educational Institutions
Private Schools
Child Care Centres and Pre-Schools
Offices
Medical Clinics
Art Galleries and Museums
The Zoning Agreement will also address specific development standards respecting the existing building's setbacks and parking. Other items may be identified during the review process.
Provide Feedback
If you have any questions or wish to provide written comments to the Planning and Development Department regarding this application, please contact:
Jim Charlebois, Senior Planner II

 
Due to the COVID-19 epidemic, the City of Saskatoon is conducting all engagement activities virtually and through mail outs at this time.